A few tools like sticky notes, Math Input Panel, etc are very important for some but now in Windows 10, accessing them is not that so easy. These tools are stored in a folder called Accessories. There are vast changes in the new operating system and hence, the folder of Accessories is also not easily accessible. So, this post will show you an easy and simple way to find accessories in Windows 10.
The scenario was different in Windows 7. The Accessories folder is accessible through the Start Menu of Windows 7. Users who are running this OS and now has jumped to Windows 10 will be confused when the look for accessories. In the next operating system due to change of interface, it became harder to find it. But the current Windows 10 is totally different. You can see a few tools being listed in the All Apps section of Start Menu whereas few tools are still in the Accessories folder. Now, if you want sticky notes or other tools you need to get into the Accessories folder. Well, the way we present you in this article is absolutely simple. Just follow the 2 steps and find Accessories in Windows 10. So, let us begin!!!!
Related:
Windows 10 – How to Record Screen with Problem Steps Recorder
How to Find Accessories in Windows 10
First of all, Bring your mouse pointer to the taskbar and press the File Explorer icon.
File Explorer emerges on your screen. Copy the following path:
C:\ProgramData\Microsoft\Windows\Start Menu\Programs\Accessories
Get back to the File Explorer that you have opened in the first step.
Furthermore, Go to the address bar and paste the above-copied address and hit Enter key.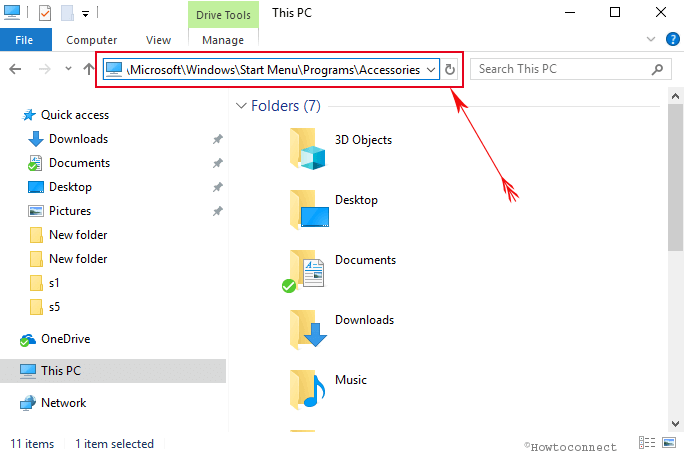 Soon, you will see the Accessories folder on your screen displaying the available Windows 10 accessories for you.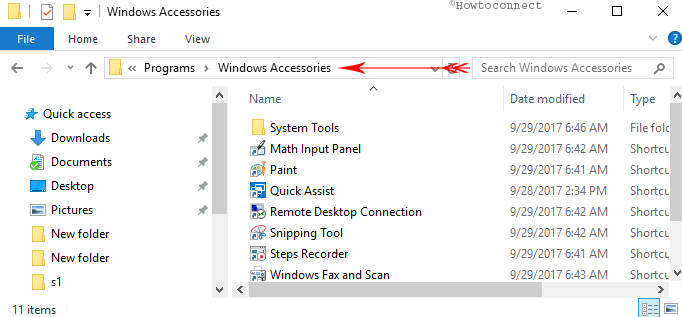 A few days back, while taking a tour of the Start Menu after its final shipment to the users, few new things were revealed to us. And one was related to this article only. It was discovered that it included a folder called Windows Accessories. So, we thought to add up this piece of information with you. Wanna know how to get it? See the below steps –
Firstly, execute a hit on the Windows logo and fire up Start Menu.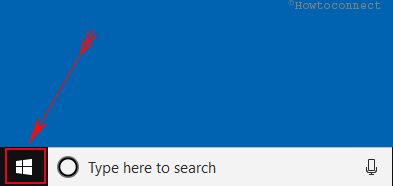 Pass through all the sections and make a halt at the "W" section of all the apps. There you can see a folder named Windows Accessories.
A drop-down menu is also associated with the folder. Click on it and you can see all items listed henceforth.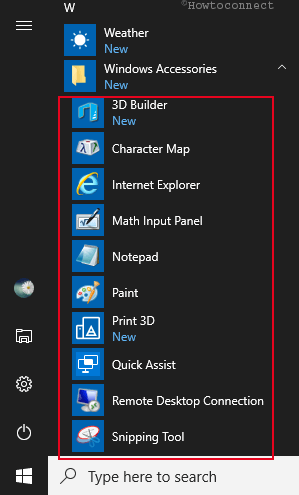 Isn't it so easy?! There are third-party tools that can fetch you the Accessories folder for you. But when such an easy way is available then why to take help of a third party software. Well, if you have any such tools that are stored in the Accessories folder you can do utterly in above-mentioned 2 steps to Find Accessories in Windows 10 and get access to it within no time. If you hold any extra information on this topic, please do share with us.