Sometimes, a reliable third-party antivirus may show risky behavior; the same is with the Blue screen error we are going to discuss in this post. K7 Security is a popular company that provides useful anti-virus suites but several users are getting a BSOD after they installed this on the computer. The stop code says What failed: K7Sentry.sys. This is accompanied by a bug check error such as Page Fault in a Nonpaged Area, Irql Not Less or Equal, System Service Exception, Kmode Exception Not Handled, Kernel Data Inpage Error, and other.
K7Sentry.sys Blue Screen error occurs commonly due to obsolete version of the K7 Security application, conflicts between Windows update and the Security suite, outdated driver, and corrupted system files. Let's clear that this issue will appear when you have already installed this app.
Blue Screen Error K7Sentry.sys
Here is how to fix K7Sentry.sys Blue Screen Error BSOD in Windows 10 or 11 –
Way-1: Uninstall K7 Security app
Since the problem happens because of the antivirus on your PC so the first choice you should follow is to remove the tool. The uninstallation will wipe out the K7Sentry.sys that was generating the error code. Therefore go ahead with the steps –
For Windows 10 –
Press – Windows + R.
Type – appwiz.cpl.
On the Programs & features window, find the K7 Security program in the list.
Click on this app to highlight it.
Now click on Uninstall.
A wizard may come out; follow the instructions in that.
Restart your computer and see if the error is fixed.
For Windows 11 –
Press Win+I.
Select Apps from the left pane of Settings.
Go to the right and click on Installed apps.
Locate the K7 Security program.
From the extreme right in that row click on the hamburger menu (3-dots).
Select – Uninstall.
Again click on "Uninstall" from the confirmation pop-up.
Reboot the machine.
Way-2: Run SFC and DISM
Oftentimes corrupted windows System files trigger K7Sentry.sys BSOD with a certain stop code and corruption occurs when conflicts between the old version of the security app and system components are going through. Furthermore, malfunction in .wim file, .ffu file, or VHD is equally responsible to throw the unexpected bug check which is further converted into the blue screen. Running SFC and DISM command line tools might substantially help to fix this error so follow the steps ahead –
Click on Start.
Type cmd.
Press Ctrl + Shift + Enter.
Select – Run as administrator.
Once command prompt is on screen, type – SFC /SCANNOW.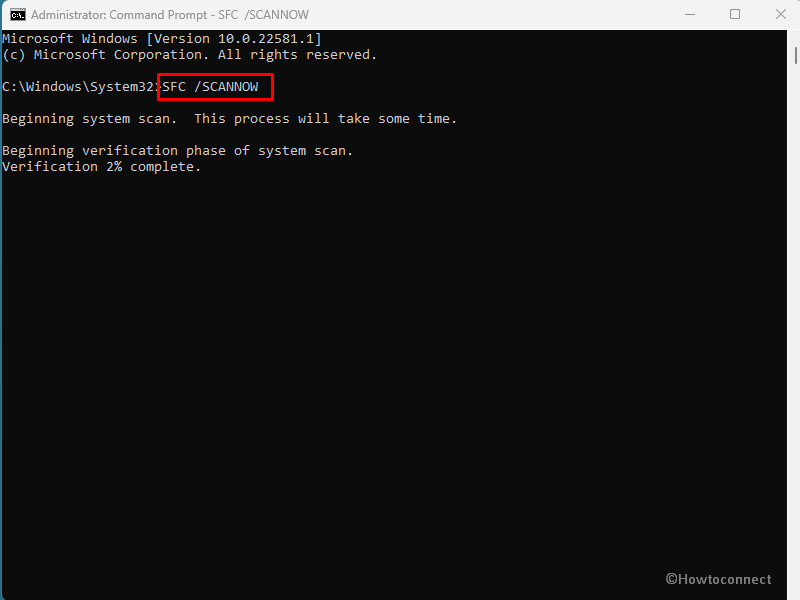 Press Enter to execute the commands and wait for a few minutes.
As the process reaches 100% and shows that integration is not violated, restart the computer.
The BSOD should be solved now. If not then again open Command prompt as administrator.
This time, type – DISM /Online /Cleanup-Image /RestoreHealth.
Hit Enter and allow the process to be finished.
In the end, reboot the system.
Way-3: Uninstall Windows update
This BSOD might also come across when the K7 Security tool is not compatible with the recently installed Windows update. So when you encounter K7Sentry.sys Blue Screen Error you need to check whether you have received a Windows update lately and remove it. The updates are many times installed in the background, therefore, there is a chance that you are not knowing and the system has got it. Check the list carefully in Settings and remove it if you find using the below guidelines –
For Windows 10 –
Press Windows key.
Type updates.
Hit Enter.
On the Windows update Settings page, click on – View update history.
On the next screen, check if any update has arrived recently.
If yes then click on Uninstall updates from the uppermost part.
A discrete window will appear, find the update (It is like KB012345)
Right-click on this and choose Uninstall.
Select Yes on the confirmation dialog.
For Windows 11 –
Click Search.
Type updates.
Press Enter.
Select – Update history from the right pane.
Scroll down to the bottom part of the page and click on Uninstall updates.
Click on 'Uninstall' and verify.
Way-4: Update K7AV Sentry Device Driver
K7AV Sentry Device Driver For NT/2K is an integral part of K7 Security tool to establish communication between hardware and software. After getting old and obsolete the driver becomes buggy as well as vulnerable leading to blue screen error and system crash. Remedy is updating the app –
Right-click on Start.
Select – Device Manager.
Once the Windows tool loads, find K7AV Sentry Device Driver For NT/2K in the list and right-click on it.
Select – Update Driver.
Click on – Search automatically for drivers.
Reboot the device and hopefully, the bug check will be solved now.
In case the issue still persists, go to the official website of K7 Security and install a fresh version tool.
Way-5: Perform System Restore
In case you have not got success yet even after following the above methods then you should think of System Restore, a built-in tool that can bring back the system to an older point of time. Due to this reversion, you will get rid of this error code and the bug checking. So, follow the steps –
Click on Search from the taskbar.
Type – rstrui.
Hit Enter to launch the System Restore window.
Click on Next.
Highlight the point when the blue screen did not occur.
Select Next.
Once review the settings you have chosen and click on Finish.
Finally, click Yes on the warning dialog.
Methods list:
Way-1: Uninstall K7 Security app
Way-2: Run SFC and DISM
Way-3: Uninstall Windows update
Way-4: Update K7AV Sentry Device Driver
Way-5: Perform System Restore
That's all!!
Repair any Windows problems such as Blue/Black Screen, DLL, Exe, application, Regisrty error and quickly recover system from issues using
Reimage
.