Windows 10 2004 is out and many users switched to this version but there are so many issues reported in successive manner. We have earlier covered May 2020 update issues and solutions and Fix Parity Storage Space but this not sufficient. Many users are whinging to encounter OneDrive cannot connect to Windows error message when specifically using Files On-Demand.
Files on Demand is a tool to fetch any file from online OneDrive which hosts them taking from your desktop. Using this feature, you can call upon any synced files despite they are deleted staying on your system. But Windows 10 2004 throws an error message – OneDrive cannot connect to Windows. Reason behind this error is some older apps installed that use legacy file system filter drivers.
OneDrive cannot connect to Windows 10 2004
Here is how to fix OneDrive cannot connect to Windows 10 2004 –
Use Recommended Troubleshooter
Microsoft rolled out recommended troubleshooter to every device facing the Files On-Demand issue. If you have persisted with the setting enabled for the recommended troubleshooting, the tool would run automatically. You can make sure the troubleshooter has run by following these instructions –
Click on Start, type 'troubleshoot' and then hit Enter.
Choose 'View History'.
In case, an attempt has been made by the troubleshooter, you will see a
Recommended troubleshooter

Files On-Demand troubleshooter

you may have lost access to your Files On-Demand. This troubleshooter restores access or prevents the loss of access from happening in the near future. Important: Please reboot your device once the troubleshooter is finished.
If the tool worked, it will state, Successfully ran on <date>. In opposite case, it will say Could not be run on <date>.
Notable – If your device has not been rebooted since the troubleshooter was run, you will need to do so.
Now ensure that Files On-Demand is still enabled, and for this, right click or cloud icon in the system tray, select Settings.
Within the Microsoft OneDrive wizard Settings tab, ensure that box before "Save space and download files as you use them" is checked. Select OK.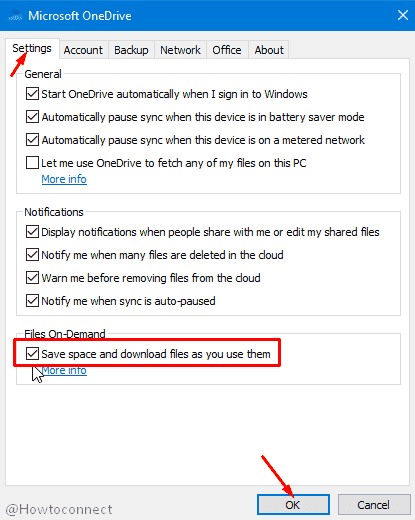 OneDrive cannot connect to Windows should be fixed now.
Manual steps to Fix OneDrive cannot connect to Windows 10 2004
To mitigate the issue on Windows Server, version 2004 or if the troubleshooter has not run, use the steps below:
Lunch elevated command prompt. You can click on start, type cmd and then press the combination of ctrl+shift+enter.
Select Yes on User account control warning dialog.
Type or copy and paste the following command and press Enter –
reg add HKLM\System\CurrentControlSet\Services\Cldflt\instances /f /v DefaultInstance /t REG_SZ /d "CldFlt"
Restart your device once the command is executed.
Make sure the Files on demand is enabled using Step 3 and 4 of the previous method.
OneDrive issue will no longer occur when using files on demand from local drive folder.
Source – Microsoft Support.
That's all!!!
Repair any Windows problems such as Blue/Black Screen, DLL, Exe, application, Regisrty error and quickly recover system from issues using
Reimage
.