Google has launched new Google Map App for Android with many new and stunning features. Later on it will be introduced for i Devices means iPhone and iPad. There are many changes in this app from the previous one. Google has made navigation easier and retired latitude feature in this app.
This app has a new feature Explore with which you can find new  places very easily and fast. Even without typing you can get new places you are searching for. After taping o search box a least of places will pop up. Choose your preferred place and find.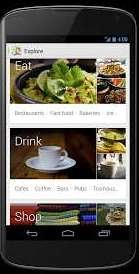 Goggle has added features new features in navigation and you can know traffic condition of the road in the new Google Map App  on which you want to move. This new map app will show reports of the road and incident data. At this time it alerts you and offer new route which will be easy for you.
Design of the new Google map app is also very suitable for Tabs and iPads.
You can know ratings of restaurants, cafes and bars. Your friends who have visited these places and decided to give ratings of these places will be shown to you.