Android 4.2.2 CM10.1 Jelly Bean Custom ROM has been presented for HTC Explorer. It is unbranded custom ROM. It brings tons of features to HTC Explorer to add stability on around functioning whichever conditions. CyanogenMod 10.1 ROM is first in kind to bring Jelly Bean updates on HTC Explorer. Whether you have HTC Explorer and using earlier custom ROM version then it would be nice idea to install and analyze Android 4.2.2 CM10.1 Jelly Bean custom ROM. You may install CM10.1 Android 4.2.2 Jelly Bean on HTC Explorer quite easily after following remaining article.
It is revealed that Android 4.2.2 CM10.1 Jelly Bean is neither pushed by Google nor HTC itself. A team of professionals has developed CM10.1 Jelly Bean for HTC Explorer. Like other custom ROM, it needs custom recovery like ClockworkMod to flash particular version custom ROM. So install ClockworkMod recovery on HTC Explorer. Then ensure arrangements mentioned below have been made before stepping to install CM10.1 Jelly Bean on HTC Explorer.
Install HTC Explorer USB Drivers on PC. Properly installed USB drivers assist to make connection between both devices. Users can easily install HTC Explorer USB Drivers through Download Drivers section of this website or after pressing below link:
Download HTC Explorer USB Drivers
Just check that HTC Explorer Bootloader function is on or not. When Bootloader function is disable it can support update installation process.
Generate HTC Explorer Backup data in other location to restore later on after completion of updating exercise. When you could not store HTC Explorer Apps, Messages, Contacts, APN settings, it has no longer existence.
Activate USB debugging mode on HTC Explorer. It helps to fix connection related issue as well as facilitates to easily transfer files between PC and HTC explorer.
Just ensure that HTC Explorer has more than 80% battery power of total capacity. As it is seen that update installation process consumes more time and less battery could not support installation process.
Once you find ever mentioned measures have been well taken then step up to update HTC Explorer to Android 4.2.2 CM10.1 Jelly Bean Custom Firmware. Now follow our instruction and manually install CM10.1 Jelly Bean custom ROM on HTC Explorer.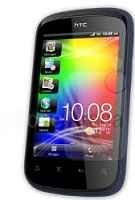 How to update HTC Explorer to Android 4.2.2 CM10.1 Jelly Bean Custom Firmware:
Step 1
Process begins with installing Android 4.2.2 CM10.1 ROM followed by Google Apps on your Desktop. After then extract boot.img zip file.
Download CM10.1 Android 4.2.2 ROM
Download Google Apps
Step 2
Then connect HTC Explorer to your Desktop via USB cable.
Step 3
After connecting both devices, users need to copy both downloaded zip files as: Android 4.2.2 ROM zip and Google Apps then paste on HTC Explorer SD card.
Step 4
Then copy subsequently paste boot.img file to android-sdk-windowsplatform-toolsdirectory.
Step 5
Now switch off HTC Explorer.
Step 6
At this occasion turn on HTC Explorer into Bootloader / Fastboot Mode. It will be done while pressing Volume Down + Power Button at the time of switching HTC Explorer.
Step 7
When device runs in Bootloader Mode, you need to navigate android-sdk-windowsplatform-toolsdirectory on your desktop then launch Command Prompt.
Step 8
Now enter below mentioned command and press enter button:
fastboot flash boot boot.img
Step 9
In further move, users need to put following command and press enter button as well.
fastboot reboot
Step 10
Then navigate existing instruction and select BOOTLOADER followed by RECOVERY.
Step 11
While entering to ClockworkMod Recovery, you need to select 'wipe data / factory reset'. By using Power Button, you may select anything else in Recovery Mode.
Step 12
Then en-route to perform a cache wipe through selecting 'wipe cache partition' in similar ClockworkMod Recovery window.
Step 13
Then you need to wipe of your dalvik cache. For doing this, you have to move and choose 'Advance' button followed by 'wipe dalvik cache'.
Step 14
Now go back to initial Recovery Screen and select 'install zip from SD card', using Power button of HTC Explorer.
Step 15
One more time press Power Button to 'choose zip from sdcard'. After then navigate Android 4.2.2 ROM zip after using Volume Key of HTC Explorer. Just select earlier navigated 'Android ROM zip' by pressing Power button. After then your consent is asked to install ROM zip to your HTC Explorer. Once permission is granted, installation process begins.
Repeat this particular step to install Google Apps zip to your HTC Explorer.
Step 16
When installation process gets completed, users need to step up'+++++Go Back+++++' and restart their HTC Explorer from Recovery Menu. The restart process takes hardly 5 minutes. Let us wait until HTC Explorer restarts with updated custom ROM. Finally remove USB cable.
Caution: The process shown above would be applicable to update HTC Explorer to CM10.1 Android 4.2.2 Jelly Bean custom ROM. It is forbidden to apply above process to update other variants.