On 19 September 2012, latest version of iOS 6 was released by Apple. It has been launched amid fresh characteristics and upgrading. Numerous previous placed default apps such as Email, Safari which has been modified with new options. Default Email app in iOS 6 seems more attractive than previous version of iOS5 or old iPhone handsets.
As you know there was no option of adding image or video from Camera roll folder to send new email message from the Mail app in previous edition iOS 5. This panic is solved in the iOS 6 edition. As a result, Apple has placed new option (Insert Photo or Video) to attach your image or video at the right corner within the Email app from inbuilt camera directly.
Let's follow below tips –
Firstly launch Email app in your iPhone handsets.
Then hit and hold the compose section inside Email app screen for bringing up pop up options.
From pop up options, Choose Insert Photo or Video option.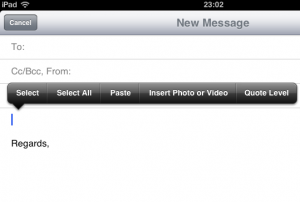 It will ask you to choose new image or video either from the inbuilt camera roll folders or shared photo stream option.
As soon as you choose the new image, it will be added for new email message.
Thus you can insert new image or video in default Email app from camera Roll folders while you have installed iOS 6 version.