Microsoft has delivered KB4284819 for Windows 10 Version 1709 Build 16299.492. The package comprises few fixes and one significant quality improvements. You will get extra protection for   Speculative Store Bypass through this patch.
KB4284819 for Windows 10 Version 1709 Build 16299.492 also includes security update and Microsoft Edge Enhancement.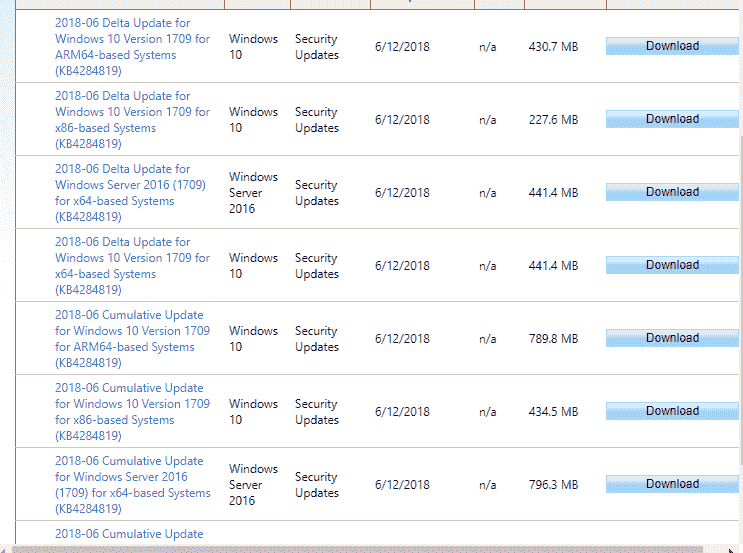 Let's see the details –
KB4284819 for Windows 10 Version 1709 Build 16299.492 Detail
Changes, Improvements, and Fixes
KB4284819 update focused more on quality improvement rather than new features. Here are the key changes –
KB4284835 Windows 10 Version 1709 Update makes protection available to fight Speculative Store Bypass (CVE-2018-3639). CVE-2018-3639 is a severe vulnerability of an extra subclass of speculative execution side-channel. You need to set these protections manually as it will not be enabled by default.
This update also includes additional performance improvements that will enhance the experience of users than earlier.
Previously Microsoft edge was offering false repercussion to XML request. But now the company has resolved it with this update.
Microsoft edge and Internet Explorer now supports SameSite cookies standard which will assure more protection against one click attack.
Internet Explorer was preventing to use the updated version of location service but with this preview, this issue has been also solved.
This specific KB will address an issue where firmware updates cause devices to go into BitLocker recovery mode. It basically happens when you enable the BitLocker, but disable Secure Boot. So, by installing this update, users can block firmware installation on machines in this state.
Being an administrator, you can install firmware updates by:
1. Firstly, by temporarily suspending BitLocker.
2. Instantly installing the firmware updates ahead of the next operating system startup.
3. Immediately rebooting the machine so that BitLocker does not stay in the suspended state.
KB4284819 for Windows 10 Version 1709 also carries Security updates to Internet Explorer, Microsoft Edge, Microsoft scripting engine, Windows Desktop Bridge, Windows apps, Windows shell, Windows storage and filesystems, Windows app platform and frameworks, Windows virtualization and kernel, Windows wireless networking, moreover for Windows Server also.
In case, you have installed earlier updates on your PC, only the new fixes in this package will be downloaded and furthermore installed on your device.
Known issues and their Solutions in this update
Symptoms
Solutions
Rather than displaying in the local language, certain non-English platforms show this specific context: "Reading scheduled jobs from file is not supported in this language mode." This error actually occurs when you make an attempt to read the created scheduled jobs. Moreover, it also appears when Device Guard is enabled
The team is continuously working on the workaround and assures to provide an update in the upcoming release.

In place of displaying in the local language, a few non-English platforms continue to show the below-given strings in English:

• "Cannot use '&' or '.' operators to invoke a module scope command across language boundaries."

• "'Script' resource from 'PSDesiredStateConfiguration' module is not supported when Device Guard is enabled. Please use 'Script' resource published by PSDscResources module from PowerShell Gallery."

Microsoft will come with a promising resolution through an update in the next release.
How to get KB4284819 for Windows 10 Version 1709 Build 16299.492
You will receive this update automatically on your PC. However, you can manually check for the same. To do so, first, open Windows Settings. Next, navigate to Update & security => Windows Update => click 'Check for Updates'.
Now, in order to grab the standalone package for this specific update, its advisable to visit the Microsoft Update Catalog website.
Moreover, to get a list of the files that are provided in this update, you can see here