KB4467684 cumulative update stroke Windows 10 Version 1607 Build 14393.2639 on November 27, 2018. This patch includes quality improvements but not any system features. The update addresses  GetCalendarInfo, time zone change for Moroccan and Russian daylight standard time, File Explorer stops working, server not responding and a lot more.
You would have received the patch automatically otherwise you can download KB4467684 from Microsoft Update catalog to manually install.
KB4467684 –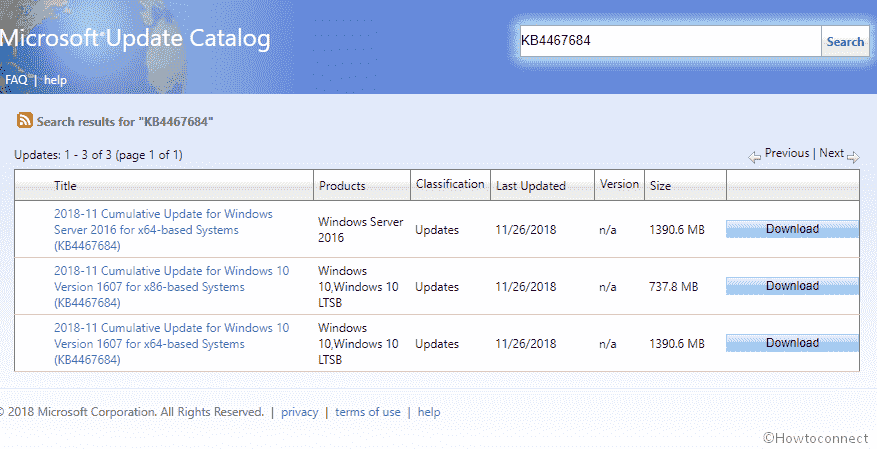 KB4467684 for Windows 10 Version 1607 Build 14393.2639 Details
The cumulative update KB4467684 worked on the GetCalendarInfo function to return a wrong era name on the first day of the Japanese era.
The patch has an improvement for time zone changes for Russian daylight standard time.
Windows 10 team works on time zone changes for Moroccan daylight standard time.
The cumulative update attempts to solve mouse movements promoted by touch to bypass low-level mouse hooks that are designed to stop mouse input. Subsequently, unexpected WM_MOUSEMOVE error messages appear.
The patch addresses software keyboard appears when you click on the non-editable area of a Universal Windows Platform app. This problem affects devices running Windows 10 Anniversary Update and have no hardware keyboard.
Windows 10 team works on File Explorer that deletes the permissions of a shared parent folder at certain times when you remove the shared child folder.
KB4467684 tries to fix File Explorer stops working during log off.
The update addresses Universal CRT infrequently causes the AMD64-specific implementation of FMOD to return a wrong result when inputs are large. FMOD is commonly used to implement the modulo operator in JavaScript (JS) and Python implementations that use the Universal C Runtime.
The team works on ActiveX controls gets blocked in Internet Explorer on 64-bit systems. The problem takes place when using Windows Defender Application Control and creating a policy that permits all ActiveX controls to run in (IE) Internet Explorer.
The patch tries to fix some applications that can't run when Windows Defender Application Control (Device Guard) is in audit mode.
Windows team has an improvement for slows server performance or server stops responding because of heteromorphic Windows firewall rules. To enable the server, create a new registry key DeleteUserAppContainersOnLogoff (DWORD) on "HKEY_LOCAL_MACHINE\SYSTEM\CurrentControlSet\Services\SharedAccess\Parameters\FirewallPolicy" using Regedit, and set it to 1.
Microsoft has tried to solve network connectivity that fails when 802.1x authentication 'fails'.
They work on the Network Connection Status Indicator gateway MAC address resolution timing, that causes Internet connectivity to fail.
Windows 10 team attempts to fix fail to clean up some Windows Management Instrumentation class registrations properly when using Hyper V cmdlets that include root\interop class dependencies. This problem may cause Virtual Machine management tasks (using PowerShell or the UI) to fail. Moreover, Virtual Machines may not be modified or created. For instance, using Set-VMFirmware to modify the boot order may fail with the error message ObjectNotFound.
The patch has improved domain controllers deny to apply the Group Policy password policy when the minimum password length is greater than 14 characters.
Windows 10 team works on Just Enough Administration (JEA). A temporary account with the security identifier authority of S-1-5-94-abc continues to exist in the server security policy under the Log on as a service user right. Subsequently, the Local Security Authority database enlarges, which may affect the performance of domain controllers.
Microsoft tries to solve writing to a memory call stack with the Stop code 0xA in Storage Replica environments.
The cumulative update works on the installation and client activation of Windows Server 2019 and V1809 LTSC Key Management Service host keys that don't function as expected. For more information about the original feature, see KB4347075.
Windows 10 team tries to solve promotions of non-root domains that fail with the message, – The replication operation encountered a database error. The problem occurs in Active Directory forests that have optional features, for example, Active Directory recycle enabled.
Microsoft works on Hyper-V servers that stops working with the error, 0x7F (UNEXPECTED_KERNEL_MODE_TRAP.
When you receive previous updates, only the new fixes included in this cumulative update will be downloaded and installed.
Windows Update Improvements
Microsoft has delivered an update straight to the Windows Update client to make reliability better. If your device is equipped with Windows 10 and you have configured to obtain updates automatically for Enterprise and Pro versions will receive the most recent feature update. This will depend on compatibility and Business deferral policy. The rule is not applicable to apply to long-term servicing editions.
KB4467684 Known issues
Symptom
Workaround
After receiving either 11/09/2018 .NET Framework update or August Preview of Quality Rollup SqlConnection instantiation may show an exception. To get detail read the knowledge Base – 4470809
Windows 10 team is working on a solution and you will receive an update in an upcoming release.
After you install this patch, Seek Bar in Windows Media Player may not work when playing specific files but the normal playback will remain unaffected.
Microsoft is serious on a fix and a solution will be available in the middle of December 2018.
The system may not respond when features associated with end-user-defined characters (EUDC) are used.
Microsoft suggests double-clicking a font file or navigating to the font folders just after logging on.

They are working on a resolution and will offer an update in an upcoming release.
How to download KB4467684 and install
Before installing this update
You must install the latest servicing stack update before receiving KB4467684. This will make the reliability of the update process better by mitigating potential issues while getting Cumulative Update.
The most recent Servicing Stack Update KB4465659 for this LCU will be provided to you automatically.
Install this update
To download KB4467684 and install, Navigate to Settings => Update & Security => Windows Update and click Check for updates.
If you want to download KB4467684 in MSU File format get the stand-alone package from       Microsoft Update Catalog.
Source – Release Note.