KB4480959 is a new cumulative update that has been released on Jan 15, 2019, by Microsoft. This patch provides various fixes and improvements to the build 15063.1596 Win 10 for version 1703. These include downloads fail, Microsoft Edge, BitLocker Network Unlock, shared folder, hotspot authentication, and a lot more issues.
You are able to download KB4480959 from Microsoft update catalog website. However, the standard approach to get the package is through automatically Windows update.
KB4480959 –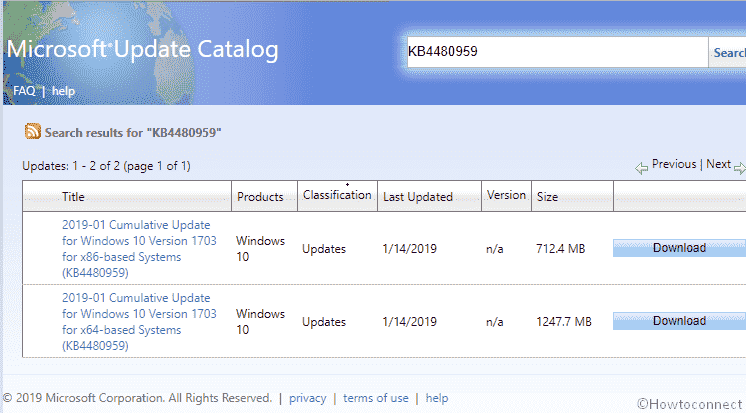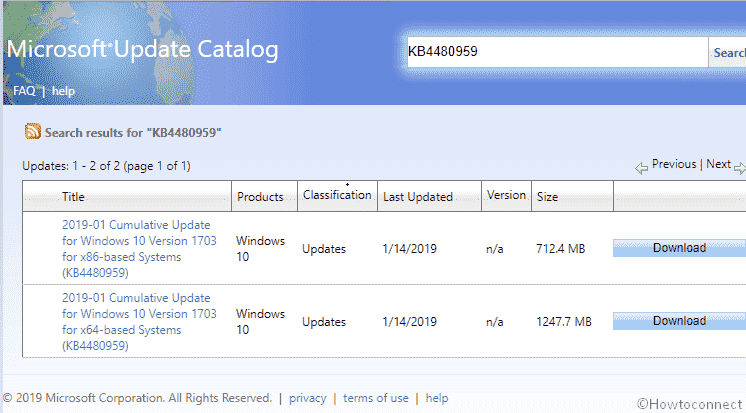 KB4480959 for Windows 10 1703 Build 15063.1596 Cumulative details
This KB4480959 does not carry any new features to the operating system but contains multiple quality improvements like:
Focuses on the problem that makes downloads fail.
Notes an issue in Microsoft Edge that fails to trigger the focusin event if the focus event listener of an element shifts focuses to another element.
Works on an issue that may avert functions from displaying the Help (F1) window accurately.
The patch addresses an issue that leads to BitLocker Network Unlock to fail on generation 2 virtual machines. The issue occurs when it's used in a network that only supports IPv4.
The cumulative update KB4480959 works on catalog signed scripts, moreover, those shipped as part of Windows, to wrongly create a "Windows Defender Application Control failure audit event".
Tries to fix a problem that might be the reason of interruption of 30 sec during deleting or renaming a link in a DFS. Additionally, it takes 30 sec to rename a folder when the plural number of users work at the same time.
At the time of loading a driver,  an issue has been focused that inhibits you from overwriting a file in a shared folder. It is due to Access Denied error.
The problem has been addressed which causes 3rd-party apps to have trouble in authenticating hotspot.
There needs to install only the new fixes available in this package if all the previous updates are already installed on your device.
KB4480959 known issue-
Symptom 1 – Subsequent, Appropriate and suitable installation of the September 11, 2018, ".NET Framework update" or "August Preview of Quality Rollup", instantiation of  "SqlConnection" can throw an exception.
Workaround: Still this issue is on working condition. Microsoft has clarified that the upcoming release will tackle this problem.
Symptom 2 – Failure of opening the application that uses a record with the Microsoft Access 97 file with an error, "Unrecognized Database Format".
Workaround: Database file name shouldn't exceed 32 characters. You can also convert the database to the .accdb or .mdb file format.
How to download KB4480959 for Windows 10, 1703 and install
In case, you have installed and intact all the previous updates, download only the available fixes. If your system is experiencing any delay in receiving this update, try this:
Step-1: Go to Start menu and type Settings; open it.
Step-2: Click on Update & Security option
Step-3: Visit on Windows Update available in the left column of the screen.
Step-4: Click Check for updates, adjacent to the right of "Windows Update"
Before installing the LCU KB4480959, We advise you to install the latest servicing stack update (SSU) to improve the consistency of the update process.
You can also download KB4480959 from Microsoft update catalog
Source – Release note.