KB4487029 is a new cumulative patch rolled out on Feb 19, 2019, for Windows 10. This is a bug fixing update that has arrived for version 1803 taking the operating system to Build 17134.619. The main issues which Microsoft addressed or fixed are – USB adapter cables, registry keys, Jet database, Japanese era, File Explorer and lots more. Furthermore, the update carries quality improvement and stability enhancement for various Windows programs.
You are able to download KB4487029 from the Microsoft update catalog site moreover, you'll receive this patch automatically from Windows Update. However, the manual installation is a useful option when you fail to get the patch. Yet Microsoft didn't find of any known issues with this update.
KB4487029 –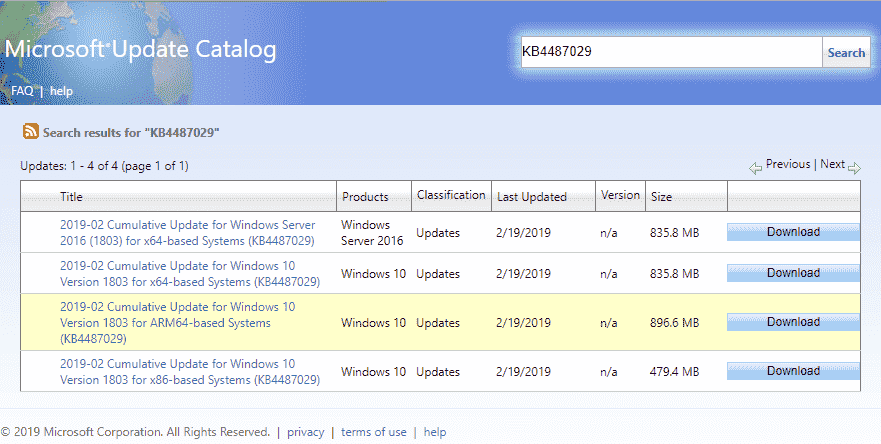 KB4487029 for Windows 10 1803 Build 17134.619 Cumulative update details
This patch includes "bug fixes", quality improvement, and stability enhancement, and no new OS features are being introduced.
Key changes include –
The patch KB4487029 empowers media content to play e-learning content with plug and play USB adapter cables on Microsoft Edge.
This cumulative update makes sure that windowed "ActiveX content" inside an iframe scroll along with other page content in IE 11 browser in the middle of a user-triggered scroll operation.
Microsoft and the team try to fix deleting specific registry after updating an application.
This patch updates the time zone information for Chile.
Windows 10 team for 1803 works on compatibility issue with audio. The problem occurs when you play newer games with 3D Spatial Audio mode through Windows Sonic for Headphones.
Microsoft developers try to fix the issue that prevents pinning a web link to the Start menu or the taskbar.
The cumulative updates KB4487029 works on the updating issue of the desktop lock screen image. Generally, it occurs if the image is older than or has the same name as the previous image.
Case-insensitive string comparison performance is now enhanced. eg – stricmp() in the Universal C runtime.
Microsoft experts focus on evaluating the compatibility status of the Windows ecosystem.
The reliability of the UE-VAppmonitor is improved.
The patch KB4487029 works on failing to update a user hive. Normally, it happens when you publish an optional package in a Connection Group.
Microsoft developers try to fix the issue of allowing files protected by WIP to be transferred using Bluetooth to an unmanaged machine.
Moving ahead, this cumulative update fixes the issue of Internet Explorer proxy setting. It also resolves the problem related to out of box experience (OOBE) setup.
The patch KB4487029 tries hampering the user from erasing a wireless network profile.
Microsoft developers work on "STOP 0x1A" error that prevents you from logging in or logging out a system when you use certain applications.
The team tries to fix preventing of File Explorer to operate in the Timeline feature.
This patch resolves the Photos app stop working when it's used from the Mail app.
Windows 10 team tries to fix the PLMDebug.exe tool. This command line loses debug sessions when used with a UWP app.
This cumulative update KB4487029 enhances 'Always On VPN' (AOVPN) reconnect and disconnect functionality.
The first character of the Japanese era name failing to identify is now improved as an abbreviation and it may give rise to date parsing problem.
Microsoft Developers focuses on preventing Internet Explorer from loading images. Moreover, these issues have a backslash (\) in their relative source path.
KB4487029 works on the applications that might randomly be stopped working. This problem occurs if they use a Microsoft Jet database with the Microsoft Access 95 file format.
Note – Before going to download and install these new fixes, make sure that you have installed the earlier updates.
How to download KB4487029 and install the update?
Prior to receiving the latest cumulative updates KB4487029, we strongly recommend you install the latest servicing stack update. Doing this, it'll enhance the consistency of the update process in order to mitigate the potential issues.
Press Win + I hotkeys to open Settings.
Click Update & Security option.
Subsequently, select Check for updates button on the right side of the following page.
Download KB4487029 from Microsoft Update Catalog.
Source – Release note.