Cumulative update KB4503284 is another patch Microsoft rolls out for Windows 10 v1709, build 16299.1217. In this package, the team launches certain relevant security updates, fixes, and changes as well. It addresses the common issue of security vulnerability and Internet Explorer.
You will get this patch automatically through Windows Update. But if it fails to do so, then you can also grab its MSU file manually. See Windows 10 Cumulative Updates List.
KB4503284 –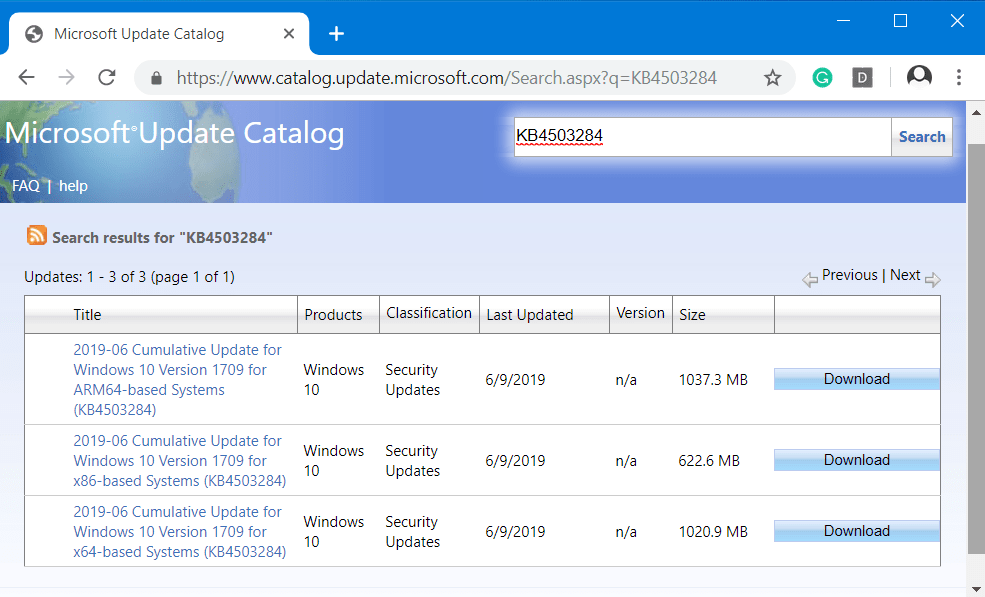 KB4503284 Windows 10 1709 Cumulative Update Improvements and Fixes
Here are the details of modifications that patch Tuesday update KB4503284 carries –
The release of KB4503284 basically works on security vulnerability. They address it by purposefully avoiding connections between Bluetooth and Windows devices. They are not secure and also use popular keys to encrypt connections like security fobs. You can be sure that your system is affected if you notice "Your Bluetooth device attempted to establish a debug connection…." in the BTHUSB Event 22 in the Event Viewer. If you come across such a scenario, get in touch with your Bluetooth device manufacturer. Then try to find out if a device update exists.
This patch tries to resolve another issue that may prevent the launch of Internet Explorer 11. It happens when you don't set the Default Search Provider or it is malformed.
Furthermore, this cumulative update also contains a wide range of security updates for several elements of the OS such as Microsoft JET Database Engine, Windows Input and Composition, Windows Datacenter Networking, Microsoft Scripting Engine, Windows App Platform and Frameworks, Windows Virtualization, Internet Explorer, Internet Information Services, Microsoft Edge, Windows Authentication, Windows Media, Windows Server, Windows Storage and Filesystems, and Windows Shell.
Known Issues in KB4503284 Windows 10 1709 16299.1217 Cumulative Update
Symptom
Your device may encounter an error "STATUS_BAD_IMPERSONATION_LEVEL (0xC00000A5)". It occurs when you make an attempt to perform certain tasks (for example – renaming) on files or folders that are on a Cluster Shared Volume (CSV). This also happens to appear when you execute the operation on a CSV owner node from a process that doesn't hold admin authorities.
Workaround
As a temporary solution, you can try out any one of the following –
Carry out the operation from a process that possesses administrative rights.
Perform the task from a node that does not have CSV ownership.
However, Microsoft is working on a resolution and will eventually roll out the same in an upcoming patch.
How to Get this Cumulative Update
Before you try to get KB4503284 for Windows 10 version 1709 and build 16299.1217, you need to ensure one thing. You should download and install the latest servicing stack update (SSU) which will enhance the update procedure by reducing the possible issues.
To get this cumulative update through Windows Update –
Step-1: Open Windows Settings, the built-in app by jointly pressing "Win logo + I" hotkeys.
Step-2: Go to Update & security category.
Step-3: Click Check for updates button on the right pane of the following page, This will detect, download, and install KB4503284 on your device.
But to grab the standalone package, simply navigate to the Microsoft Update Catalog page.
That's all!!!
Source – Release Note