KB4503286 is another new Patch Tuesday cumulative update unfolded on 11 June 2019 for Windows 10 1803 taking the OS to Build 17134.829. With this package, the company introduces some remarkable fixes and enhancements like – Default Search Provider, Security updates and a few more. Along with these improvements, Microsoft also identifies a known issue in this patch.
In addition to this, you're able to grab KB4503286 as an MSU file format from Microsoft update catalog site. Though, the manual installation is an alternative option when you fail to get the patch.
KB4503286 –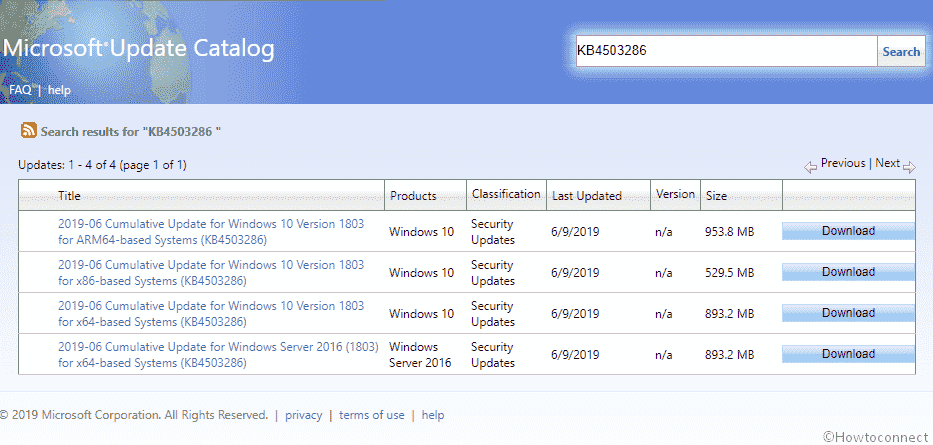 KB4503286 Windows 10 1803 details of improvements and fixes
The Tech Giant works on a security vulnerability by intentionally preventing connections between Windows and Bluetooth devices. These are not safe and use well-known keys to encrypt the connections comprising security fobs. If BTHUSB Event 22 in the Event Viewer exposes, "Your Bluetooth device attempted to establish a debug connection….", then your system might be concerned as affected. On having this issue, you're able to contact your Bluetooth device manufacturer to conclude if a device update exists.
KB4503286 cumulative update tries to resolve another issue that may hamper the Preboot Execution Environment from commencing a device from a Windows Deployment Services server configured. This all will occur to use Variable Window Extension. It happens in the connections to the WDS server to stop before the due time while downloading the image. However, this issue does not affect users or machines that are not using the Variable Window Extension.
With Build 17134.829, a problem arises that may hinder the Internet Explorer 11 from opening. This will befall if the Default Search Provider is not set or is malformed.
Microsoft expert updates the protection to Microsoft Scripting Engine, Internet Explorer, Microsoft Edge, Windows App Platform and Frameworks, Windows App Platform and Frameworks, Windows Input and Composition, Windows Media, Windows Shell, Windows Server, Windows Authentication, Windows Cryptography, Windows Storage and Filesystems, Windows Virtualization, Internet Information Services Windows SQL components, and the Microsoft JET Database Engine
KB4503286 Windows 10 1803 Known issues
Symptom
Workaround
There is the chance of befalling error- STATUS_BAD_IMPERSONATION_LEVEL (0xC00000A5)

on your screen when you perform some particular activities like – rename on files that are on a Cluster Shared Volume. Moreover, this issue extends by carrying out an operation on a CSV owner node from a process that doesn't have administrator privilege.

Do one of the following:

Make the operation from a process that has administrator privilege.
Perform the operation from a node that doesn't have CSV ownership.

Microsoft is working on a resolution and will provide an update in an upcoming release.
How to get this patch
Prior to getting the latest cumulative updates KB4503286, we recommend you to install the latest SSU. Doing this, it would enhance the performance of the update process in order to mitigate the potential issues. To get KB4503286 through Windows update –
Step-1: Press Win+I to launch Settings.
Step-2: Click Update & Security Section.
Step-3: Subsequently, select Check for updates button on the right side of the running page.
Besides, you are able to Download KB4503286 from Microsoft Update Catalog.