Another Tuesday patch in the form of KB4512578 is out with certain changes. The update does not introduce any new feature for version 1809, build 17763.737 but definitely deals with certain key modifications. This specific cumulative update introduces protection against certain vulnerabilities. But it also holds some issues whose resolutions are yet to be out by the team.
You can easily avail KB4512578 by two methods. Either grab the standalone package or manually download the files. You can check other patches also by visiting Windows 10 Cumulative Updates List.
KB4512578 –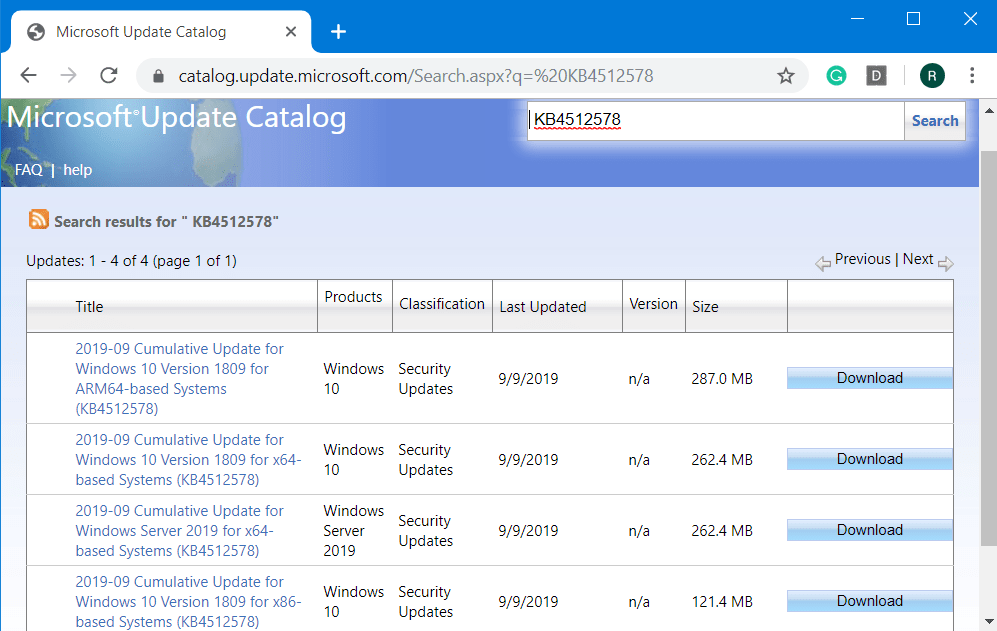 KB4512578 Windows 10 1809 17763.737 Cumulative Update – 10 Sept 2019
Following are the key modifications that this patch contains –
The release of this update provides security against a new subclass of speculative execution side-channel vulnerabilities. It is for 32-Bit (x86) versions of Windows and is called "Microarchitectural Data Sampling". You need to take help of the registry settings which are described in the Windows Client as well as Windows Server articles. (Kindly note that these registry settings are turned on by default for Windows Client and Windows Server OS editions.)
KB4512578 rolls out a wide range of security updates to the several components. They include "Windows Server, Windows Cryptography, Windows Input and Composition, the Microsoft JET Database Engine, Windows Kernel, Internet Explorer, Windows Virtualization, Microsoft Edge, Windows App Platform and Frameworks, Windows Authentication, Microsoft Scripting Engine, and Windows Fundamentals".
Known Issues
Symptom 1
Some functions, like rename, that you carry out on files or folders which are on a "Cluster Shared Volume" (aka CSV) may fail by displaying the following error message –
"STATUS_BAD_IMPERSONATION_LEVEL (0xC00000A5)".
You may confront this problem when you execute the operation on a CSV owner node from a process that doesn't hold any admin authorities.
Workaround –
Carry out any of the below-mentioned solutions –
Ensure that a process having administrative rights is performing the operation.
A node that does not have a CSV ownership should execute this task.
However, Microsoft and the team are working on a perfect resolution. They will come up with an update in the future release.
Symptom 2
If your device has an Asian language installed, then you may likely receive the below error after installing this patch –
"0x800f0982 – PSFX_E_MATCHING_COMPONENT_NOT_FOUND."
Workaround –
1. First of all, you should make an attempt to uninstall and reinstall the recently added language packs.
2. Click Check for Updates button in the Settings app. When updates are available, install the April 2019 Cumulative Update.
Note – If reinstalling the language pack does not reduce the severity of the problem, reset Windows 10 by going through the below sequence of steps –
Step-1: Open Windows Settings and head to the Update & security tab.
Step-2: Go to the Recovery subsection on the left pane. Switch to the right side and click the Get Started button under the Reset this PC section.
Step-3: Choose "Keep my Files".
In the upcoming release, the team ensures to release a resolution as they are still working on it.
Symptom 3
After installing this patch, there are a few devices that end up in displaying black screen during the first login.
Workaround –
To prevent the problem, jointly hit Ctrl + Alt + Delete hotkeys. Then, restart Windows 10 PC and this should make it function normally.
Here also, the team will provide you the resolution shortly.
Symptom 4
Applications and scripts that call the "NetQueryDisplayInformation API" or the WinNT provider equivalent may fail to return results. It happens after the first page of data which usually carries 50 or 100 entries. Upon the request of additional pages, you may encounter the error –
"1359: an internal error occurred."
This problem occurs in this specific patch and in all the updates before June 18, 2019.
Workaround –
No such workaround is out yet as the team is still working on it and will release it very soon.
How to Get KB4512578
As a primary requisite, ensure to install the latest SSU before you proceed with this patch. Use Windows Update to automatically receive KB4512578.
Get access to the Settings app. Go to the Update & security category.
Click Check for updates.
Download and install the updates right away.
As an alternative, visit Microsoft Update Catalog and search for KB4512578.
That's all!!!
Source – Release Note.