Are you looking the info for all the videos, transcripts, and resources for Microsoft 365? You'll get all the answer related to this news on this single page as here in this article we have it all right here. The latest Microsoft Office 365 updates include a bunch of interesting enhancements and features. Some of the attributes have Word acronym suggestions, strengthened PowerPoint Presentations with the subtitle and caption options, slide reuse and improvised outlook design and appearance for iOS devices etc.
These modifications and add-ons certainly enhance the functionality of various essential tools in Microsoft 365. The updates play a vital role in making these apps meet the present-scenario requirements. Additionally, it makes those tools handier and helpful for more and more users. . Long story short, you will get the full details on Microsoft 365 Update All Videos, 2018 Transcript and Resources here. The following section provides links to the same for your ease.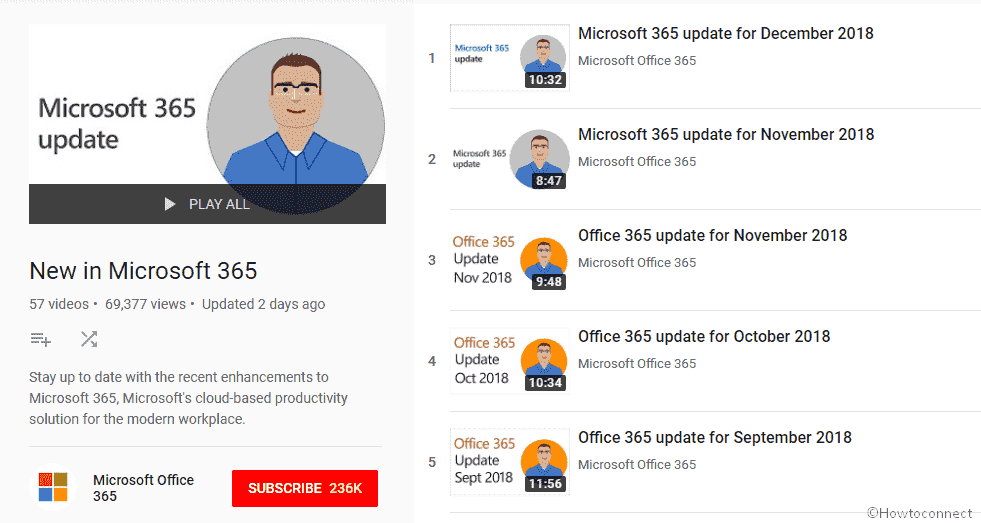 Microsoft 365 Update All Videos, 2018 Transcript and Resources Details and links
Technet recently notified on the availability of video and resources for this year. The blog team added a guide for the December update 2018 to the playlist in a docx. The document minutely explains every update of Microsoft Office followed by a table of content. In addition, the links to the release notes have got places in the explanation.
Microsoft uploads guides on YouTube on regular basis for each update of Microsoft 365. You will also find the link to the videos here as a reference.
In case you'd want to download the Microsoft 365 Update 2018 for Video playlist, Transcript and Resources, get it here. The transcript covers detailed information about the features and improvements that come with the December 2018 update.
The related resources of Microsoft 365 2018 Updates include the updates for November,  October,  September, August and, July 2018.
Moreover, Transcripts and resources comprise PowerPoint captions and subtitles, Word acronym, suggestions, PowerPoint slide reuse, Office for MacOS Dark Mode, Outlook for iOS redesign, Microsoft Bookings improvements, and Password-less access management.
Note – You might have known that Microsoft Office 365 is now Microsoft 365.