Have you ever dreamt of sitting in the bush and feel the rumble of animals roar in your chest? If yes, there is good news for you as Microsoft comes up with an afresh Windows 10 theme named National Geographic Safari PREMIUM. This personalization app is consists of 12 super quality 4k images that show the beauty of Africa's magnificent wildlife. Pictures comprised in this theme pack are captured by leading photographers of National Geographic Magazine which you can use to adorn your desktop wallpaper only.
National Geographic Safari PREMIUM theme is obtainable for people of all ages who use English (United States) as systems default language. Furthermore, the volume of this app is below average as the pack occupies only 34.52 MB of your hard disk memory which actually made this theme pack more user-freindly. Not to mention, getting this personalize app is absolutely free, the only thing you will need is a Microsoft account. More interestingly, using the same account you will be able to get this theme pack on up to ten Windows 10 devices.
National Geographic Safari PREMIUM Windows 10 Theme
Here is how to get National Geographic Safari PREMIUM Windows 10 Theme –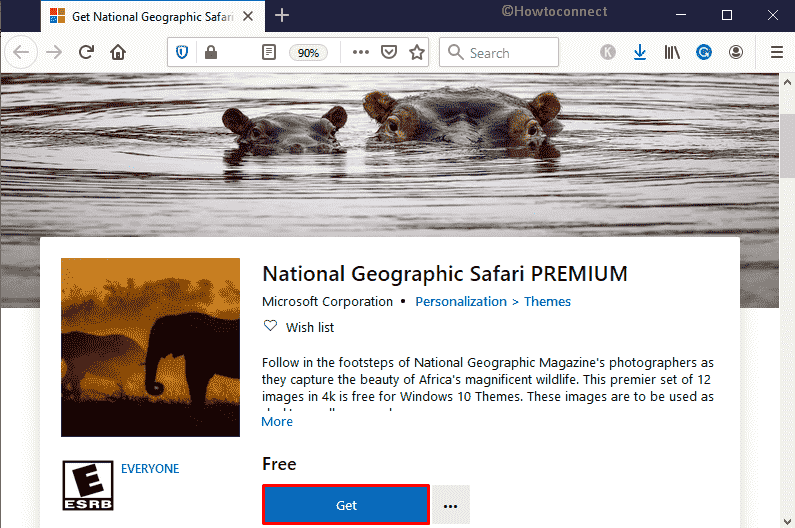 Doing so will redirect you to Microsoft store that contains inside informanation of this specific Windows 10 theme.
Once again, click the Get button to commence the downloading moreover installation process.
When a pop-up notification stretches out from Notification bar, click Apply.
Shift to the right surface of Theme settings page and opt for the Windows 10 theme you got.
Alternatively, click on Start icon and choose Microsoft Store after reaching to M alphabet. After opening up, click on its search bar and type the theme name you are looking for. Once you view the same in appearing result, select that to enter into its specification page, thereafter, click on Get. Henceforth, open Windows Settings and head over to Personalization => Themes. Finally, move to right pane and click on National Geographic Safari PREMIUM.
System requirement
To use National Geographic Safari PREMIUM smoothly in your Windows 10 device, the following requirements are needed –
Running OS should be Windows 10 version 14951.0 or higher.
Architectures must be compatible with x86, x64, ARM, or ARM64.
That's all!!!