Ransomware Symptoms, Removal, Prevention, File Recovery Tips – Amongst the family of malware, the most strongly and nasty is the CryptoLocker malware that takes the files on a PC or on a network server, encrypts them and then claims you a good amount to release or unlock them. The ransomware malware is determined by varied nomenclatures like CryptoLocker, CryptoDefense, CryptoWall and several other. The ransomware malware always arouses a difficult situation for the infected PCs because along with encoding their local files, sometimes they also encrypt their network locations.
Symptoms of Ransomware
Though there is a variety of ransomware that attacks the PCs, however, the common phenomena that all of them apply are blocking or preventing you from using your own PC.  And henceforth will ask you to do some monetary favor to them before you are allowed to use your PC. Let us see how your PC will behave when it will be attacked by the ransomware
You will be forbidden or blocked from entering your own Windows PC.
First and foremost task for you to conduct is, allow the machine to "Shut down" and then quickly locate "f8" key on your keyboard.
Few apps will be encoded and at the same are restrained from being managed, for illustration – "web browsers".
These ransomware attackers usually claim that you have undergone some unlawful activities from your PC and thus as punishment you are being penalized by the government sectors or police department. In realistic, these claims are untrue and false in nature and it is just to scare you so that you don't take the assistance of someone who can restore your PC.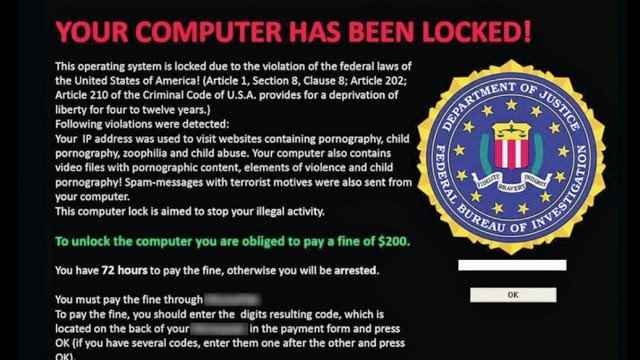 How to Remove Ransomware
Before any workout is made to free up your PC, you should first and foremost concentrate on eliminating the hostage taker. If your PC is undertaken by an uncomplicated kind of ransomware, like a false anti-virus program, then take help of the Malwarebytes, the virus scanner.
If you are not permitted to work on your PC by ransomware, you can give an effort to "System Restore" as that is the only probable and potential option that can take you back to the Windows.
First and foremost task for you to conduct is, allow the machine to "Shut down" and then quickly locate "f8" key on your keyboard.
Next, "turn on" your machine and the moment when something becomes observable on the screen, hit or tap the "f8" key quite a number of times.
The above action will exhibit a menu of "Advanced Boot Options"; opt "Repair your computer" and thereby tap the "Enter" key.
In the coming step, you will likely to provide your account credentials, and thereafter you can observe few components, click or tap "System Restore".
If "Repair your computer" is not observable, opt for another workout, the Windows disc. Another alternative way is that you can generate "Windows System Repair Disc" on a separate PC that is operating the same version of Windows like yours and then insert the disc to reach to the same recovery tool as written above.
If you witness that "System Restore" is of not much relief to you, you can go for a virus scanner from a USB drive or from a bootable disc.
The most reliable and successful bootable scanner is from Bitdefender; though these are also equally authentic and genuine – Avast, AVG, Avira, Kaspersky, Norton, and many more.
How to Recover Encrypted Files
The choice of "Shadow Copies" will be a good initiative to retrieve the encoded files.
Find out the affected file or document and do a right click on it and thereafter from the expanded menu, click or tap on "Properties".
Shift to the tab labeled as "Previous Version" and therein you can observe all the versions of the file that is in the record.
Opt the version that is exactly prior to the "ransomware" charge and thereupon click or tap "Restore" button.
Best Practices to Prevent Ransomware
There are several steps that should be adopted by you in order to protect your server and system against attacks and threats. Let us see them here –
Always put all effort to keep your Windows and all its related components into its current state.
Make sure that you frequently and time to time clean the browser so that the adware invasions are strongly prevented and hence you can stop the malware infection from spreading out vigorously.
Always be cautious and careful with the unexpected spam emails and their attachments, for instance – "CryptoLocker advances via .zip files that are sent as email attachments".
Install and use an up to date anti-virus program.
Verify and ensure that you have turned on the "SmartScreen Filter" on the browsers that you operate generally on your machine.