Users whose Windows 8.1 OS have converged the latest update must have noticed a new power button mingled with search button at the upper right side of Start Screen. Some of them will undoubtedly be pleased to see these enhancements, which lessen their job to shutdown, restart, sleep and search as a neoteric experience, but few users might not like. We will discuss here about a few users choice. They could remove Power button from Start Screen (However now this is not start screen because your PC now starts to desktop). Whatever, you can do it with either tweaking registry editor or using third part software. Follow the tips if you want to remove Power buttons from metro screen of Windows 8.1 OS.
Recommended: Reduce Screen Brightness below Minimum on Windows 8 PC
1. Press Windows + R key to launch Run dialog box.
2. type Regedit.exe and press Enter.
3. Go to location
HKEY_CURRENT_USER\Software\Microsoft\Windows\CurrentVersion\ImmersiveShell
in Registry Editor and right-click on ImmersiveShell.
4. Click on New and then Key and write its name Launcher in the ImmersiveShell option.
5. Click on Launcher on the left. Select Launcher Key on the right side of registry editor and right-click anywhere in a vacant area. Choose the option New afterwards DWORD (32-bit) Value and write its name:
Launcher_ShowPowerButtonOnStartScreen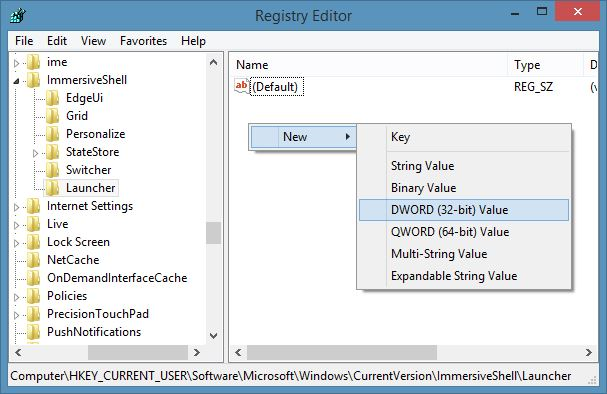 Step 6 – Restart your PC. You have noticed that the Power Button from your Start Screen has now disappeared.
Reason is new DROID has 0 value in default setting and it removes the Start Screen Power button on Windows 8.1.
This tip is sufficient to remove the power button from Windows 8 Start Screen, but if doesn't succeed you can use third-party software. Download ModernUI Tuner software. This software is available on web, download it, install it and run in your PC. On the Start Screen menu of this software uncheck the option  Show the Shutdown button on the Start Screen and apply it. Now restart your PC. This will remove your Power Button from Start Screen. You can get it back by checking this option again.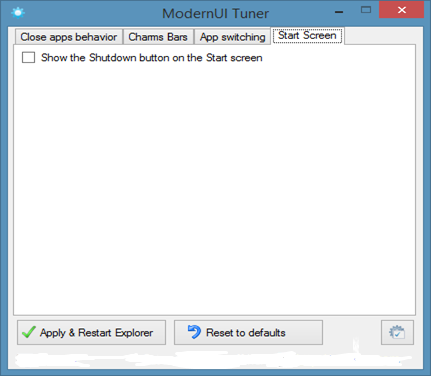 Thus you can remove power button from Windows 8 start screen through registry editor or third-party software. I hope this will be useful for you.
Must Read: