Windows 10 includes an option in Network & Internet Settings section that allows its users to easily restrict background data while roaming. Previously the option was available on Windows mobile devices but not for desktop. Microsoft frequently sends updates and the OS maintains background data that contains Store apps and Windows features also. So, when you put a limitation on this feature, certain tasks such as email syncing, Live Tile update, background upload, and download as well don't occur.
When you Restrict Background Data While Roaming, your unnecessary data expenses substantially cut down. Doing this will help you to avoid unexpected charges on your internet plan when you are traveling. As you know that roaming is actually a wireless communication that is used in mobile networks. When your laptop is out of its home network range, it can connect to any available cell network by roaming. This is indeed an amazing feature but it involves extra charges too. The charge per usage is quite higher than usual. As a result, keeping the background data active for the application will surely charge a lot. Previously, Windows users could turn the background data off on their mobile phones only. But here, you will learn how to Restrict Background Data while Roaming in Windows 10 laptops too. Let's head towards the sequence of steps.
How to Restrict Background Data while Roaming in Windows 10
We will use default Settings app of Windows 10 in order to accomplish this task. So, pursue the below-given steps.
Step-1: Go to the Start Menu on your computer and select Setting icon from the list of options.
Step-2: In the following Settings app page, you can notice an option Network & Internet with an Internet icon. Hit a click on it to reach out its related settings.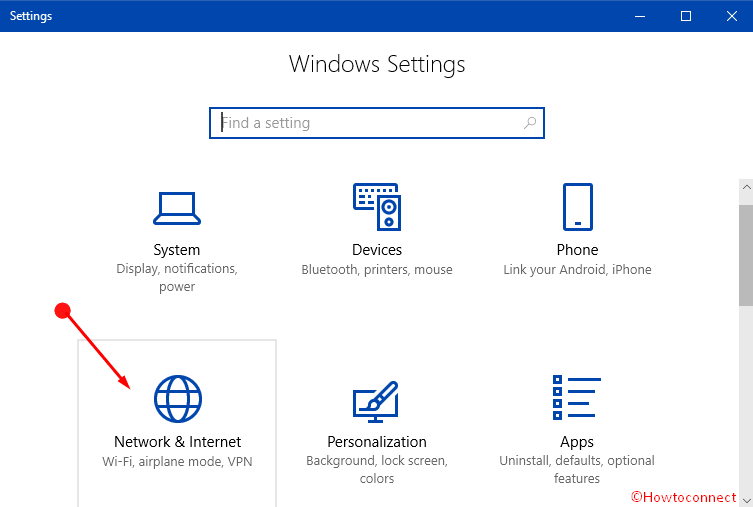 Step-3: In the next page, select the option Data usage from the left pane. It opens some more advanced options to its adjacent right pane.
Step-4: Locate the option "Restrict background data while roaming". You can see a switching bar from On to Off just below the option. Hence, turn it On in order to Restrict Background Data while Roaming in Windows 10.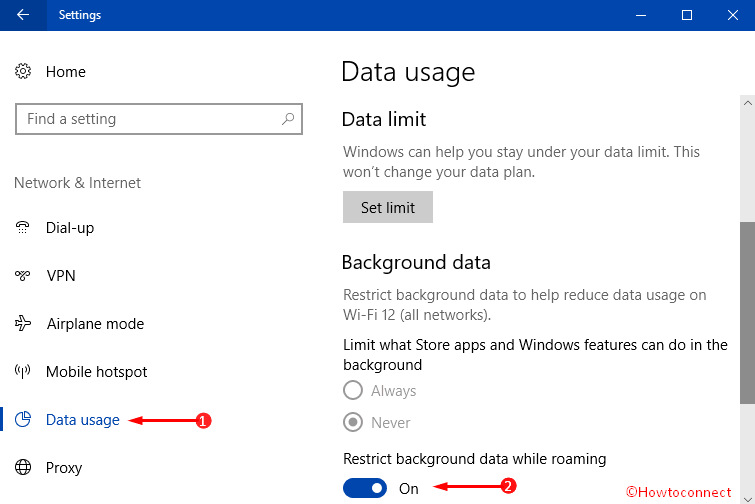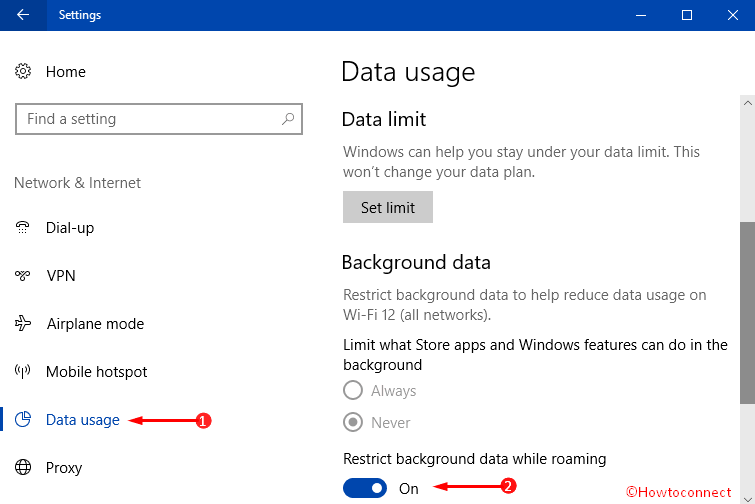 Once you do so, your device will not run any background data while roaming anymore. If you want to toggle it off, you can follow the same procedure like we mentioned above.
The world nowadays has become smaller in terms of technology. Modernization has added speed in our day to day life. Very often we move one place to another in order to meet up various needs. While moving, you carry our devices like laptops as well as mobile devices. With the help of these, you can easily connect to the network.
Conclusion
Data roaming is a very helpful option as you can use any available network using our home network. Most of the time, you encounter difficulties to get a SIM card outside of the country while traveling or on the move. You can use your home network when the roaming service is active. As you know that, it is quite expensive than normal rate, you need to restrict the usage as much as possible. Restrict Background Data while Roaming in Windows 10 will save the additional charges. Therefore, follow the instructions we discussed above and apply accordingly.