Voice is sufficient to search in Google. Yes, Google has rolled out Google Voice Search and you can search in Google by speaking only. All you have to do is click on microphone lying in search box and then on Enable Ok Google. Now you can execute Google search with your voice. It is a matter of recent previous that Google has launched Google Voice Search Hotword Beta Extension that enables Google Voice Search and now it is added in Chrome Beta browser. Google names it Hands-Free Google Voice Search and it really means. You can carry through your search even when you are busy cooking and your hands are engaged. These features are boon for mobile devices because you can carry it wherever you want. So we are elaborating here tips to set a reminder in Google Now add import supervised user in Google Chrome beta browser so that you can use Hands-Free Google Voice Search more effectively.
How to Hands-free Google Voice Search in Chrome
Firstly you have to download and install the latest Chrome Beta. To activate this feature in your PC then visit Google.com and click on the mic icon in the search box and tap on Enable Ok Google.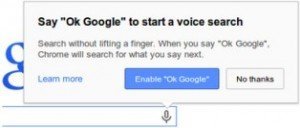 Read: How to get Reminders about Starred mails in Gmail
How to Set Reminder in Google Now
Reminder feature is available now only in English, French, Italian, German, Spanish, Japanese, Korean, Russian, and Brazilian Portuguese. But remaining have not to worry because it will come soon. You have to use Google Now to create reminders for tasks, places to visit, and events by the following in two ways.
1. By touching the Microphone icon – In this icon, speak Remind me to and say the matter you want to remind that then click on Set reminder.
2. By touching the Reminders icon – In this icon, you can view and arrange all forthcoming and previous reminders when you get the notification for a reminder that is at the top of your screen.
Few Steps to set Time reminders:
First of all open Google Now and touch the Mic icon. After that tell"Remind me to set the exact or approximate time". Touch Set reminder when you get finish.
Steps to set Location reminders: If you want to do something at a location then open Google Now and touch the Mic icon. After that speak "Remind me to set the exact location". Touch Set reminder when you finish.
Steps to set Event reminders: If you have already signed in to your Google Account and are searching for certain events then select the option Remind me on Google Now to see a confirmation. After that click on Cancel on the knowledge card to cancel the reminder.
Steps to Delete a reminder: Touch the Reminder icon and touch any reminder to delete then tap Ok to delete it.
Read: How to Reset Chrome Browser Settings After Hacked
How to Import Supervised users on New Computers
Now it becomes easy for you to set up chrome Supervised users with the help of the latest chrome beta on multiple devices. Supervised users can support your intimates to search the web without getting any trouble and in the managed environment. Once if you have created a Supervised account then you can let that user browse on any device with new option Import. To create this you have to just follow the few steps which are given below.
1. Firstly tap or click on the Chrome menu at the toolbar and select Settings in that menu.
2. Then click on Add new user in the Users section.
3. Now click Import an existing supervised user.
4. Select that user you have to import from the list.
5. Then click Import Supervised user.
Now this Supervised user is not available for the Windows, Mac and Linux users but it will be shortly provided to you to enjoy it.