Spending Tracker is a Windows 8 Finance App to make a review of your income and expenditure. The app allows you to store your income and various expenses through which you can analyze and watch how much you are spending and thus save money. You can make your personal account and if you want to add more accounts of different people you can do that also. Spending Tracker app has only one type of income listed in the categories section i.e, the salary. But you can add your own type of income. The categories section has different areas of expenditure listed on it. You can even edit the existing category or create a new category of your own.
After making the income and expenditure list you would definitely want to review your money inflow and outflow. So, there are three-time periods available Spending Tracker app – Weekly, Monthly and Yearly. You can analyze your reports on either of the three-time periods. The reports are very well depicted either in bar diagram or pie chart.
Recommended: Bill Dashboard Windows 8 App – Manage, Track Financial Bills
How to use Spending Tracker Windows 8 App
Install the app from the Finance category of the Windows Store or launch it by clicking the link below.
After owning the app you will see a short summary of the income and expenses.
You will see everything in zeros because you have not entered your transactions yet.
Select "+ Income" option.
A new box will come. Enter the details in the fields.
Select your income "category". The app has only "Salary" listed as the source of income. If your mode of income is something else, then click on the category and enter your own category name. Then write the amount that you earn.
Click on the "Save" button.
Now you have to add your expenses. Select "+ expense" option.
Select your expense category and enter the amount that you have spent on it and click the "Save" button.
Now to add more categories of expenses on your list, then simply repeat step 8 and 9.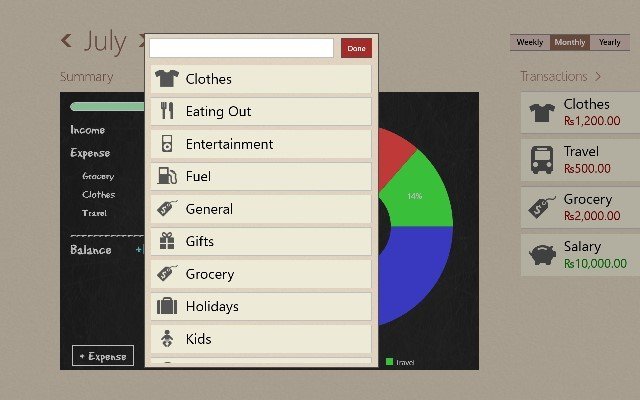 You can now see your incoming, outgoing and balance amount left with you.
 Flyout Options
When you right click on the screen you can see some options on the top and bottom flyout of the screen. You can right click on the particular options page and do the editing from the bottom flyout options.
Hub – In the hub option you can see the summary of your transactions along with a graphical representation.
Transactions – It will show you only the transaction of the period that is selected.
Reports – Reports will show you the graphical representation of the transactions. It is represented in bar diagram and pie chart.
Categories – It will display all those categories that are already there and that you have created whether related to income or expense.
Accounts – This will display your account name. In order to create one or more accounts, then simply right-click on the screen and click the "Add" option and enter the required details.
Backups – Backup option is not free. You can back up your transaction with this option.
Spending Tracker Windows 8 App Design
Interface of the app is very smooth. You can easily understand all the areas. Different sections are very well designed and the app is very handy. The income and expenditure reports can be understood without any extra effort. You can cut on your spending if you see that you have spent more than the money earned. The app displays your cash inflows and outflows in a weekly, monthly or yearly time period.
Spending Tracker Windows 8 App Features
The application is not chargeable.
Analyze your expenses.
Excellent reports of the transactions.
Can operate multiple accounts.
Expressive graphical representation of the transactions.
Can create own categories.
Easily edit the categories.
Conclusion
Spending Tracker is an excellent Finance app to analyze over the spending and to set a budget suitable for you. With so much of reports and analysis you will surely love to install this app in your computer. So don't get carried away by your expenses. A nice app to overview your transactions and also will help you in taking monetary decisions.