Umbrellas Windows 10 Theme published by Microsoft Corporation is now in Store waiting to make your device colorful.  An umbrella comes not only a shield above head but also a major item in decoration ideas. Whether it's a rainy day or extreme sunny one, you definitely look for one and all together will adorn your desktop. The application contains 18 sets of wallpapers that includes a collection of cool umbrellas, Shield in sun,  Raindrops falling on it as in snow. All these Background images will refresh your mind and take a tour to childhood nostalgia you always opt for.
Umbrellas Windows 10 Theme is a very small size lightweight application and it will take up only 15.42 MB of Disk Drive. You can also install this at a minimum of ten Windows 10 devices once download while signed in to own Microsoft Account. This app is for the users of all ages using English (United States) as the default language. Let's see how to apply the theme in your system from the below section.
How to Download and Set Umbrellas Windows 10 Theme
Step-1: Launch any web browser from your device and Visit the official webpage of Umbrellas Theme.
Step-2: When the page is upfront, hover the cursor to the right-end and hit the Get button.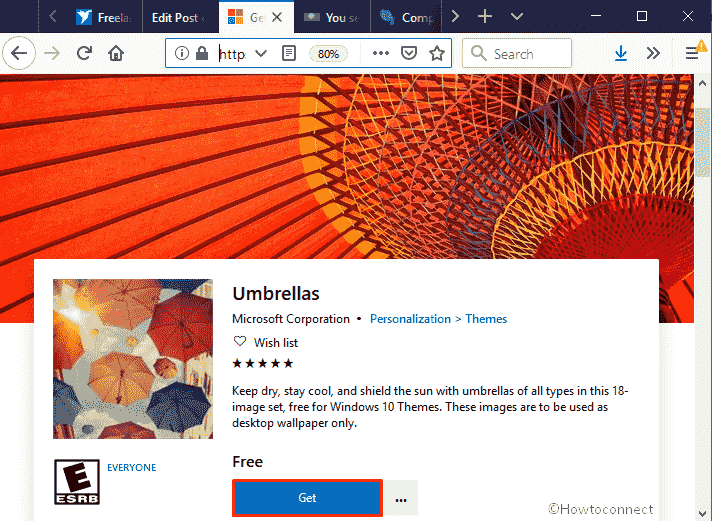 Step-3: By default, Windows will direct you to the Microsoft Store Theme page. However, if you don't want to go through this process, simply open the Store and Search the item manually.
Step-4: On the running page, you can see all the details with specifications. Select the Get option from this page to initiate the downloading procedure. It will be finished in a couple of minutes depending on your internet speed.
Step-5: Once the installation gets over, a display banner will appear in the Store and on the desktop at the bottom right side as well. Make a click on the Apply button to set the theme.
Step-6: With the above action, Windows Settings app will open on the screen where the Theme is by default selected. Move on to the right side pane and reach out to Umbrellas. Select the Theme to apply it in your machine.
System Requirements
Following requirements need to be satisfied for applying Umbrellas Windows 10 Theme in your device –
The Machine must run with Windows 10 version 14951.0 or higher OS in order to open and use this product.
You should have the architecture specification of x86, x64, ARM, ARM64 at least.
This Theme is free and there is no age restriction.
You need to ensure English (United States) language support in Windows.
That's all!!!