To get connected to the variant computer you first have to establish Remote Desktop Connection. Among many features of Windows operating system new edition, this one permits you to connect other computers. You can now operate your friends or work computer from your home. Here operate means you can actually see and work on his desktop from your screen. But to do so, you need to establish a Remote Desktop Connection in Windows 10.
Suppose you have a friend who is facing a software problem on his computer. If both, you and your friend establish a remote desktop connection, then you can connect your computer to his and take him out of the problem. This feature is very helpful in the corporate world where the IT sector of a firm connect their computer to the office's one and resolve its issue. So, move on and read out the steps to establish Remote Desktop Connection.
You may like to Read:
How to Establish Remote Desktop Connection in Windows 10
Get Remote Desktop Connection Settings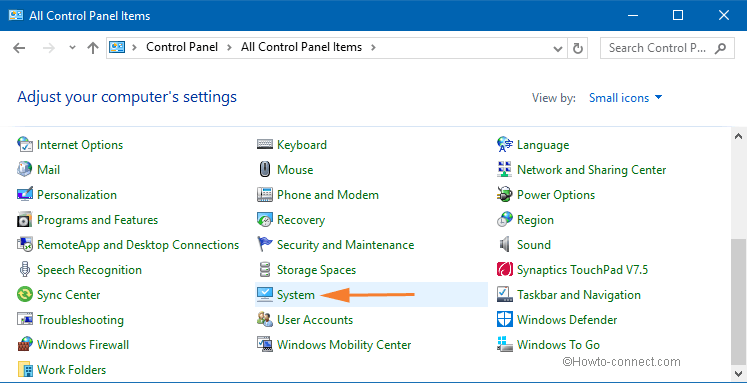 There is another way to get into the System window. Type Remote Settings on the search field of Start Menu and click Enter to search the exact option. System option will arrive on the search results. Double click to open it.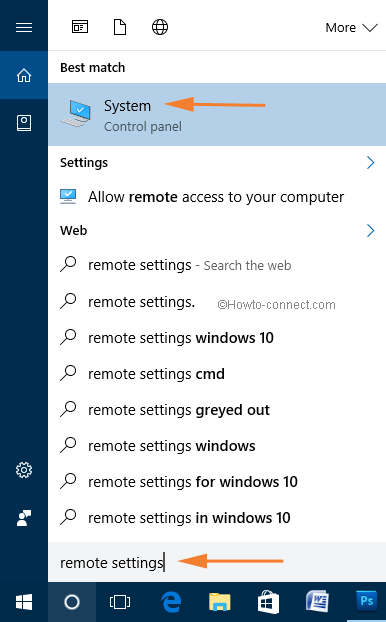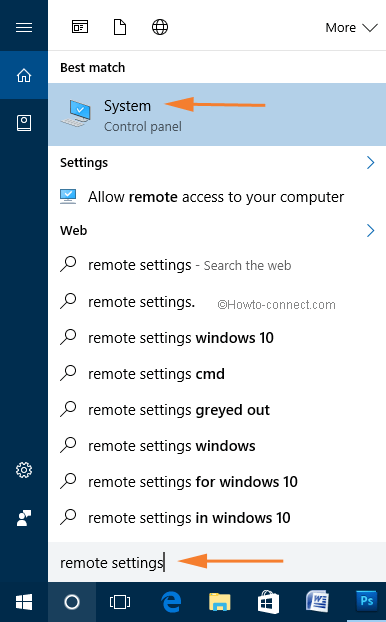 Click Remote Settings link on the left pane of the System window.
A small window of System Properties will now arrive on your screen. And you will be directed to the Remote tab itself.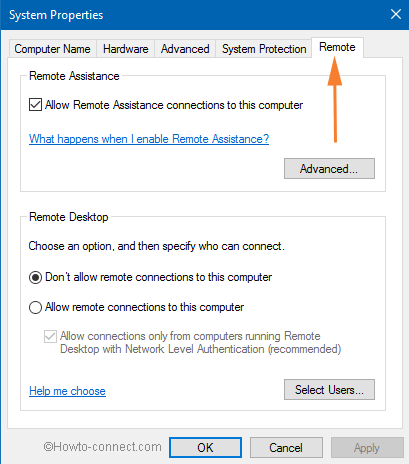 Establish Remote Desktop Connection Settings on Windows 10
As you are into the Remote tab of System Properties window you will notice two parts listed there. They are Remote Assistance and Remote Desktop.
Under the Remote Desktop part, you will view three options. Let's see what each option serves you.
Don't Allow Remote Connections to this Computer
If this option is selected then it will restrict the other users to get connected with your computer whether with the help of accessing Remote Desktop Connection or they try it employing the RemoteApp. The RemoteApp is the connections which when connected the users can access only an individual application.
Allow Remote Connections to this Computer
This option, if enabled will allow both the users to access either Remote Desktop Connections or RemoteApp. If you don't know which type of remote connection the host is applying, you can go with this option by selecting it.
Allow Connections only from Computers Running Remote Desktop with Network Level Authentication
This option will ask for authentication while being connected to another computer. This option is being treated as the safest because you will be able to get connected with your known clients only.
Here you will select your required option followed by a click on Ok button. Now the others can get into your computer through Remote Desktop Connection and for the administrator level users they can get into by supplying the sign in credentials.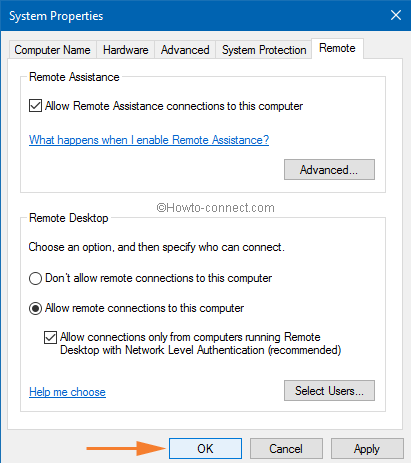 Moreover, you will not be very happy in sharing your credentials related to the administrator with anyone. So there is a way through which you can create another user account for your Remote Desktop Connections only.  And to do so you have to click on Select Users button.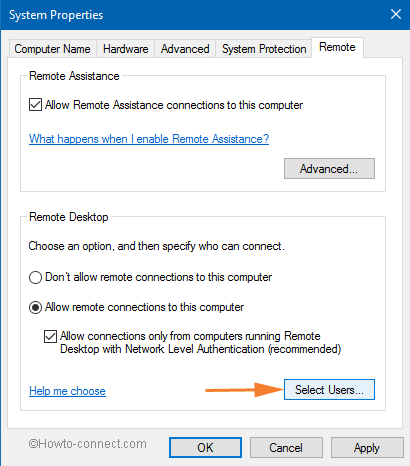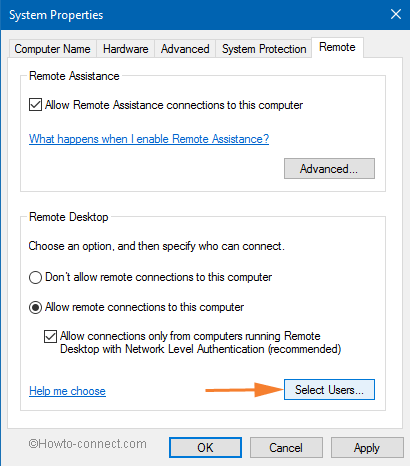 The above action will open up Remote Desktop Users from where you can add other users with whom you wish to share the information. And to make this happen you have to click on Add button.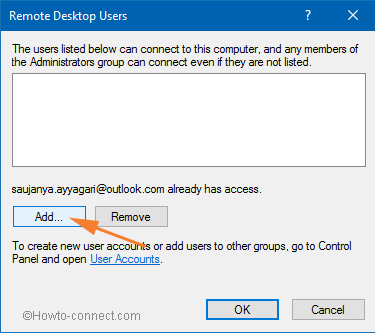 On the next window of choose Users, keypunch the name of the user account which you have in the Enter the object names to select section followed by a click on Check Names.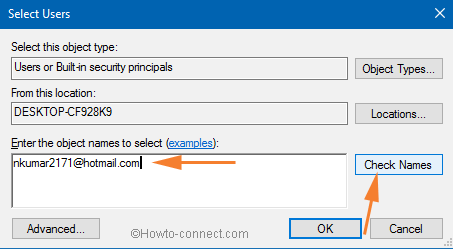 Windows will scan for the existence of that username and will provide its location in the From this location box. Click Ok when done.
Now click Ok on the Remote Desktop Users window.
This way the other users whom you have favorably added will be able to connect you with the utilization of Remote Desktop Connection by providing their sign in username and password.
Conclusion
I personally regard this as a very useful thing because we can carry out so many works while connected to each other. Most of my students solve my computer related problems using Remote Desktop Connection. This even termed as a very useful feature for many offices where the computers can easily be connected to one another. I hope this will help you and you can also take the benefit of Remote Desktop Connection. Take Care!