Microsoft has delivered Windows 10 Insider Preview Build 17686  Redstone 5 to Windows Insider in Fast ring level moreover for the users who have opted Skip Ahead. The salient features in this patch are the new Region page in the Settings app and improvements for Mixed reality users.
In addition, the Build 17686 includes Privacy changes for Microphones and several fixes. Especially Microsoft has fixed CRITICAL_PROCESS_DIED causing the unexpected restart annoyance for the insiders. Let's see the details –
 Windows 10 Insider Preview Build 17686 Features and Improvements and Fixes Details
Microsoft comes up with a new Region page that lets override the built-in regional format settings. These settings in Windows 10 Insider build 17686 countermand the Calendar, First day of the week, Dates, Times, and Currency. You can try them via Settings App – Time & Language – Region.
New Region Page in the Settings app
This is the key point of Windows 10 Insider Preview Build 17686 features. You will experience Windows display language quality enhancements through Local Experience Packs which are the part of Microsoft Store applications. Enjoy this feature by navigating to Settings App => Time & Language => Language. After reaching this section click on Add a "Windows display language with Local Experience Packs link" to download from the Microsoft Store.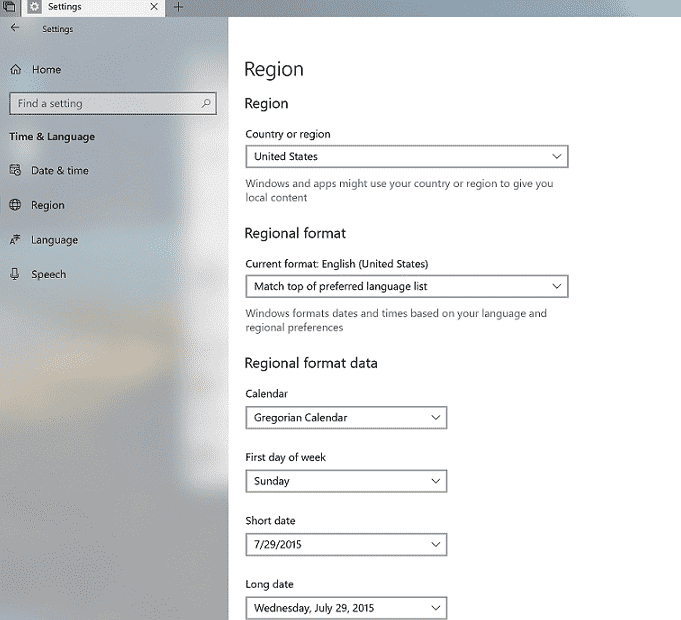 Improvements in Privacy
Windows 10 Insider Preview Build 17686 will display you a notification if Microphone is turned off in the Privacy section of Settings.  In this situation, you can assess the option and toggle to on as per your requirement.
The popup will show the message – Your privacy settings blocked access to the microphone. Review these privacy settings.

Improvements in Windows Mixed Reality
Windows 10 Insider Preview Build 17686 comprises a bunch of advancements for Windows Mixed Reality users:
You don't need to connect a monitor in the situation of running Mixed Reality. In the beginning, you will require connecting the monitor only when you configure the WMR for the very first time in Mixed Reality Portal and enter the computer through the login screen. Although, you can set up auto login to prevent needing to sign in for further usage here. While Using WMR while standing requires setting up a room boundary.
The Applications in Windows Mixed Reality are able to utilize Camera Capture UI API to take pics. Give a try to snap and send the scenic view through mail to your near dear.
Microsoft also makes changes in the mixed reality video capture experience to stop videos simply from the Start menu.
General changes, improvements, and fixes for PC
Windows 10 insider team has resolved CRITICAL PROCESS DIED error which unexpectedly started bugcheck.
Microsoft has changed the name of Game DVR to Captures.
They solved the Paint, WordPad settings and recent files problems which weren't moved during upgrades.
File Explorer has got improvement and look much more complete with the dark theme.
Windows 10 insider experts resolved Replace or skip files dialog issue that displayed unexpected dark elements.
Microsoft settled a problem of Japanese IME's big mode indicator that would appear in the center of the screen when bringing up UAC despite it was disabled in Settings.
They solved the taskbar flyouts shadow bug.
Windows 10 developers team fixed the plus button in the Clock and Calendar flyout not working from the taskbar.
They resolved Command Prompt cursor not showing problem.
Microsoft settled a mess regarding a high number of reliability issues when switching to the Microsoft Pinyin IME.
Microsoft's team fixed Emoji Panel might not dismiss problem that didn't go after clicking somewhere.
Windows 10 Insider Preview Build 17686 Known issues
Windows 10 insider developers are working hard to add dark theme to File Explorer including Common File Dialog. You may see some at once light colors within these surfaces.
Once you update to the current build, Mixed Reality Portal will re-install its Software and you previous setting will be wiped out. If you like your WMR home experience to continue, you should wait until the next build.
Few users may encounter increased reliability and performance problem when launching Start. The team is investigating.
When you get Fonts from Microsoft Store they may fail to work in some apps.
In the present build, taskbar flyouts (network, volume, etc) will not show acrylic background.
In the current build and the previous 17682, a bug will impact driver testing scenarios. When performing HLK Component or Device driver tests, you may confront with a bug check that blocks test execution. Microsoft is understanding this problem and actively working on a fix.
In the recently released builds, there is a problem when switching to ring level. During the switching, optional content such as developer mode will not work. You will need to continue with the Fast ring to add/install/enable optional content. The reason is the optional content installs on builds approved for particular rings.
Known issues for Sets & Office
The Sets new tab feature is yet not concluded for Office Win32 desktop apps. Microsoft is working according to feedback from users.
A long time gong issue still persists as the top of certain Win32 desktop application windows may appear underneath the tab bar to an extent. This occurs when you maximize. For the workaround, you can restore and re-maximize the window.
When you close a tab in Sets it may minimize the entire set on certain occasions.
Tiling and cascading windows moreover View Side by Side in MS Word will fail to work for inactive tabs.
Presently, you will notice Office Visual Basic Editor window following the tab feature but you will not find it in future.
While opening an MS Office document will switch to the last active document unintentionally. The same will happen with  Excel sheet.
You can't get the Local or non-Microsoft cloud files automatically restored. Furthermore, no error message will appear to alert you to that fact.
That's all about Windows 10 Insider Preview Build 17686 Features and Fixes.
Source – Windows blog