Microsoft has rolled out a new Windows 10 SDK Preview Build 18282 a short while ago. This update includes bug fixes and changes to the API surface area found during development. Developers can use this build in conjunction with Windows 10 Insider Preview Build 18282 or later.
You can download Windows 10 SDK Preview Build 18282 from the developer section on Windows Insider. Navigate to the Developer forum for feedback and the occurrences of the known issues. If you want to know new developer feature requests, advance to Windows Platform UserVoice.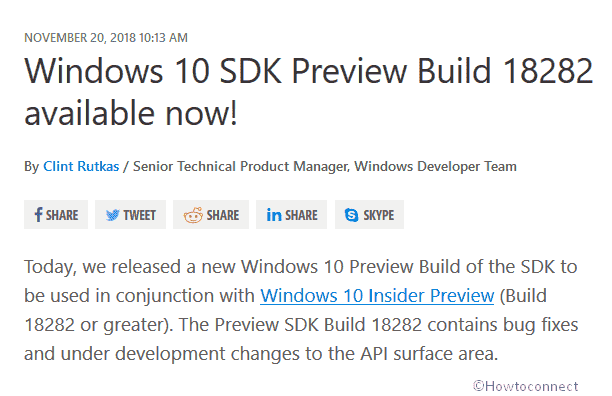 Windows 10 SDK Preview Build 18282 Changes and Fixes Details
SDK Preview Build 18282 works in conjunction with the earlier released SDKs furthermore Visual Studio 2017. You can install this and still also keep submitting your applications that target Windows 10 build 1809 or its predecessors to the Microsoft Store.
The SDK will now onward formally only be supported by Visual Studio 2017 and later.
Windows 10 SDK Preview Build 18282 will obviously install on Insider builds and supported Windows OS.
To get the scripts that are helpful to this version of SDK, you can access the ISO through the following link –
https://go.microsoft.com/fwlink/?prd=11966&pver=1.0&plcid=0x409&clcid=0x409&ar=Flight&sar=Sdsurl&o1=18282
SDK Preview Build 18282 Changes
Microsoft has added a blend mode to the effect graph of the AcrylicBrush named Luminosity in this update. This mode will confirm that shadows don't appear backing acrylic surfaces without a cutout. They will also be communicating a LuminosityBlendOpacity API present for tweaking that allows for more AcrylicBrush customization.
Microsoft has also added some logic to ensure that the Acrylic will look same as 1809 acrylics. This is for those that have not specified any LuminosityBlendOpacity on their AcrylicBrushes by default. It is important to know that they will be updating the default brushes to account for this recipe change.
Source – Windows Developer blog