Windows 8 look is distinguished from previous windows versions as missing of traditional boot appearance during start-up and start button from taskbar panel.
Actually Microsoft has made a decision to put new options for enhancing future development. New features in Windows 8 – Cloud connectivity, Security, privacy and widespread device integration is to make a way for forthcoming days. Besides this Windows 8, Metro screen permits us to perform computer operation much rapidly.
Windows 8 Features For Businesses And Professionals
Now Windows 8 fulfills almost every criteria to be used for business and professional purposes after windows 7.  New easy features such as – better productivity, Secure networking management, High security in User account, and easy data backup are available in windows 8. These are helpful during business and professional usage.

There are following new features of Windows 8 for Business and Professional purpose which are as follow-
1. Enhanced presentation with Resources –
In windows 8  a fact is found regarding its loading time during startup booting. It is substantially less than previous windows versions. In the business environment, it is important to save valuable time. Power operation (shut down, Restart, Hibernate) can be done also through third party tools or software comfortably. We can install new programs and system configurations, and access update services in a better way under Windows 8.
Presenting UEFI Feature in windows 8
We feel panic during load of previous Windows versions. At first, its BIOS checks plugged hardware device configuration in Startup session and provides option to recover now. So windows 8 has presented new features for loading fast and better remote access in network mode. This new feature UEFI (Unified Extensible Firmware Interface) gives guarantee to support window users as follow –
First of all, it decreases the loading time about 8-10 seconds than earlier windows version which saves time.
UEFI avails important features like ELAM (Early Launch Anti-Malware) protection that prevents harmful effects on the windows 8 boot loader.
Secure Boot option permits us to set opted operating system as default during Startup loading.
Trusted Boot monitor feature controls several boot setting and operations such as – system file, device driver, and boot loader configuration.
UEFI also permits to check analytic of networking in boot screen. As a result, we can solve complicated troubleshoots here.
Other applications in windows 8 for example – BitLocker Drive Encryption, App Locker, and Newly Control panel interface (More PC settings) is used to protect.
New feature of Wndows 8 boot screen supports mouse easily. So we can do various valuable system operations. Such operations are windows 8 Restore, Recover through opted images file, change settings in windows 8 start-up performance and access Command prompt.  it is used to do advance repair of Windows 8.
2.  Save time with Windows 8 Start screen –
Windows 8 Metro Interface has been designed to get new appearance on single place. If we are using touch screen devices in windows 8 then it will save a lot of valuable time through its performance. Windows 8 related all valuable Apps that have been placed in metro Interface so that we could be accessed directly without desktop mode.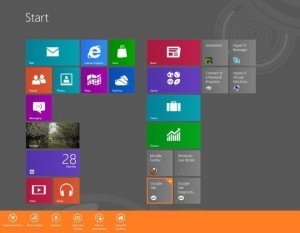 3.   Style search in an organized mode
As previous windows version, we do not find a search panel in windows 8. Actually, windows 8 offers users search what he wants. We open Apps search box through charms panel or pressing shortcut Ctrl + F. Here search category has divided in three categories – Apps, Settings, and files. As soon as we type opted search in box, just search results display in organized modes. So windows 8 presents search lists that are user friendly.
4.  Personal Time Management  Through Calendar App in Windows
For professional or business individuals windows 8 offers Calendar App. It provides an opportunity to create note of forthcoming plan or routine with accurate time. We can put the status, activate reminders options to get updated timeline information of upcoming schedules.
5.  Windows 8 App Store
Although, the App Store of Windows 8 has not been made compatible in business environment yet. But Fresh paint and Wikipedia apps are used to adjust the metro screen in new lookup.
6. Cloud-based Address Book in windows 8 through People App
We can solve business strategy problems with planning about fresh responsibility, routine, Time management, and modify the workplace via creating widespread contact list or address book. So Cloud-connected People App in Windows 8 is a good option. We can add new contacts, import contact lists from either our personal email id  – Gmail, Hotmail, Outlook, or social networking website – Facebook, Twitter, and LinkedIn.