Windows 8, the latest Operating Introduced by Microsoft, is available in dual preview as Consumer & Developer. Much more developed function suppress all its earlier version.  Accessing multiple options at the same place is one of the key features Windows 8 has. Apart from default program users may configure program as per their need. Configuring Control Panel in developer preview could be done easily after following below paragraphs: –
Press Windows Key + R in combination and it brings RUN dialog box.
Here type Control in blank box and hit Enter button.
A metro control Panel window is appearing.
Define newly added Features in Windows 8 Control panel
1. Personalize
When Metro Control panel is launched in Windows 8, you find Personalize option in upper left portion.
Lock screen tool – You can change background and add new your favorite applications to view in detail lists.
User Tile  – you can put new background either by taking new snaps from your device or choosing new images from local drives. It also allows you to create custom user tile appearance through outer applications.
2. Users –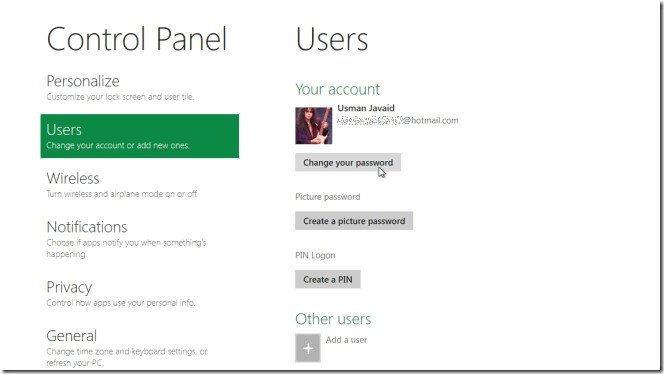 In Metro Control panel, Users tools are used to manage user account many Services as follow:
Build new user account.
Put new Password or Pin in new user account.
Change old password of user account.
Change settings in User account management.
3.  Wireless –
A wireless tool is used to view and find current and earlier connected Wireless LAN enabled devices and systems in Windows 8.
4.  Notifications –
When you click on Notifications option, it brings various settings to enable or disable of concerned applications in notification panel.
5.  Privacy –
In metro control panel window, Privacy option allows you to change settings in apps, and enable or disable account information and account pictures. If you choose App history tool in the privacy window, it deletes recently visited application history.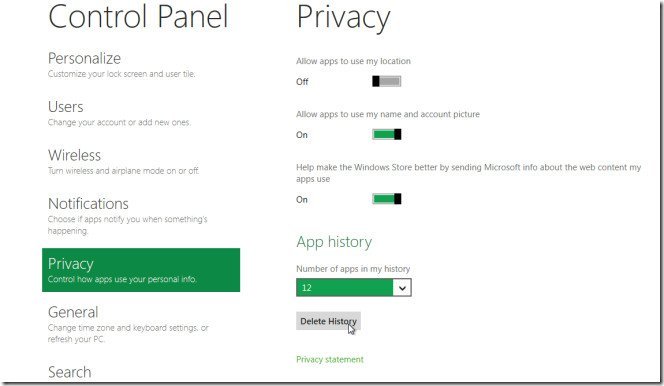 6.   General –
This button is used to configure settings of Windows 8  in touch screen enabled device (Tablet) keyboard.  Two options are also displayed underneath in right panel –   Refresh and Reset. Both Options are used to perform solve Windows errors and restore.

7.   Search –
in Metro Control panel dialog box, Search tool is used to configure settings in metro start search panel. You can delete history earlier. You can keep those apps in search lists that have searched maximum time in the start search pane.
Share tools in control panel allow you to change numerous share settings.  for example – Remove Share history, confirm / hide people and apps lists.

9.  Send –
Role of Send tools is similar to Share tools in the control panel.  It permits you to change custom settings in history and opted apps that you like to add in send tab.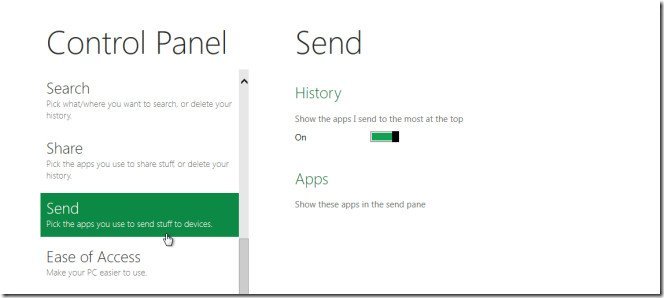 9. Ease of Access –
With Ease of Access option, metro screen appearance will convert after configuring contrast settings. If you increase contrast in Windows 8, then the appearance of metro screen will change from white to purple from the default green color. Now whole Windows background looks in different styles. If you want to return to the previous metro background appearance then you may turn off high contrast settings.
10.  Devices –
This option displays all connected devices such as Printer, Speaker, Headphones, Scanner, fax machine, plugged Monitor, and other hardware components.  If you want to uninstall any devices from Windows 8, then choose it and click on Remove link.

11.  Sync PC Settings –
Windows 8 has produced a new feature Sync PC. This option helps you to use similar settings with all connected systems. You can turn on / off sync PC with another connected system. Inside PC settings tab, you can change settings such as Themes, Language, Taskbar, Homegroup, and many more.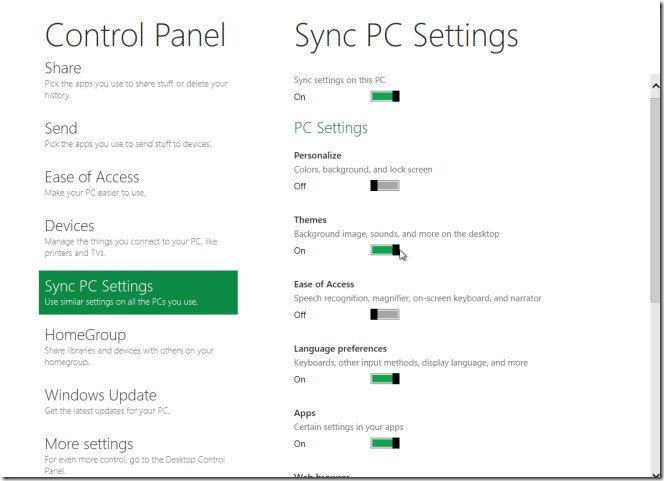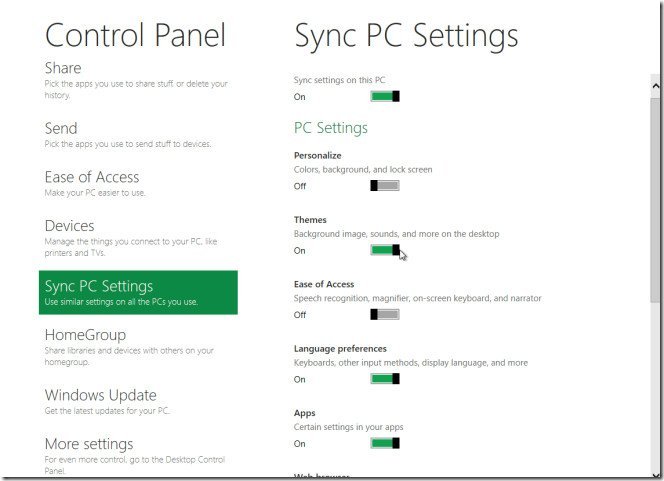 12.  Windows Update –
Through Windows Update option view details about Windows update status, disable updates files, and request to start or stop update online automatically.

13.  More Settings –
More Settings option is located at the bottom in Metro Control panel. It permits you to revert to classic category appearance (like the windows 7 Control panel) from current metro control panel appearance.