Here we are going to give you a description of five different body language Windows 8 apps which use to improve your body language which you can use in certain situations you might feel not cozy. These apps help you in behaving or acting normal whatever the situation demands. Body Language apps make you apt accordingly as well as handle critical situations and socially among the public.  To concern about these things Windows 8 apps provides you free five body language skills on windows 8, which you can use to improve your personality. These apps not only give you the procedure to understand body language but also provides you the way to communicate with others. Windows 8 provides you an easy way to understand these things and smoothly use it in your life.
Recommended: Screen Smasher Windows 8 App – Make fool of Your Friends With Prank
Let's start how to use these five things in your life with windows 8.
 7 Body Language Secrets that Attract Women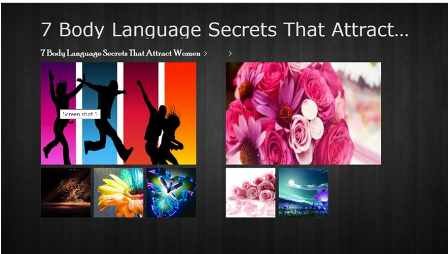 This app explains your easy ways on how you express yourself in front of women and make a better image when you meet them. Windows 8 provides you various tools to know these things once you launch this. All you have to do is to click the next option and avail the facility of tips. If you want to go back on the main page simply click on the back button. The app lists out these steps in extreme detail so you can understand how to bring about that sort of body language into yourself. This is really a decent app to have with yourself as it gives you way more than you expect on how to behave yourself when among girls, women, etc. There is only one problem here and that is you will be able to learn on how to behave in front of girls and not people as a whole.
 2. How to Read Body Language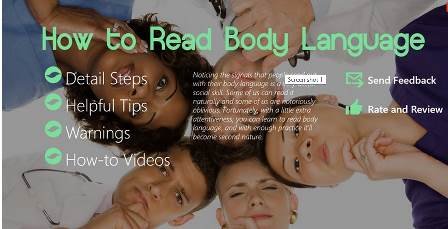 As a name suggests windows 8 provides you facility to how you easily understand the other's body language. It also suggests you tricks and tips and warning on how to behave, what should you do, and what not in front of other persons. It comes as a correction to the one mentioned above. Once you install the apps it gives you the user interface that contains useful tricks, tips, and warning that instruct you the way which you should not be doing in current situations. It also provides you the facility of  YouTube videos to guide you on normal people's behavior.
Key Features of this App
Provides detailed steps to show you how to read body language.
Lots of helpful tips and warnings.
Plenty of videos demonstrate how others do.
Toggle switch to show/hide background.
 3. Body Language
Body language is again a very beautiful app that helps you in impressing other people with whom you generally communicate. This is a very good Windows 8 communicating app. Launching this app will provide various tips for body language such as 25 acts of body language on how to read body language. If you click 25 examples of body language you will see a number of lists of body language like meaning confidence, gesture –brisk  etc. As we have already discussed. You can also watch videos uploaded by this app on YouTube. This app does not support a snapped view which might be its single drawback. Rest of the features of this app are really fine.
 4. Top 10 Body Language Tips
Top 10 Body language tips is a good app that teaches you on how to impress persons with whom you meet in day-to-day life.  This app provides you a lot of tips to improve your body language which you can use to impress persons whom you like. When you launch this app it provides you different ways on how to communicate with others such as your eye contact, body posture. If you contact another person it is more important that your eye contact is maintained because sometimes your eye says all those things which you think. Similar to this, different tools are available here on this app which you can look out at Windows 8 store. As body language depicts half of your personality, it provides you some of the useful tips on how to improve your body language.
 5. Lier Catcher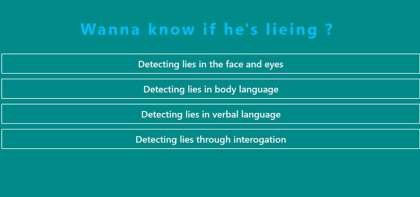 This app provides you tips to understand whether the person in front of you is lying or not. By which you can easily detect the person is lying in front of you or just acting normal. This could be easily performed by you just by detecting lies in the face through eye contact, body language, verbal response, etc.  Once, you have this app, launching this  you will find various tips with lots of pictures giving you some way to detect lies. You can scroll the picture to access the next one so that you can think upon them in the near future when you meet different people. Obviously, this is not true always however it helps one to a large extent if you are considering this for normal circumstances.
Conclusion
Overall we can say these apps are very useful to improve your body language and develop your personality. All these apps are very user-friendly and easily customizable. Use these apps today and make yourself aware of various body languages.