Windows 8.1 preview has introduced many new handy features like come back the start button, boot to the desktop, and much more. Now windows 8.1 built-in SkyDrive app has revealed a lot of improvements and features like offline file access, edit images in SkyDrive.
SkyDrive is an extremely admired cloud storage service from Microsoft. Today it is almost available as apps for every Smartphone OS and desktop. Using SkyDrive app, you can access word, excel, PowerPoint, and One Note on your SkyDrive.com account free of cost and also edit PDF files with Office web apps service. One of the first-class features of SkyDrive app is that it is offering free 7 GB of cloud storage. Now you can sync your desktop files with the SkyDrive cloud. In this tip, you will know two new important features of the SkyDrive app in the windows 8.1 preview.
Edit images with SkyDrive app in the Windows 8.1 Preview
A new valuable feature in the SkyDrive app for Windows 8.1 is that you can edit your images. Though, the image editing interface provides the basic options and limited editing functions. To get started,
Open any image with SkyDrive app and right-click on it.
Next, you will get several Edit options at the bottom like Auto Fix, Basic fixes, light, color, and effects.
The image editing interface of SkyDrive app controls all the actions on the same screen. You can auto fix the image and also make editing actions like cropping, resize, rotate and change the brightness and contrast.
One of the excellent features of SkyDrive image editing is that you can store the previous image copy or just update the image copy to your SkyDrive account at the same time.
 Access your SkyDrive Files Offline in Windows 8.1
If you like to access to SkyDrive files without internet connection, you need to enable the files available offline. To enable SkyDrive files available offline,
Start the SkyDrive app from the start screen. Now bring the settings menu from the charms bar and select the options.
Now drag the slider to enable offline access to SkyDrive files.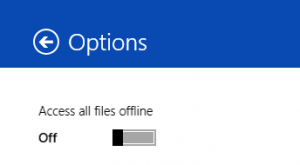 Once the offline access is enabled, your SkyDrive app will download the files on your system.