Do you want to Clear History in Brave Browser? Are you finding the ways to reset Cookies and cache in this web browser?  Brave offers fast and secure browsing experience with features to block Advertisements, trackers and pop up automatically. Its load time is very good because of stripping unnecessary codes to display a web page content. You might often need to delete browsing data, clear caches and cookies in the Brave web browser.
When you access different web pages on the web stores different kinds of data like cache cookies, history. So after continuous surfing, the browsers become loaded with a heap of info and files. After a few days of browsing, clearing browsing data is a good exercise and helps to fasten browser. See a guide to Reset Cookies and Cache on Maxthon Browser.
Ways to Clear History in Brave Browser
Step 1 – Open Brave and click on the Menu icon from the right end of the toolbar. Select Setting… from the menu drop down of this new web browser.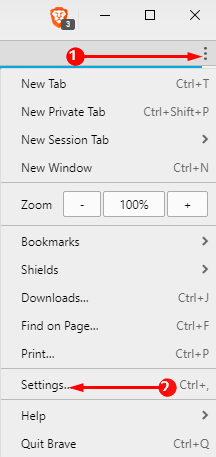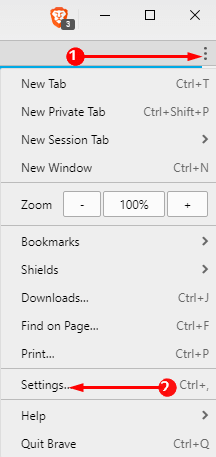 Step 2 – Click on Security in the left sidebar after the Settings page appears. Click on Clear Browsing Data now after the Security tab loads to options in the right pane.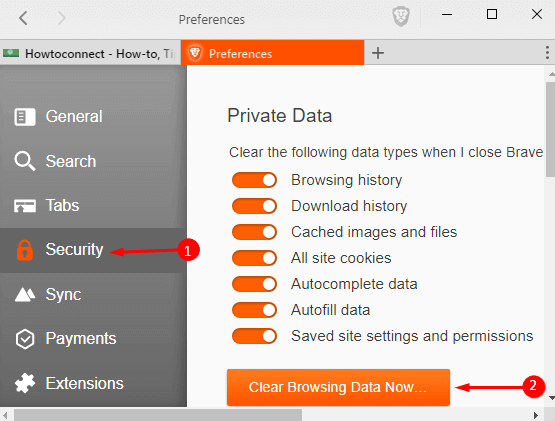 Step 3 – Press Clear button on Clear browsing data pop up. You view total 8 options each containing a toggle on browsing data pop up –
Browsing history
Download history
Cached images and files
Saved password
All site cookies
Autocomplete data
Autofill data
Saved site settings and permissions.
Turn on all the Options and finally, click Clear.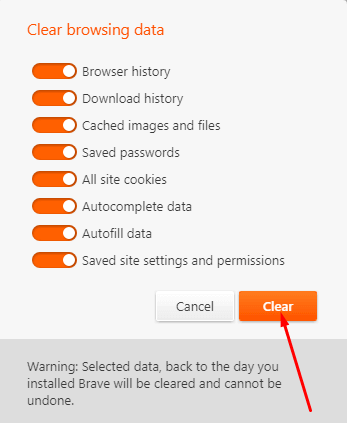 Step 4 – The browser will ask you  – "Do you want to restart now?" Click Yes for a better experience.
Alternatively, you can just copy about:preferences#security into Brave browser address bar and press Enter. Now follow the step 3 to How to Clear History in Brave Browser.
Thus all the browsing data of Brave Browser is cleared.
Delete Cache in Brave Browser
If you need to delete cache in Brave browser only and not the whole browsing data then follow the steps ahead –
Step 1 – Go to Menu => Settings => Security same to the Step 1 and 2 in the above method. Select Clear Browsing Data option. Now turn On Cached images and files (remaining 7 options will be in disabled mode) and press Clear.
Delete Cookies in Brave browser
Step 1 – As in the above methods, go to Menu => Settings => Security on the Brave browser and press Clear Browsing Data Now…
Step 2 – Consequently, enable the option All site cookies and hit Clear.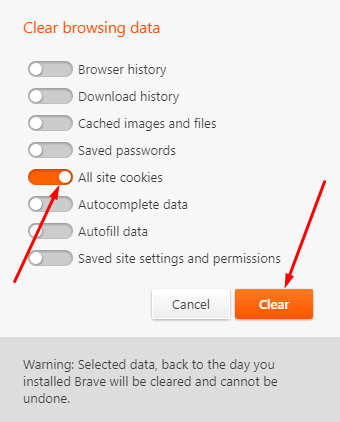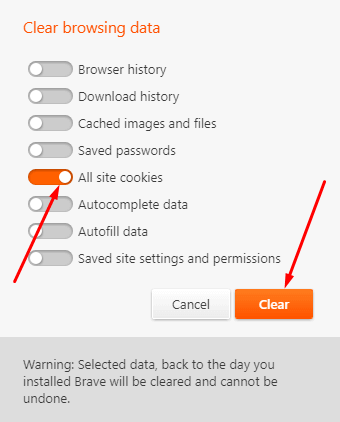 That's it.
Final Words
So these are the ways to Clear History in Brave Browser, Delete Cache, and Cookies. You will see a caution message on the pop up – "Warning – Selected data, back to the day you installed Brave will be cleared and cannot be undone". So always check if you need the data before deleting them.