Methods to Customise Microsoft Edge MSN News Feed as Start Page. – By default, the Edge internet browser is determinant to display MSN News feed as Start page. But few customization tools are also available allowing show round the page of user's choice.
Past few weeks we have written to Set a Custom Start page in Microsoft Edge but this post explains to Customise Microsoft Edge Start Page MSN News. To Customise Microsoft Edge MSN News Feed as Start Page is very simple and straightforward. Everything is designed in a very simple manner so that even a first time user of the browser understands things perfectly.
Ways to Customize Microsoft Edge MSN News Feed as Start Page
First of all, if you are using another web page as Start page then revert back to the MSN News.
Revert back MSN News as Start page in Edge browser.
Step 1 – Launch Edge with your favorite method. Click on 3 horizontal dots at the uppermost right corner of the browser.
Step 2 – Click Settings appearing at the bottom.
Step 3 – Locate the option Open Microsoft Edge with. Consequently, click On the drop down just underneath it and choose Start Page.
Customize Microsoft Edge MSN News Feed as Start Page
Step 1 – Click on the customize button at the upper right corner of the Start page.


Step 2 – Fist of all, Click the drop down under Select language and content. Choose the preferable language by clicking on anyone.
Step 3 – In the Information card segment 3 subjects exist – Sports, Weather, and money. Information cards ensure the feed appearing on the Start page. Hence, toggle ON or OFF either of 3 toggles for which you don't like to see the feed and update.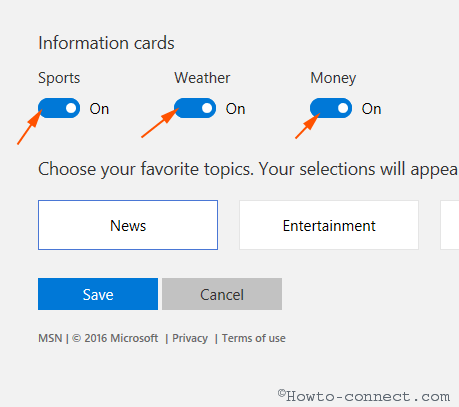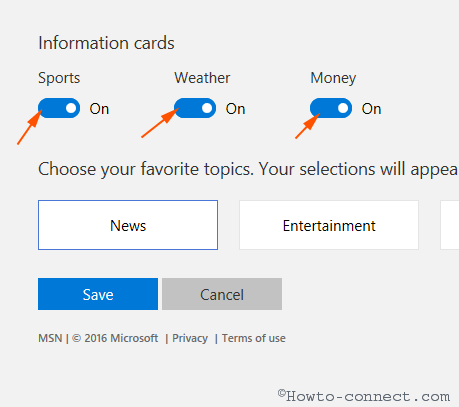 Step 4 – Next option determines the positioning of feeds. Here multiple buttons like News, Entertainment, Sports, Money Lifestyle and Autos are available under Choose your favorite topics. Your selections will appear at the top of your news feed. Therefore,  Whichever of the above topics you like to view on the top of the Start page press the button.
Step 6 – If you like to restore Edge browser inbuilt settings, click the link Reset to default settings at the right bottom corner of the Customize page.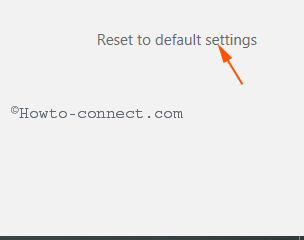 Step 6 – Finally, click the Save button to carry out all the preferences for MSN News start page on Edge.
Almost all of us know Edge is a Web Browser developed by Microsoft and is one of the inclusions in this operating system. Edge has superseded Internet Explorer as the built-in browser on the devices powered Windows 10. Hence, the browser requires Customize Microsoft Edge MSN News Feed as Start Page to have a good experience. Hopefully, you will be able to get a favorable Edge start page feel with these tips.