You get many unnecessary apps by default while you purchase a pre-installed windows 8 or 7 laptop or desktop. The Samsung Galaxy S4 has also come with a small collection of useless apps and services from AT&T carrier. These useless  apps are called bloatware and found on the AT&T carrier supported Samsung Galaxy S4 devices. The greatest discomfort is that you could not uninstall these bloatware apps without rooting. As a result, these apps are located in your app drawer and task manager for when you don't use them.
The best solution is to get ride or disable the bloatware apps from the Galaxy S4 app drawer and stop these apps from being active in the background.
How to disable useless apps on the Galaxy S4 ?
Start Settings option and tap on More option at the bottom.
Then tap on the Application Manager option.
Here, swipe left to navigate the "All" panel and find all unnecessary app which you like to hide. For example – S Memo, Story Album, YP mobile.
Generally when you tap on any app from the app drawer list, you will get the option to uninstall it.
But, you will get a Disable option for all pre-installed apps (bloatware).
To start the process of disabling with the bloatware app, at first, un-check the notifications box and then tap on Disable option.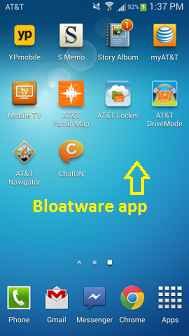 Note –
Do again the same processes to disable any other bloatware app that you like to disable it.
Conclusion
To remove these bloatware apps is absolutely empowering tweaks for you. Because, the tweaks may boost your Galaxy S4 performance and save the battery power.  But you need to be careful, so that you could not disable any necessary built-in system processes which are generally come with the Android logo.