2go is a popular mobile messenger app, and it is free of cost for every mobile version. Currently, millions phone users is connected with 2go services where they can edit profile, search new friends, chat with friends, share pictures or videos. 2go is significant chat service which consumes a small amount of internet data from your internet pack.
Related Post: 1. Whatsapp Free Download For PC, iPhone, Android, BlackBerry, Nokia, etc
How to start 2go mobile chat
At first, launch mobile browser on your mobile phone  and go to the address
wap.2go.co.za or http://wap.2go.im 
Here, you will have to register for opening 2go account without any payment.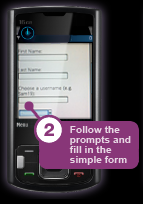 Next, tab prompts a welcome message to confirm correct country. Another tab asks you to choose a language.
A new tab is requesting to insert your phone number. Here, type your personal details and click on Proceed button. Ensure that you have chosen a simple username because it can not be altered afterward.
If you have chosen username proper then your 2go account will be registered immediately. And you will receive your user ID and password in a new tab. Save it.
As soon as the process of 2go account registration ends, your mobile phone will be identified, and the 2go chat app will be installed in few seconds.
Now launch 2go chat app and sign in with your just created 2go account. Now search and add new people or friend in 2go chat lists and start unlimited text chatting.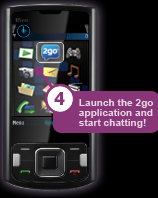 2go has started Android app for the convenience of Android users. It is placed in Google Play Store and you can install it from here. As 2go is the most popular chat messenger in Nigeria and famous among people belonging to African countries it is contemporary to be an android phone app. With 2go app, you can make your profile search friends, make chat and share photos and with them. With this app, anyone is free to make chat on Facebook, Google as well as mxit.
This Android App present in Google Play is useful for Every Android Devices as well as Blackberry, etc. So now you can enjoy 2go chat service on your smartphones.
How to Download 2go for PC
Besides Mobile Phone, you can enjoy 2go on your PC after downloading and installing. To install and download 2go for PC, you should have an account. After creating  a free account on 2go. Follow these steps:
1. Start PC and go to http://pc.2go.im.
2. Select the country name where you live. Write you Mobile Number and the password used in creating the account. In case you have lost the password regain it by visiting http://www.2go.im/help. Now press Login Button.
3. After login is made you will have to press the 2go logo and start MicroEmulator.
4. Now you will have the option Save File. Save the 2go MicroEmulator to PC.
5. If Java is not installed in your PC you will get an option to get it. After installation finishes, you will have to download 2g MicroEmulator on PC.
6. Again login to Account and enjoy 2go for PC free Chat.