Blue Screen of Death (in short BSOD) appears with certain error messages and usually ends up with unexpected restart and shutdown to the computer. One such common error that most Windows 10 users encounter is DRIVER_PORTION_MUST_BE_NONPAGED. This issue generally occurs after installing a new hardware or software on the PC. Moreover, it can also happen during the installation of a program or while a driver is loaded.
This DRIVER_PORTION_MUST_BE_NONPAGED error crashes the OS and forcibly restart the PC to prevent further damage. However, the most common reason can be the outdated drivers. As this error can badly harm your PC, you need to get rid of it as soon as possible. We will discuss some effective ways to bypass this BSOD issue. So, let us proceed towards the solutions straightaway and explore their steps in detail.
DRIVER_PORTION_MUST_BE_NONPAGED Windows 10 Solutions
Solution-1: Update Drivers
Mostly outdated as well as buggy drivers are responsible for BSOD error in the computer.  It is a crucial need for the PC to update them periodically. The work of updating them is very easy and simple but means a lot to the OS. You can easily download the drivers from the website of "hardware manufacturers".
You might feel the necessity to know which drivers you are going to update. In that case, sometimes DRIVER_PORTION_MUST_BE_NONPAGED error itself indicates which of the drivers are causing the problem. If it doesn't, you can carry a little research on it. The best way is to update all the drivers as every driver is equally important for the operating system.
Read our Tips to Update Driver Software Step by Step.
Solution-2: Uninstall Dreadful Applications
Sometimes you get to receive the DRIVER_PORTION_MUST_BE_NONPAGED error when certain driver or software is in use. Remember, any of the software can be responsible. Therefore, if you have installed or updated any one of them recently, we recommend you to remove it right away.
Blue Screen of Death errors is more likely to occur because of third-party malware software. You might feel hesitant to uninstall them due to security reasons. But the fact is, you don't really need a third party antivirus tool on this OS. It comes with built-in Windows Defender in order to protect your computer from the infection of malicious invaders.
Remember, only uninstalling the software may not resolve the problem completely, and so you have to remove them as well. To remove them, you can take help of some authorized removal software.
Here, you may like to read How to Uninstall Software After Creators Update.
Solution-3: Keep Windows Up to Date
Updating drivers regularly is a basic need for the operating system. But it is equally necessary to download the latest Windows 10 update in order to prevent BSOD error. Microsoft is very much dedicated to solving these issues of hardware and software. And as a result, they have kept an option Windows Update in the default system. You can use it to download the latest patches. These will not only resolve hardware –software issues but also provide security improvement and newest features as well. Experts therefore always recommend updating the OS on a regular basis.
Step 1 – To fix DRIVER_PORTION_MUST_BE_NONPAGED, first launch Settings application. To do so, either press Windows – I keys altogether or access Start Menu to open the program.
Step 2 – On its home page, click the last tab, Update & security as indicated in the given image.
Step 3 – This immediately displays Windows Update page. Shift to its right pane and click Check for updates button. Let it scan, download and install the available updates.

Solution-4: Check the Hardware
Incompatible hardware frequently results in DRIVER_PORTION_MUST_BE_NONPAGED issue. Therefore, you can check for hardware functionality in this case.
For reference, pursue our article on  Disk Error Checking.
Mostly faulty RAM is responsible in this regard. You can check RAM modules one by one. If you find it working properly, go for other components like motherboard, network adapter as well as hard drive. You can easily Detect RAM Issues with Windows Memory Diagnostic Tool.
Solution-5: Uninstall Problematic Driver
Again some of the drivers are responsible for the BSOD error DRIVER_PORTION_MUST_BE_NONPAGED. To resolve this, you have to uninstall the troublesome drivers soonest possible. Many users reported that they could solve this error by uninstalling AMD CPU driver. It may work in your case too. So, follow the below uninstallation steps.
Step 1 – Launch the "Power User Menu" on your computer by jointly pressing Windows + X hotkeys. From the list of options, select Device Manager.
Step 2 – On the following window, select the driver you want to uninstall and hit a right click on it.
Step 3 – Click on the option Uninstall device from the list. Lastly, restart the PC when the uninstallation is completed successfully.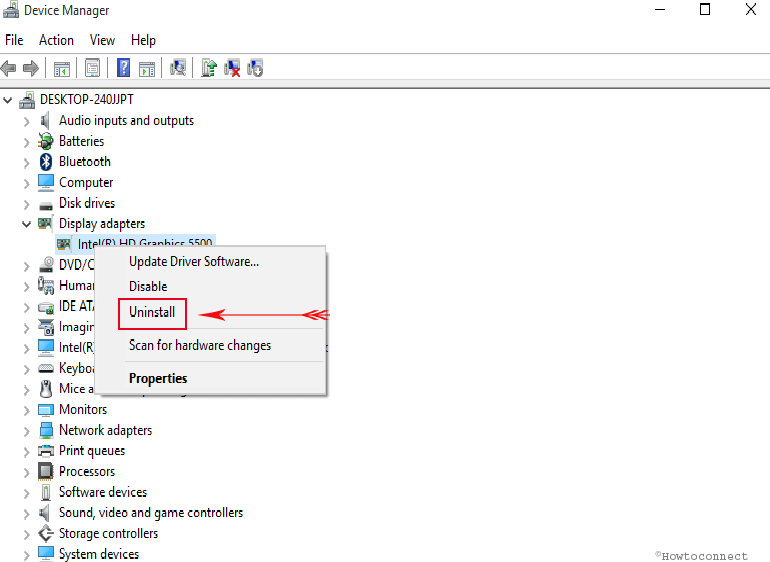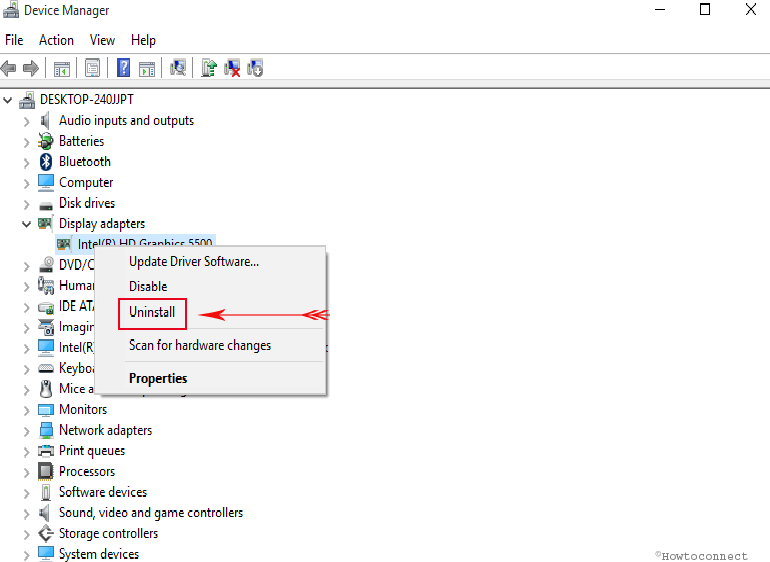 Moreover, you can also Get Back Former Version Device Driver as well.
Upon restart, the system will install the default driver automatically. If it works properly and the system is no more unstable, you can use it. Or else, you can update the driver. Some of the users also complained that Nvidia tools are causing this error. You can remove this tool and check for the resolution again.
Solution-6: Reset Operating System
Reset Windows 10 is the final attempt that you should take to fix this error. This process is similar to clean install. As a result, we recommend you to save your important data to another HDD or USB drive.
Step 1 – First of all, open Settings application using any method. The quickest one is to use the hotkeys Windows and I.
Step 2 – Select the last icon Update & Security on the page that comes into view.
Step 3 – Go to the Recovery section on the left sidebar of the following page. On its corresponding right pane, click Get started button that appears underneath Reset this PC (see snapshot).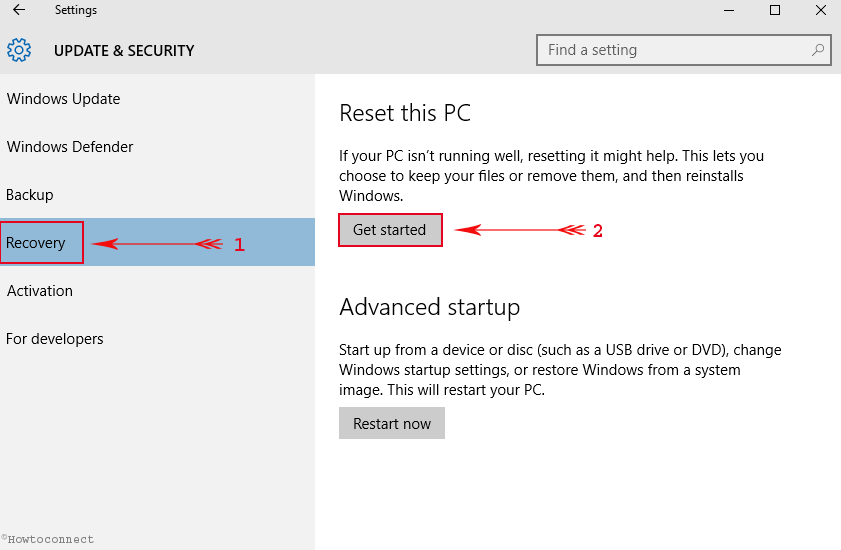 Step 4 – This shows up two options, select Remove everything.
Step 5 – Follow the guidelines on the screen.
Once the process is completed, you will have a freshly installed Windows 10 and its free from any third party application. If the error appears again, you can be sure that hardware is responsible for it.
Conclusion
DRIVER_PORTION_MUST_BE_NONPAGED is undoubtedly a nagging error. You need to fix this one at the earliest. We have discussed a number of ways in order to fix this. Hope you can resolve this issue and enjoy working with your computer.
Utility tools to solve this BSOD:
Repair any Windows problems such as Blue/Black Screen, DLL, Exe, application, Regisrty error and quickly recover system from issues using
Reimage
.