Some people seem unhappy in this upcoming spring since BC_BLUETOOTH_VERIFIER_FAULT error is not disappearing from User's device. Bluetooth in a sense, a must needed option to connect most of the latest accessories like Printers, speakers, Mouse, keyboards and so on. Life becomes miserable when this handy program starts acting abnormally. In this context, we will talk about how to Fix BC BLUETOOTH VERIFIER FAULT BSOD in Windows 10 in the later section.
BC_BLUETOOTH_VERIFIER_FAULT is basically a BSOD error in Windows 10 that has a bug check value of 0x00000BFE. Like all other Stop errors, it causes the computer to hang for a definite period of time making desktop area inaccessible. Windows restart repeatedly without any prior concern and that is pretty annoying while in operation. Experts came out with the cause behind it and the issue rises up due to the interruption in while operating of some Bluetooth devices. The error occurs in the computer for not only software issues but Hardware problems are responsible also. We have a series of resolutions for the 1st case but Hardware issues in most cases demand full replacing of unit.  Blue Screen Of Death error has a long term effect on the device and can cause permanent damage if not resolved immediately. Therefore, we need to apply proper workarounds based on the symptoms and causes.
Solutions to BC_BLUETOOTH_VERIFIER_FAULT in Windows 10
Here is how to fix BC_BLUETOOTH_VERIFIER_FAULT BSOD in Windows 10 –
Before we directly move on to resolution section, let's have a look at the symptoms as well as causes of this issue noted down below.
Causes responsible to BC BLUETOOTH VERIFIER FAULT Error
Before in the start, we have got to know about the basic reason for which this BSOD error shows up in device. Honestly, that was not enough and we came across a lot more causes involved. Like all other BSOD errors, the workarounds are cause based and surely we need to know more about them to eradicate vulnerability.
First of all, BC_BLUETOOTH_VERIFIER_FAULT Error is more likely to occur in computers due to a corrupted, old and incorrectly configured device.
Infection of malicious invaders might delete the necessary system files as well as program files to call up the error.
Corrupted registry entries from a newly installed software.
Corruption in the Registry occurred while uninstallation of a program.
Missing DLL files from the system.
The conflict between newly installed software and driver with any other previous.
Mistakenly deleting necessary files from the system or due to the installation of a new program.
Drivers Incompatible with the Windows 10 Operating System.
Occurrence of conflict between the drivers while installing a new Hardware.
Damaged Hard Disk is one of the most venerable things to get affected by Error code 0x00000BFE.
Installing a BIOS or Firmware that incompatible or else damaged.
Corruption in the RAM and USB stick.
Various unknown issues coming from software, Hardware, Firmware, Driver can cause the BC_BLUETOOTH_VERIFIER_FAULT Error blue screen errors.
Incorrect allocation of Memory in Windows Operating system.
Symptoms of the Error code
Once the causes are well-known, we can detect the issue cleanly but the signs are to be identified too. BC_BLUETOOTH_VERIFIER_FAULT Error causes a vulnerability in the Windows 10 system and you can assume the damage done after coming across the following sign and symptoms –
Windows restart repeatedly without any prior reason making the desktop inaccessible.
Slow operational speed especially with the external connection like Mouse, keyboard, speakers.
Device hangs for a few seconds and later on becomes normal automatically.
Display of an error message BC_BLUETOOTH_VERIFIER_FAULT time and again in the notification area.
The appearance of the following message on screen –
"A problem has been detected and Windows has been shut down to prevent damage to your computer. The problem seems to be caused by the following file:"
Windows 10 shows Error Message "BC_BLUETOOTH_VERIFIER_FAULT Error" and it crashes with the stop code of 0x00000BFE when running the same program.
If you have come across any of these symptoms on your Windows 10 device, you cannot help stepping up with effective resolution as it's evident that you are no longer safe. Your computer has been affected with code 0x00000BFE error. Well, don't just panic and you have following solutions those can save you from permanent damage.
Fix BC BLUETOOTH VERIFIER FAULT BSOD
While working with BSOD errors like BC_BLUETOOTH_VERIFIER_FAULT, we have discovered some fixes that are preferably handy. Some are basic resolutions and few have professional tones. We will be presenting all these solutions starting from easiest and proceed deeper.
Disable automatic restart
As a basic fix, Disabling Automatic Restart comes first as Windows reboots automatically once affected and we really don't get enough time to settle down. Here is how to do it –
Step-1: Hang around to Desktop screen.
Step-2: Perform a Right-click on This PC and choose Properties.
Step-3: On the running page, Hit Advanced system settings from the left-hand side.
Step-4: When System Properties wizard shows up, select Settings located under the Startup and Recovery section.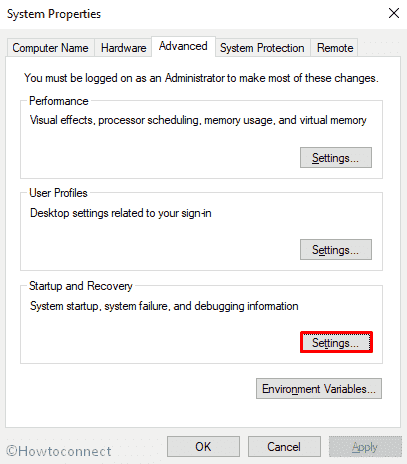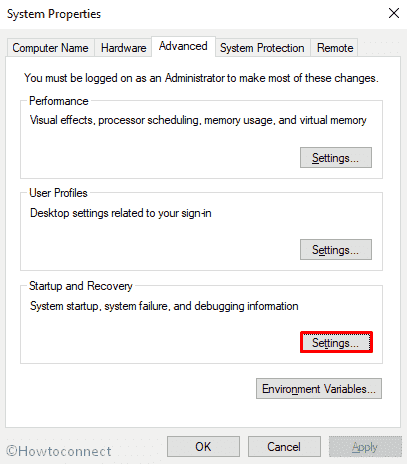 Step-5: Proceeding forward to the next window, reach out to System Failure and uncheck the box that says Automatically restart.
Step-6: Lastly, make a click on Ok to save the changes and continue.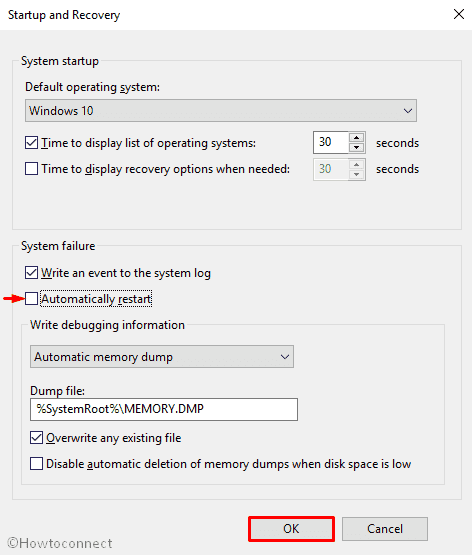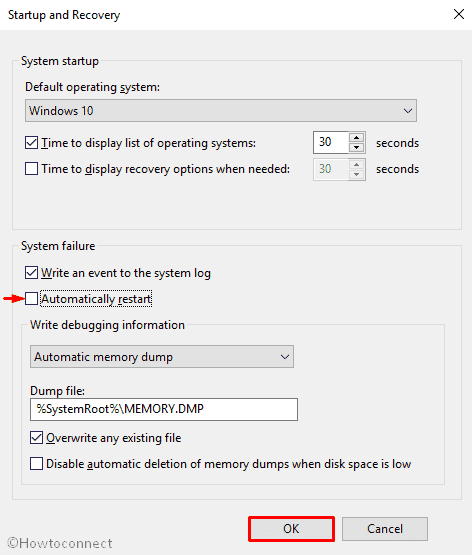 Boot Windows 10 in Safe Mode
Booting the Windows in safe mode comes at the top and considered as the most common workaround to Fix BC BLUETOOTH VERIFIER FAULT. Once you apply this resolution to the operating system, Windows 10 will load only the basic programs and error should not persist along. If this happens so, you can easily guess that these applications are not guilty. Eventually can concentrate on Hardware problems and other third-party apps.
Make a Right click on the Start and choose Settings from the list appears there.
Once the Settings window appears, select Update & Security tile and then choose the Recovery option from the left pane.
Move to the adjacent right, find out Advanced startup and click Restart now button.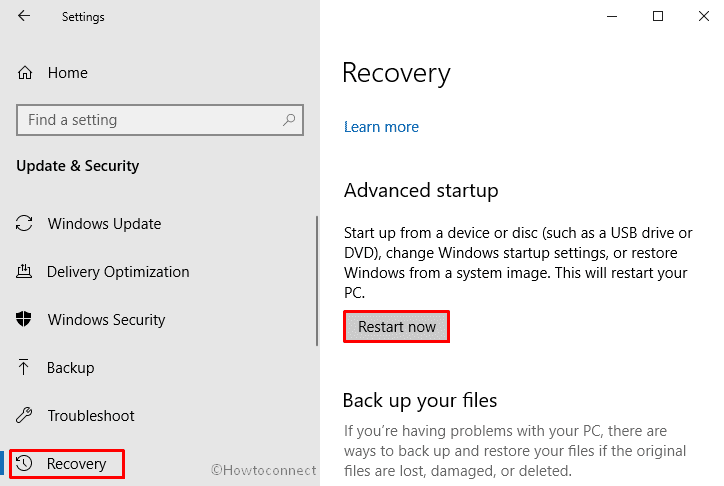 When Windows restarts, it will ask you to select the next step. Choose Troubleshoot.
In the Troubleshoot menu, click on "Advanced options" and then on "Startup Settings".
Once Windows informs you that device can be restarted with the use of additional settings one of which is Enable Safe Mode, Hit "Restart" to move ahead.
After restarting, Press f4 in order to Enable Safe Mode.
To know additional methods, Read – 3 Ways to Boot Windows 10 Into Safe mode
Perform Windows 10 blue screen Troubleshooter
Soon after Microsoft released Windows 10 and its cumulative updates, some errors start haunting them. These keep on ruling out and tech giants couldn't help adding Troubleshooting option in the Settings app. BSOD troubleshooter is a default resolution if you are using any edition of Windows 10 greater than Creators update. This utility is undoubtedly one of the greatest tools to Fix BC BLUETOOTH VERIFIER FAULT BSOD error. Follow with the below proceedings to use –
Hover the mouse pointer to the bottom left corner of the desktop and select the Gear cog.
Once the Settings app is loaded fully, move on to Update & Security section and eventually make a click on it.
On the following page, choose Troubleshoot from the left pane and then shift to the corresponding right.
Select Blue Screen option from there and select the Run the Troubleshooter option from the expanded panel.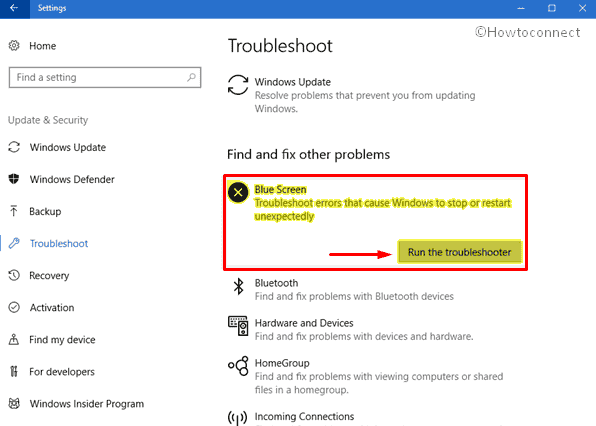 With the end of the troubleshooting, Windows 10 will solve the issues automatically and you can resolve the error quite comfortably.
You may also like to read – Blue Screen Troubleshooter Windows 10 to Fix BSOD
Remove faulty Windows update files
Redmondians rolls out Cumulative updates for Windows 10 very frequently and you need to keep on updating the operating system as to access the best features. Often this downloading process falls in trouble and terminates eventually call up BC_BLUETOOTH_VERIFIER_FAULT in the device. In that case, you have to erase those dreadful files to resolve the issue. Here is how to remove them –
Get access to the Windows Settings app on your device.
When it appears in the screen, move the cursor on Update & Security tile and click on it.
On the next page, select Windows Update from the left pane and jump to the adjacent right side pane.
Choose View update history link and from the subsequent window; hit a click on Uninstall updates.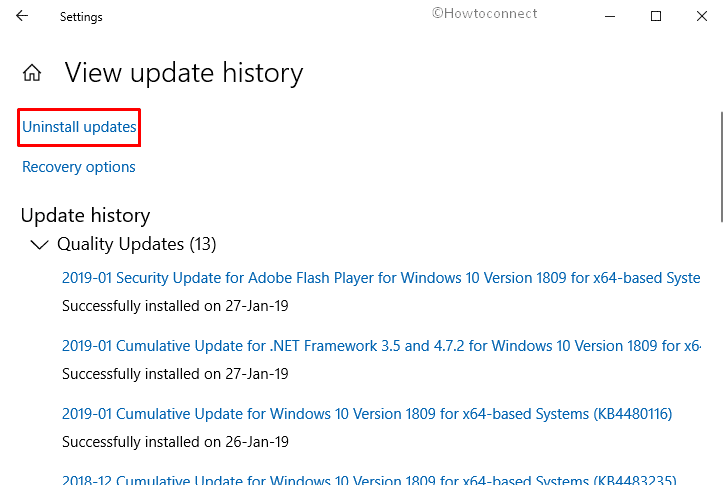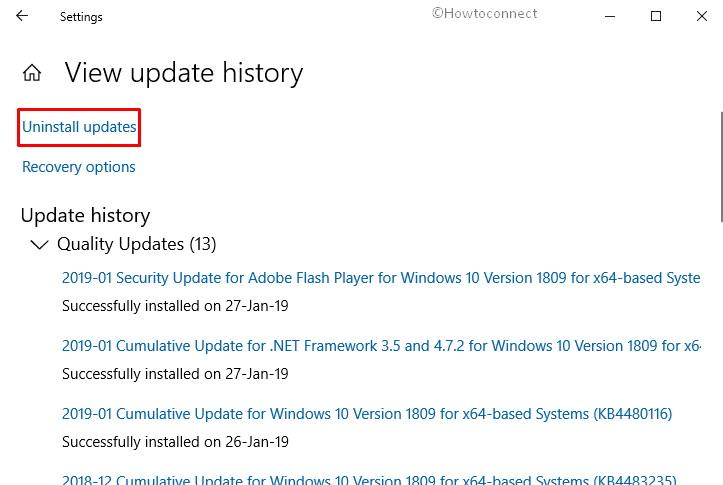 Uninstall the Windows Operating System Program Associated with 0x00000BFE
Sometimes, the conflict between two or more programs can also cause BC_BLUETOOTH_VERIFIER_FAULT error in your device. Hence uninstalling associated programs might be one of the prominent fixes. Here is how to move on –
Press Win + R at once and invoke the Run Dialog.
Once it rolls out, Type appwiz.cpl in the bar located subsequent to Open and hit Enter on your keyboard.
When Program and Features window shows up, find out the program that causes BC_BLUETOOTH_VERIFIER_FAULT.
Make a right-click on the entry and select Uninstall.
Eventually,  Follow the on-screen directions to complete the uninstallation of your Error 0x00000BFE -associated program
Check the External Hardware Devices
People from several corners revealed that BC_BLUETOOTH_VERIFIER_FAULT is present in their systems soon after connecting an External Hard Drive. We admit, additional drives is essential in many cases but as a fix, you have to disconnect them temporarily. However, follow the below proceedings to move on –
Step#-1: Unplug all external devices.
Step#-2: Restart Windows 10.
Step#-3: When the Windows 10 restarts successfully, plug the devices back in to ensure which hardware device is giving rise to this Blue Screen of Death issue.
Step#-4: Download and Install device update drivers for the hardware from the manufacturer web pages.
Update Drivers with Device Manager
If you couldn't solve BC BLUETOOTH VERIFIER FAULT BSOD after using above resolutions, this might be a Hardware that is creating the issue. You can have similar issues after using a new USB stick. People have a tendency to install the drivers from disk delivered with the package or sometimes downloading from an unofficial website. However, updating them using the Device Manager will fix up. Here is how to proceed –
Press Windows + S button and write device manager on the keyboard.
After the result is visible, hit Enter button to proceed.
After coming across, look for the exclamation mark near any devices on the console.
If found, expand the same then right-click on one having a yellow indication and Select Update driver option.
Finally, Restart the Windows to make the changes effective.
Scan your full system
With Internet ruling out so fast, the security system is becoming weaker day by day. We have got live with technology but unfortunately, malware shakes a bit. Often play the biggest role in deleting the system files needed for Operating System. Hence, performing a regular scan for Malware is not a luxury but a necessity at present. From the causes, it is also understood that deleting necessary system elements will cause BC_BLUETOOTH_VERIFIER_FAULT issue in the Windows 10. You can seek help from various AntiVirus Programs but logically, Windows Security Powered by Microsoft utility ever in this regard and we recommend you to use this. Here are the steps to follow –
Press Win+I hotkey to open Windows Settings app.
When it rolls out on the screen, click on Update & Security.
On the following page, select Windows Security from the left pane and then shift to the corresponding right.
Hit a Click on the Virus & threat protection.
Once a new window prompts up, click on the Scan options.
On the next page, select the radio button of Full scan and click on Scan now option.
Windows Defender will now start tracing out for the existence of any threats on the system. Once the scanning gets over, you will notice the result. If the scan identifies out any malware, click Clean threats button to get rid of them from the system.
To know more about the threat, hit a click on See threat details link.
On the following page, Windows Security will prompt you three actions for the threat. Choose the radio button Remove and click Start actions button.
Read – How to Use Windows Security App to Stay Safe in Windows 10
Run Windows System File Checker ("sfc /scannow")
After any updates, Windows 10 may run into errors like code 0x00000BFE. We have also come to know that, corruption in the system files leads to BC_BLUETOOTH_VERIFIER_FAULT error in Windows 10. Microsoft brought the best utility to resolve corrupted files including DLL ones. This is one of the most common resolutions deployed in the Command Prompt. Sfc /scannow will check and inspect all the necessary files in the Windows 10. This is how you need to proceed –
Step-1#: Invoke the Run dialog by pressing Windows logo and R keys altogether.
Step-2#: Type cmd.exe on the text field provided next to Open.
Step-3#: To start CMD with Admin privilege, hit Ctrl +Shift + Enter keys in one go.
Step-4#: This immediately shows up UAC prompt on the Windows 10 screen, click Yes to proceed.
Step-5#: When Command Prompt is visible in the display, Type sfc /scannow after the blinking cursor and press Enter.
The command starts working and shows the status in real time so here you need to wait patiently.
Running Deployment Image Servicing and Management (DISM) tool
DISM comes handy to repair Windows images, Recovery, Setup, and Environment as well as Windows PE. Users can run the tool DISM.exe /Online /Cleanup-image /Restorehealth command in the Command Prompt. Using the same command will also recover the image within Installation Media even in the Virtual HDD. To execute the workaround –
Press Win+S at once to initiate Taskbar search.
When it shows up, type cmd.exe in the search bar and once the result appears, click on Run as administrator.
When a UAC prompts up, Click on Yes to give consent.
After the Command Prompt comes into the sight, type the following text code after blinking cursor and hit Enter –
DISM.exe /Online /Cleanup-image /Restorehealth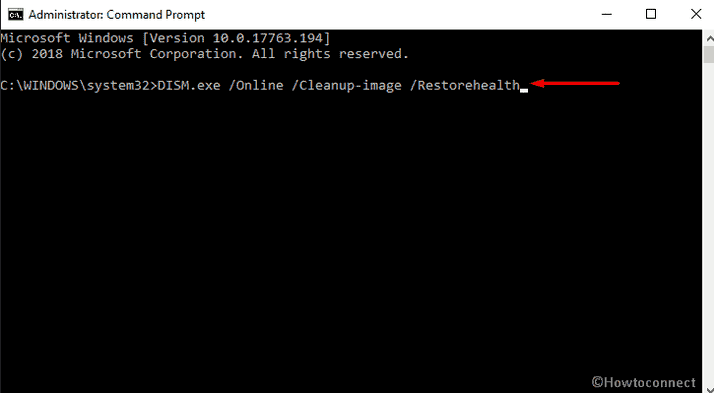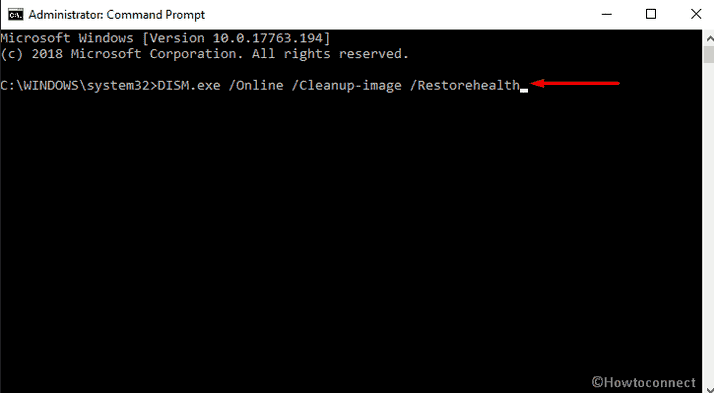 Allow it to perform the scan perfectly and completely and it may take more 10 minutes to finish. And if you see that the scan got stuck at around 20%, don't worry as it is normal phenomena.
Once the DISM scan is over, Restart the Windows.
Run CHKDSK Utility
Presence of dreadful sectors in the Hard Disk can evolve 0x00000BFE error in Windows 10. As to fix the error like BC BLUETOOTH VERIFIER FAULT BSOD, Microsoft included a default tool namely CHKDSK Utility, initiate it, follow these steps –
Open the Elevated Command prompt on display using either of the methods shown above.
Once UAC prompt permission, agree with its specifications by tapping Yes.
Use the command – chkdsk [Drive:] [parameters]
chkdsk command will only show the disk's status but doesn't rectify errors from a volume. Therefore, after the drive letter, write the parameters – /f /r /x
Here,
The parameter f executes CHKDSK to fix the errors that it will discover on the volume.
Parameter r calls on CHKDSK to detect the poor sections in the volume and retrieve the readable data.
With notation, x compels the volume to dismount before the commencement of the process.
So, the entire command will be like this – chkdsk [Drive:] [parameters]. After input of the drive letter and parameters, the command will appear like this –
Note – C: as the location where Windows 10 is installed. In case of installing into other drives, replace this letter like D:, E: and so on.
It's a matter of fact that, CHKDSK requires to lock the drive if the drive holds the System files. In case, it doesn't have an operating system or it's external, then command starts to execute immediately. When you type the command and execute it will ask to scan the disk before the boot of the machine. Hence, write y aka yes and reboot the machine. The command will begin its impact prior to the Operating System loads.
Run Disk Cleanup utility
Operating System produces lots of unnecessary files as a part of the functionality and we technically call them Junk files. These are clutter and when they add together, makes device operation slow. Cleaning the junks at a regular interval sometimes can save you from vulnerabilities and fix BC BLUETOOTH VERIFIER FAULT BSOD error. Hence, Running the Disk Cleanup will be the best-suited utility in this respect. The tool will delete the unwanted files and the process will recover lots of space. Moreover, the tool will search and analyze each and every Hard Drive components and remove the unnecessary ones.
Important – We recommend you to check the Recycle Bin before proceeding forward and restore the necessary items if present.
Press Win+S, type cleanmgr in the text field and click on OK button.
Once a small dialog appears, click on the drop-down menu and select C: drive then hit the Enter key.
Disk Cleanup calculates how much space you will be able to free from the occupied room. Once done, you need to click Clean up system files once a wizard appears.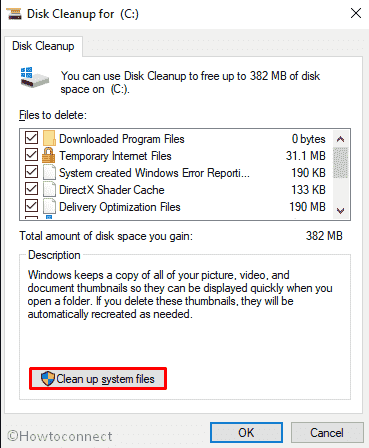 After that, again choose the same drive and let the Disk Cleanup for (C:) appear.
Tick all the options except Downloads and finally, click the OK button.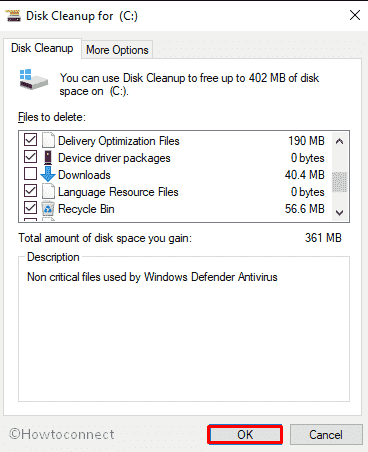 Also, Read – Cleanmgr+ to Run Disk Cleanup plus Clean Browsers Cache
Install all possible Windows Updates
Outdated windows system files may lead to BC BLUETOOTH VERIFIER FAULT BSOD error in Windows 10. Hence, we urge you to download and install all the possible updates using the following guidelines –
Move the pointer to the bottom left corner of the screen and select Windows icon to open it.
Perform a click on the Settings cog to launch the Windows Settings app.
Moving ahead to the application, head to Update & Security tile and do a click on it.
After the additional Settings page opens up, choose Windows update option from the left pane.
Navigate to adjacent right and hit Check for updates option if you are up to date.
Fix up RAM issues
Corrupted sectors in the RAM is also found to cause errors like BC BLUETOOTH VERIFIER FAULT BSOD in Windows 10. We need to run a cross check in there as well. However, scanning the stick will be a little complex method and you can comfortably move for Windows Memory Diagnostic tool. Eventually, you can find out the poor sectors of it and resolve the issue afterward. Follow these steps to resolve –
First of all, save and close all the active apps.
Go to Start menu and type Windows Memory in the search box.
Once the result comes up, make a click on Windows Memory Diagnostic.
Subsequently, choose the option Restart now and check for problems (recommended).
In just a moment you will see a blue screen window on the display which will detect memory issues. Once the memory testing gets over 100%, the system will automatically restart.
You can see the test result in the notification area of the taskbar after signing up.
The same outcome could be carried out by navigating to the path – Right-click Start Menu => Event Viewer => Windows Log => System.
Hope this time it has managed to fix BC BLUETOOTH VERIFIER FAULT BSOD on your Windows 10 device.
Use Previous System Restore Point
System restore may prove a useful tool to fix BC_BLUETOOTH_VERIFIER_FAULT in Windows 10. This method will send your device the time when there was no issue.
Right-click on the Start button and choose Run option.
Type rstrui in the empty box and click OK then let the System Restore wizard appear.
On the running window, hit the Next option to generate your device's Restore.
Perform a click on the checkbox before Show more restore points.
Select the latest one and click Next to go ahead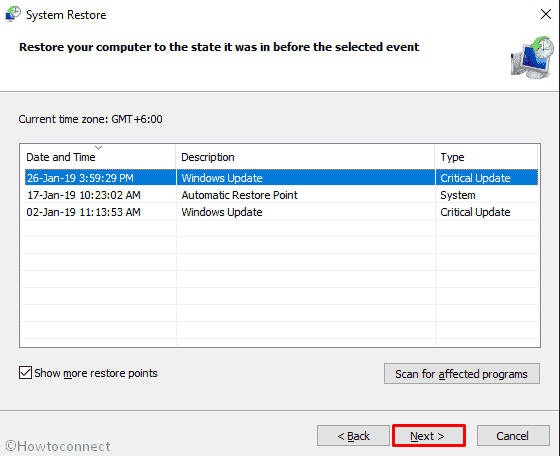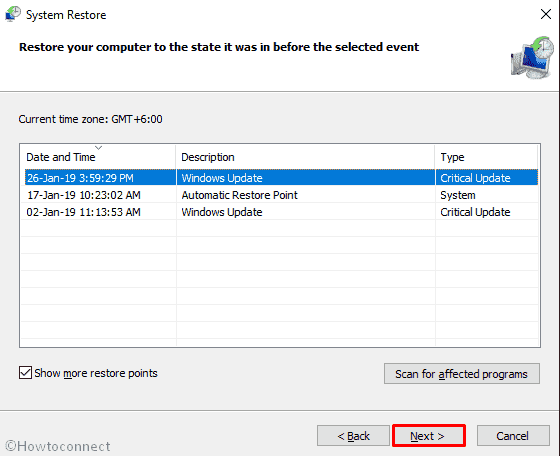 On the next page, hit Finish to let start this process.
Read – How to Create Restore Point on Windows 10 Using PowerShell
Perform a Clean Install
If you have come this far, we have to assume that you are failed to Fix BC BLUETOOTH VERIFIER FAULT BSOD using all other resolutions above. If so, we have still one more Workarounds to follow and that is performing a clean install of the Windows. With execution to this, the Operating System will start afresh and there is no chance of having any issues. Before proceeding finally, ensure you have saved a backup for all your important data, files in a safe place. The Procedure is a little complex as well as little technical too. Therefore, you can seek help from skilled people to accomplish.
To do it by yourself, follow – How to Clean Install Windows 10 October 2018 Update
That's all!!!!
Utility tools to solve this BSOD:
Repair any Windows problems such as Blue/Black Screen, DLL, Exe, application, Regisrty error and quickly recover system from issues using
Reimage
.