A nice shiny day can be dark and gloomy just after discovering the fact that you are affected with CRYPTO_LIBRARY_INTERNAL_ERROR. This actually indicates there is something abnormal happened in the Crypto library. In general sense, we can term it as Blue Screen Of Death error alternatively treated as Stop errors. As for identification purpose, the said issue has got a bug check value of 0x00000170. Few basic causes are involved to bring up this issue like outdated device drivers, missing DLL files, infection from malicious invaders, outdated windows update files. Furthermore, Hard Disk areas having poor segments, using external one in some cases and piling up of huge junk files can also cause CRYPTO LIBRARY INTERNAL ERROR.
CRYPTO_LIBRARY_INTERNAL_ERROR error causes serious of mishaps in the Windows system starting with irregular restarting of it time and again. In addition, users will have to face lot many error messages when running a new process or program. Windows 10 might hang repeatedly making desktop inaccessible to work along. While devotedly solving the error, we have found many resolution processes and no all are helpful equally. Therefore, today we will be talking about only the most effective ones in this write-up and try to resolve the issue. So, let's start without any further delay –
CRYPTO_LIBRARY_INTERNAL_ERROR Windows 10
Here is how to Fix CRYPTO_LIBRARY_INTERNAL_ERROR BSOD in Windows 10 –
Impede Windows from Rebooting Automatically
First of all, we need to make a perfect environment so as to deploy the workarounds or scrutinize the root of the issue coming continuously. This is not possible in device affected with CRYPTO_LIBRARY_INTERNAL_ERROR BSOD as it will have a tendency to restart without any warning. Therefore, it's necessary to block this action initially and for that, the guidelines are as follows-
Close all the ongoing programs and head to Desktop.
When in location, make a right click on This PC and choose Properties from menu.
Once a new window from Control Panel is upfront, choose Advanced system settings residing in the left sidebar.
After attending the new wizard displayed, shift to its Advanced tab and go to the Startup and Recovery segment.
Hit the Settings from this area and let another popup window to appear.
On the next window, move down to System failure area and uncheck the box beside Automatically restart.
Now, select Ok button located at the end to save these changes and leave wizard.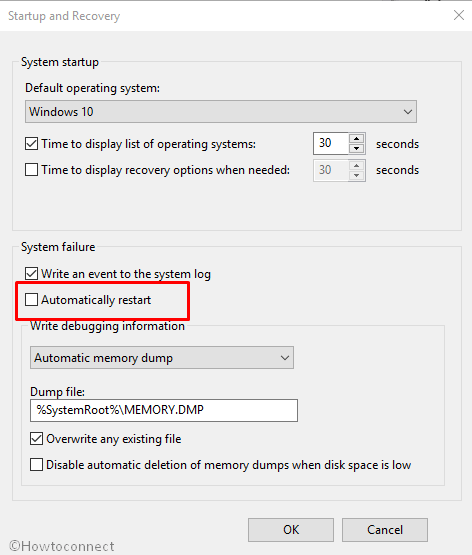 After saving these changes, windows will not tend to Reboot suddenly and you can have a minimum time to apply the workarounds.
Boot the Windows in Safe Mode and load only the Basic Processes
Booting in Safe mode starts the device with only basic programs and services. The result, if there are any crucial issues present, will not show up again. Since CRYPTO LIBRARY INTERNAL ERROR is a critical issue, let's try this one –
Get access to the Run dialog by pressing Win+R hotkeys combinedly.
When it arrives, type in msconfig in the provided box and select Ok located in below part.
Once System Configuration wizard cuts your view, switch to Boot tab.
Here, move down to Boot options section; check the box located behind Safe boot.
After all the options are alive, hit the radio button before Minimal.
Hit the Apply button first and then Ok to save these changes in windows.
Leave the wizard and Restart the device later on.
Once the windows start booting, keep pressing F8 continuously.
On the consequent page, move for the Safe Mode located in Advanced boot menu.
Enter in the Safe Mode on next move.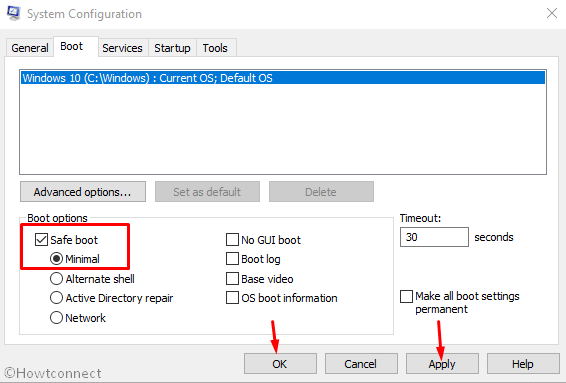 Don't spare a single patch pending, update Windows immediately
Windows update is necessary for experiencing the newest features including fixing the existing bugs. Microsoft releases these patches quite regularly and we often tend to ignore them. But in worst cases, an outdated Operating System is too weak to prevent CRYPTO_LIBRARY_INTERNAL_ERROR. Therefore, let's update the windows using the below steps –
Step-1: Open Start menu by clicking and select the Settings icon from there.
Step-2: Windows Settings app upon coming to display, select Update & Security from UI.
Step-3: Transfer to the additional settings page by clicking the tile and when in the left pane, choose Windows Update.
Step-4: Shifting on to the right side, you might experience the sayings "You're up to date". Ignore the message and perform a click on Check for updates option.
Step-5: Once the searching finished, you will see the available patches here; hit the Download button located under all.
Step-6: Installation in this process is automatic and you just need to attend the timely Restarting of the device when asked.
Step-7: When the Windows 10 is up to date, you might not see the BSOD error again.
Fix CRYPTO_LIBRARY_INTERNAL_ERROR with default Windows Blue Screen Troubleshooter
Stop errors becoming out of bound in the Windows 10, Microsoft had to come up with something by their own. A tool can potentially resolve BSOD like CRYPTO LIBRARY INTERNAL ERROR and let users work smoothly. Windows Blue Screen Troubleshooter made its journey is ideal for this case. This is super handy and being a built-in tool, you don't need to install anything as well. To run the utility, move with the below method –
Allow windows to launch the Settings app using the above way.
After reaching Application home, click on Update & Security.
From the next page, select Troubleshoot from the left pane and navigate sideward.
On this side, select Blue Screen to expand this in a pane.
Hit Run the Troubleshooter once visible and allow the tool to take necessary actions.
When ends, there should not be any BSOD error in your system.
Let Windows Security eliminate all the viruses deleting system components
We all are well aware of the fact that malware is present everywhere on the web. We can be affected by them anytime. After they get chance to enter our systems, corrupt most of the necessary files that OS needs. In the process, BSOD as CRYPTO LIBRARY INTERNAL ERROR gets evolved. Therefore, we need to dismiss they soonest using the best ever malware tool Windows Security. Guidelines to approach are as follows –
Roll the cursor over the right end of Taskbar and do a click on the Show hidden icons arrow.
Once they get unveiled select Shield and launch Windows Security app.
Moving ahead to the app, click on Virus & threat protection option located at the left pane.
Passing on to the corresponding pane, select Scan options and preview all the available methods.
Now, hit the radio button before Full scan and proceeding forward, select Scan now button.
Windows defender, after carrying out the detection process, if find any malware, will display the result on the screen.
Select the Clean threats option to dismiss them all.
Click on Remove and then lastly Start actions.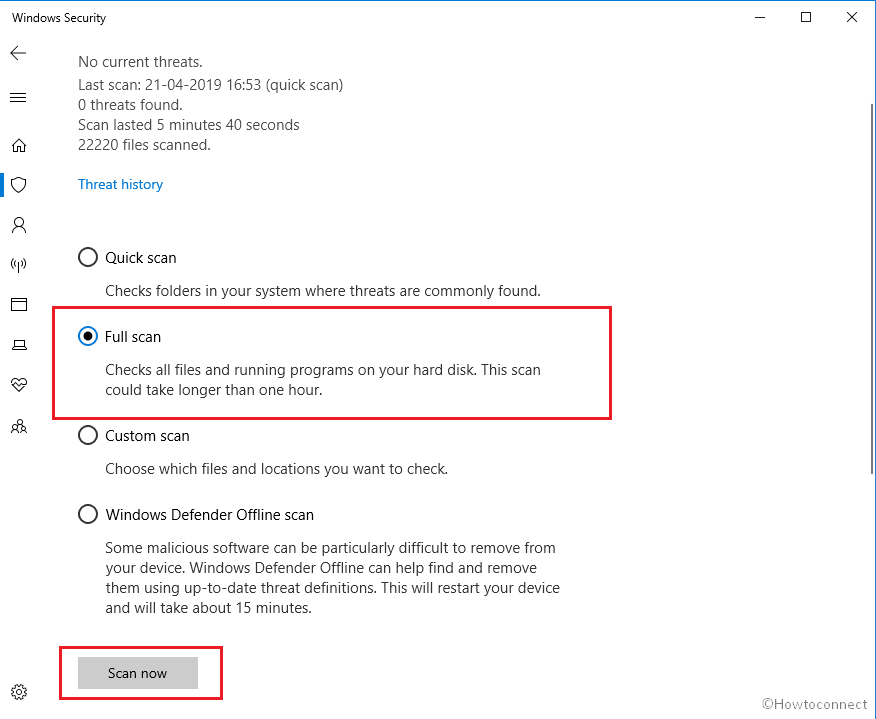 Once all the malware takes leave from your system, BSOD error in the device will also resolve immediately.
Inspect if anything bad in Hard Disk Volume and fix them
Using a device continuously day after day result in fatigue and some issues come up eventually. Due to prolonged use, poor areas develop in the Hard Disk and then the final result is a CRYPTO_LIBRARY_INTERNAL_ERROR BSOD. Disk Checking Utility CHKDSK will be super handy to deal with this. Here are the details of the process –
Right click on Taskbar and select Task Manager after the options get revealed.
Choose File located at the top left end and choose Run new task.
Type in cmd in the text field and check the box with dialog "Create this task with Administrative privileges".
When you press Enter key, you will be directly guided to the Elevated Command Prompt.
On the dark window, type following command at the base of blinking cursor and obviously hit Enter key –
chkdsk C: /f /r /x
Usually, Disk Checking Utility is activated with only command "CHKDSK" but in this case, the tool will only show the status of the Disk.
This workaround will take several minutes to be accomplished. Be patient and wait till it ends normally.
Once it ends, Reboot to the system and upon coming back home, and see if there are any issues present.
Remove programs with similar functionality creating CRYPTO_LIBRARY_INTERNAL_ERROR
When some two or more similar applications stay over in Windows 10, they tend to create conflicts after colliding with each other. So if you get CRYPTO_LIBRARY_INTERNAL_ERROR after having the same scenario, uninstall one of these.
Step#-1: Open the Run dialog on screen by pressing Win+R hotkey.
Step#-2: In the empty box, type appwiz.cpl and hit Enter.
Step#-3: Program and Features window being thrown at a glance by Control Panel will have a list of apps installed on the device.
Step#-4:  Find out the programs that may cause CRYPTO_LIBRARY_INTERNAL_ERROR and select one by one.
Step#-5:  Perform a click on the Uninstall from the menu.
Step#-6:  Follow the further on-screen steps to completely remove these applications.
Step#-7:  Now, restart your system.
Step#-8: After completing the cycle of rebooting, if there is no error present, download those programs if necessary launching Microsoft Store.
How to Completely Uninstall Software From Windows 10
Correct the Memory Allocation and RAM problems
Wrongly allocation of memory, troublesome areas in RAM found to cause vulnerabilities like CRYPTO_LIBRARY_INTERNAL_ERROR BSOD Windows 10. Therefore, we are now going to fix these issues in Windows Memory Diagnostic Tool. Here is how to move –
Click on the Start button from Taskbar and hit the gear cog.
Upon launching the Windows Settings app, type memory in the search box and select "Diagnose your computer's memory problems" once a tool appears.
After Windows Memory Diagnostic cuts your view, make a click on "Restart now and check for problems (recommended)".
As to cooperate with action, windows will Restart initially and when it comes back to operation, you will observe a blue screen. It will detect memory problems in the system and when the progress hits 100%, the device will again reboot for the second time automatically.
Upon heading back to desktop after that, you can see the result of the diagnosis in the system tray.
We can be hopeful that the memory issues will be resolved.
Do a System Restore and head back to the previous point
Usually, you make changes like installing a program or uninstalling something in Windows 10. These actions keep footstep in the Registry Entries. The issue also causes CRYPTO_LIBRARY_INTERNAL_ERROR in Windows 10. Therefore, a wise way is to restore and undo all these changes.
Type rstrui in the taskbar search box and hit Enter key.
Once System Restore Wizard comes into sight, hit Next.
To reveal all the previously created points, hit the option Show more restore points.
Now, select the latest one in the list and again do a click on Next.
When the following page hits on display, choose the Finish button and let windows to start Restoring process.
Assuming System File Corruption? Run sfc /scannow in elevated Command Prompt
Windows System files in a sense are sensitive and they can fall into corruption. Besides, DLL files go missing they call up CRYPTO_LIBRARY_INTERNAL_ERROR. If you are well sure about the corruption here, System File Checker can offer a bit of relief. Run the utility in the elevated Command Prompt using below steps –
Get access to the Elevated Command Prompt using any of the conventional ways discussed before.
Type sfc /scannow command line and hit the Enter key.
System File Checker upon execution will perform checking in windows files and fix the corruption automatically.
Once the process gets finished, reboot windows 10.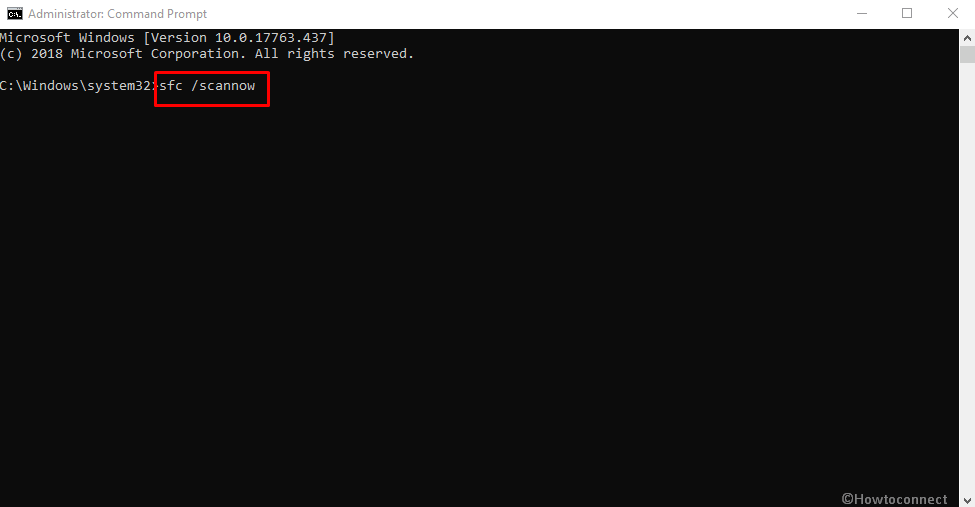 Disconnect Hardware and re-plug to CRYPTO_LIBRARY_INTERNAL_ERROR
Do you find CRYPTO_LIBRARY_INTERNAL_ERROR BSOD in Windows 10 just after using an additional HDD? You just need to disconnect those and again plug them using below procedure –
Firstly, remove all the external Hardware components attached to the computer.
Keep them separately in a safe place to avoid damage.
Open the Start menu by hitting the Windows button from keyboard.
Hit the Power Cog. And choose the Restart option.
After the Restarting cycle is completed, check thoroughly for the error in the system.
If resolved properly, start connecting the separated devices in order.
Install in the PC and try using them. Hopefully, there will be no more issues coming.
Discard the Faulty Windows update patch files from the system
Windows update causes CRYPTO LIBRARY INTERNAL ERROR sometimes. As a resolution, you need to remove these soon after coming across the Blue screen of death issue.
Launch the Windows Settings with a simultaneous press on Windows and I hotkey.
In the App UI, click on Update & Security.
When on the consequent settings page, choose Windows Update from the left pane and navigate to the adjacent side.
On the right, hit a click on the link View update history and preview all the recently received patches.
From the following page, select Uninstall updates and let a new page open from Control Panel.
Reach out to the last received one and make a right click on the same.
Hit Uninstall option to delete the culprit files.
Move forward with instructions displayed to you to complete the task.
Resolve Windows Image files in DISM tool
Because of the fatigue continues on Windows 10, the necessary image files start deteriorating themselves. CRYPTO_LIBRARY_INTERNAL_ERROR occurs for this reason too. To reduce this risk, we can have the Deployment Image Servicing and Management tool besides. This very utility is well renowned for rectifying these corrupt image files and thus BSOD error goes off. Here are the instructions to follow –
Type cmd in the taskbar search field.
Once Command Prompt shows up in the result, do a right click on it and select Run in Administrator.
When User Account Control dialog Prompts for permission, give consent by selecting the Yes option.
On the Elevated Command Prompt window, type the following group of syntax and hit Enter –
DISM.exe /Online /Cleanup-image /Restorehealth
DISM tool will be activated shortly and detect if there are any issues with windows image files. If found, it will also resolve automatically. In the process, you can fix up the BSOD issue.
Say "No" to any Third party anti-malware tool
Any free anti-virus present in the system might be helpful but yes, they can be a reason as well for CRYPTO LIBRARY INTERNAL ERROR issue. It's a fact that there is no need of using one since you have the built-in Windows Security beforehand. So, uninstall such programs using below instructions –
Open the Windows Settings.
While in the home page, select Apps.
Choose Apps & features from the left-hand wing and move to the corresponding side.
Upon loading all the installed apps in list view, click the third anti-virus program.
Select Uninstall option from extended pane to proceed next.
UAC may prompt for permission, hit Yes to give consent.
Follow the on display guidelines to remove it from the device completely.
Free up junk files from Storage to solve CRYPTO_LIBRARY_INTERNAL_ERROR
When CRYPTO LIBRARY INTERNAL ERROR occurs it might be running low of Disk storage. In such scenario, you can run Disk Cleanup utility for freeing up space clearing junk files. This is how you should proceed –
Start typing cleanmgr using keyboard in the taskbar search and let Disk Cleanup arrive in the result.
Click on this to prompt a small dialog.
Select the desired Disk to carry out freeing up. Choose C: and hit Enter key as well.
On further action, Disk Cleanup utility will calculate the amount of space it can make free in the volume and throw a wizard.
Move down in the popup window next and hit option saying Clean up system files.
When the small pop up asks for disk selection again, choose C: like previous and press Enter key.
Now, head down to Files to delete and check all the boxes available here except Downloads.
Select the Ok button from the tail end of this wizard and let the tool to start freeing up process.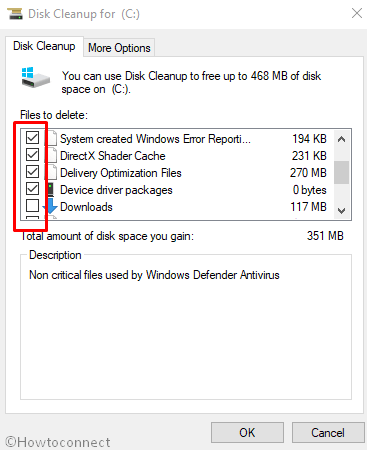 When CRYPTO LIBRARY INTERNAL ERROR occurs it might take quite a long time and we urge you to hold the patience. Wait until it gets over completely.
These are all the workarounds capable of resolving CRYPTO_LIBRARY_INTERNAL_ERROR BSOD Windows 10. We are really happy if you have already fixed the issue. It's unfortunate if happen reverse. In that case, instead of being frustrated, try reinstalling the windows 10 again. This is the ultimate solution for all problems.
If you have made your mind already for that, save a backup for all the necessary files in the system to avoid losing them. In case, you feel a little nervous, ask help from tech-savvy people.
That's all!!!
Helpful tools to research or fix:
Repair any Windows problems such as Blue/Black Screen, DLL, Exe, application, Regisrty error and quickly recover system from issues using
Reimage
.