Error Code 0xc00000e in Windows 10 is one of the nagging issues that users are experiencing during the boot phase. Usually, when this problem occurs, a black screen with an instruction explains you to repair your computer using an installation disk or a recovery drive. So, let us see some workarounds that will help you to bypass this boot error in Windows 10.
Microsoft always launches updates but it also comes with new errors. But in the matter of Error Code 0xc00000e in Windows 10, experts say that faulty boot sector is the main culprit. Though the team has improved Windows 10's built-in troubleshooting tool to some extent, still there are some errors that are tough to resolve. In case, you are also dealing with this trouble, give an attempt to the below-given solutions and see which one fixes it.
Error Code 0xc00000e in Windows 10 Solutions
Here is how to fix error code 0xc00000e in Windows 10
Fix-1: Check Hardware
Though most of the time boot manager is responsible for this error, sometimes faulty hardware can inflict it too. So before trying any other solutions check it properly.
To do this, unplug all the hardware you connected recently. If you have attached several items then disconnect them one by one. After each disjoint, Restart your device to check if it resolved the issue. If the error doesn't exist after unplugging a specific hardware then that was the faulty one. In the other case, follow the below solutions.
Fix-2: Perform Automatic Repair
Once you turn on the computer wait for the manufacturer logo to appear on the screen. locate the option for boot menu. Usually, it is F12.
Note: The boot menu key may differ with each manufacturer. So, in case you are unable to find the key, go through the user manual.
Reboot the computer and when manufacturer logo shows up, keep on pressing the boot menu key. Doing so will let you enter the boot menu. Here change the boot option to CD\ DVD ROM.
Once you successfully start the PC with the assistance of "Windows 10 DVD", a black screen will come into view with gray text. It will notify you to "Press any key to boot from CD or DVD". Hence, press any key.
Moving ahead, choose the correct time as well as keyboard type. Now, appoint a hit on the option Repair your computer. You will notice this option at the lower left corner of the screen.
Finally, click on Troubleshooting => Advanced options => Automatic repair.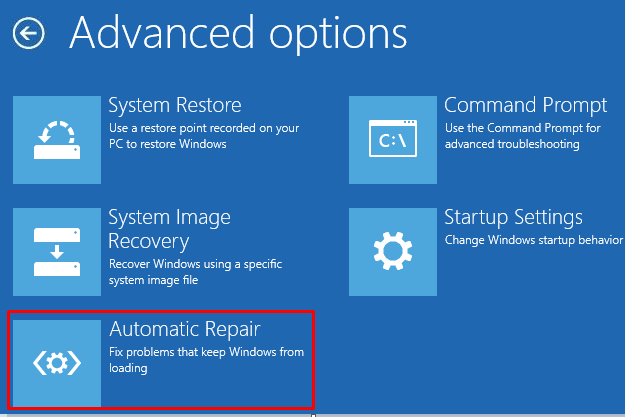 See another related Fix SrtTrail.txt Windows 10 Error with Automatic Repair Loop.
Fix-3:  Reconfigure BIOS settings
If CMOS battery is down, the BIOS settings can be damaged. In that situation, you need to replace the battery of your device. Henceforth, you need to reconfigure BIOS settings and Restart Windows 10 PC.
Step-1: Go to your Desktop and make a joint press of "Alt+f4" to launch Shut Down Windows dialog.
Step-2: Now choose Shut down from the drop-down menu and then do a click on OK (see snapshot).
Step-3: Once you "turn off the PC" completely, unplug the power cord and remove the battery if you are using a laptop.
Step-4: Otherwise, hold the Power button for 1 minute to discharge your device completely.
Step-5: Open the case of your device with the help of a screwdriver and touch a metal surface to discharge static electricity.
Step-6: Then remove "CMOS coin cell battery and insert a new one into the socket.
Step-7: Finally, Start your PC and configure BIOS.
Hopefully, that will resolve the issue.
Note- If you format system partition in order to solve Error Code 0xc00000e, don't delete the boot section. This accumulates all boot configurations and it's around 150 MB. Officiousness with this may cause the issue.
Fix-4: Reestablish BCR Registry Hive
Boot Configuration Data and Master Boot Record are the more likely culprit for this type of problem. They are liable for the defect of the boot sequence, BIOS (UEFI) and winload.exe that make your device to start.  Though it's tough to find out the reason behind it, however, you can fix it by following below procedure-
1. Plug in or Insert the USB stick or DVD which contains Windows 10 bootable media.
2. Then Restart your PC.
3. Moving ahead, to change the boot order, enter into the "Boot menu or BIOS settings".
4. Ensure that you set the media drive as a primary boot device and hit any key to boot. Wait until the loading of the system is complete.
5. Now, perform a click on "Repair your computer" from the bottom left corner to proceed further.
6. Make a click on Troubleshoot from the selection menu to proceed further.
7. Select Advanced Options.
8. Now go ahead with Command Prompt and submit your account and address if it asks for.
9. Type down the following commands after blinking cursor and hit Enter after each one.
bootrec /FixMbr
bootrec /FixBoot
bootrec /ScanOs
bootrec /RebuildBcd
10. Once done, close the Command Prompt and try to open your system in a normal way.
After this process, the system should run smoothly.
That's all. Hope it was helpful for you. If you have any question regarding this issue, don't hesitate to ask.
Repair any Windows problems such as Blue/Black Screen, DLL, Exe, application, Regisrty error and quickly recover system from issues using
Reimage
.