bootrec /fixboot access denied appears when a user attempts to fix Error Code 0xc0000225. This is not a common issue that occurs on a regular basis. Usually, users run the bootrec /fixboot command in order to write a new boot sector to the system partition.
In case, if you are also getting this error in the Command Prompt, then give a shot to the following solution. Let's move on to the process straight away.
bootrec /fixboot access denied in Windows 10
In order to follow this resolution process, you should have a Windows Installation Media. If you do not have, you can easily get that from Windows 10 Media Creation Tool. We consider you have a copy of this and proceed towards the below sequence of steps.
Step-1: Insert the USB or the DVD that contains installation media on the computer and restart the PC.
Step-2: Now, moving ahead, boot into the computer from the media.
Step-3: At the startup, appoint a click on the option "Repair Your Computer". You can find this at the bottom left end of the screen.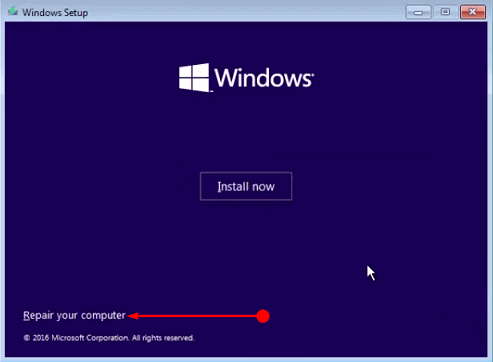 Step-4: Proceeding forward, select Troubleshoot and then click on Advanced Options.
Step-5: On the following screen, choose Command Prompt. Now, type in or copy/paste the given below line of commands one after the other. Ensure to press/hit Enter after inserting each command.
Diskpart

sel disk 0

list vol
Step-6: Next task is to verify the EFI partition by using the FAT32 file system as well as to assign a drive letter with it. For the sake of doing so, type these commands in Command Prompt and press Enter after each of them.
sel vol number of volume (Example: sel vol 1)

assign letter=drive letter:(Ex: assign letter=C:)

exit
Step-7: From this situation, repair the Boot record by running following Commands. Similar to all above, type one at a time as well as hit the Enter button from keyboard.
cd /d <drive letter>:\EFI\Microsoft\Boot\(Ex: cd /d C:\EFI\Microsoft\Boot\)

bootrec /FixBoot
Step-8: Now you need to rebuild the BCD store again. To do so, type the command below and press Enter.
ren BCD BCD.old
Step-9: Lastly, recreate it by running the given line of command.
bcdboot c:\Windows /l en-us /s <boot letter>: All (Ex: Bcdboot C:\Windows /l en-us /s x: /f ALL)
Conclusion
bootrec /fixboot access denied is an annoying issue as it evolves while resolving another error. It restricts the users from getting out of Error Code 0xc0000225. As a result, you were in need to find a perfect solution to this problem. The resolution process stated above with a view to fix bootrec /fixboot access denied will be a great help for you all. We request you to be little careful while running the commands for the sake of avoiding further error evolution. If you have some other tips to overcome this command error, please do write them to us.
Repair any Windows problems such as Blue/Black Screen, DLL, Exe, application, Regisrty error and quickly recover system from issues using
Reimage
.