Today, in this article, we will discuss the simple way to fix USB Bug Block in 1903 Windows 10 May 2019 Update. As per Microsoft, USB and SD cards are one of the culprits that block the May 2019 update. Basically, when you connect these devices and then try to upgrade the OS to 1903 version through Windows Update, the process fails with an error message.
SD memory cards and external USB devices are always assigned a dedicated drive or letter. So, once you plug them in during the upgradation procedure, Microsoft calls it as an inappropriate drive assignment. The Windows Update settings page throws the following error –
"This PC can't be upgraded to Windows 10. Your PC has hardware that isn't ready for this version of Windows 10. No action is needed. Windows Update will offer this version of Windows 10 automatically once the issue has been resolved".

USB Bug Block in 1903 Windows 10 May 2019 Update Solutions
When Physical Access to the Computer is Possible
The workaround is very simple to fix the USB Bug Block in 1903 Windows 10 May 2019 Update especially when you can physically access the device. Just remove all the external media attached to the machine and make an attempt to upgrade the OS. Once you remove the SD card and USB devices from the computer, the aforementioned error will not occur anymore, allowing the system to get the "May 2019 Update".
When Working with a Remote Computer
The workaround is a little different when you are working with a remote computer. In such cases, you need to manually disable the USB devices from the system. By doing so, Windows will fail to detect USB devices. Henceforth it will allow the May 2019 update to kick off right away.
Step-1: Do a right-click on Start icon and choose "Device Manager" from the Win+X Menu.
Step-2: Once you open Device Manager, locate the devices that you need to disable. Generally, the USB devices are placed under the Universal Serial Bus controllers category, so expand it.
Step-3: Now, check each and every entry that is connected to the device. After determining the devices that need to be disabled, perform a right-click on it. From the list of options, select Disable device.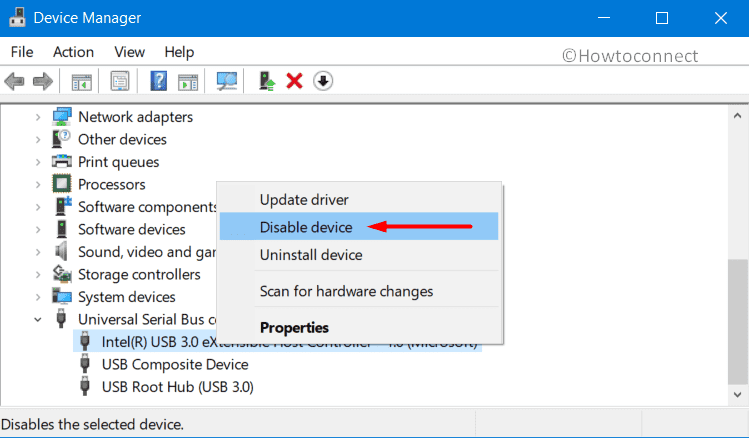 Step-4: Upon the confirmation dialog, click Yes to disable the correct device.
Step-5: Do the same for all the devices and then try installing the May 2019 Update. This time the process will complete correctly without the occurrence of any error messages. Once you fix USB Bug Block in 1903 Windows 10 May 2019 Update, you can re-enable the devices.
That's all!!!
Repair any Windows problems such as Blue/Black Screen, DLL, Exe, application, Regisrty error and quickly recover system from issues using
Reimage
.