You might have come across wextract.exe in Windows 10 error. To define, this is a similar type of EXE file attributed to the reinstallation of Microsoft Operating System CD W2K + SP3 Powered by Renowned tech builder Dell. This EXE file has a 1-star Popularity rating and Unknown Security rating. Its Current Version is 11.0.17763.1.0.
We have discussed already that .exe is a file extension and a Windows component too. No one can claim it as a Virus in the first look but it also injects malicious invaders in the system as Trojans. Hence, we cannot ignore an error caused by wextract.exe in Windows 10. Thus, we are presenting a few Workarounds relating to fix up the issue in the following Segment. Also read – Fix: WMIADAP.exe in Windows 10.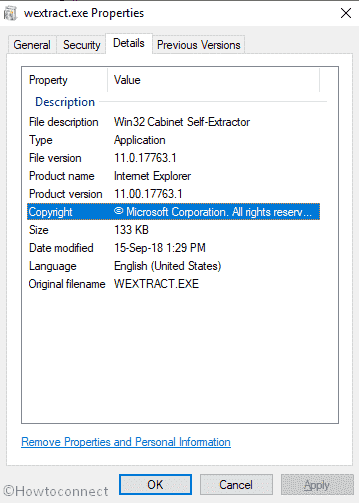 wextract.exe in Windows 10 Solutions
Here is how to fix wextract.exe in Windows 10 –
Before discussing the solutions, let's unfold some basic things about wextract.exe –
Evolution of Error in your System
Executable file like wextract.exe is designed to carry stepwise instructions for a machine to operate a function. Once the user clicks this extension, the computer puts these definitions into effect for running the program designed by the developer. Malware uses this weak chain and injects themselves in the system as a disguise. At the same time, they spread out through Spam emails and websites having Viruses.
Wextract.exe in Windows 10 comes in at the time of Startup i.e. Computer as well as any Program, execution of specialized function such as Printing. Once you are affected by the Virus, you might have come across the following error texts –
1) "Wextract.exe Application Error"
2) "Cannot find wextract.exe"
3) "Wextract.exe has encountered a problem and needs to close. We are sorry for the inconvenience"
4) "Error starting program: wextract.exe"
5) "Wextract.exe is not a valid Win32 application"
6) "Faulting Application Path: wextract.exe"
7) "Wextract.exe is not running".
Causes Behind wextract.exe in Windows 10 Error
Basically, the issue occurs in your system due to invalid entries in Registry Editor, Missing System components, Corruption in the System files and infection because of malware. Few more reasons behind wextract.exe are –
Corruption in the wextract.exe file or files necessary for reinstallation of CD W2K + SP3 program files in the Operating System.
Elimination of wextract.exe files due to conflict of another file or any errors caused by associated files alternatively human error involved.
Incomplete installation or Downloading of CD W2K + SP3 program files in the Operating System
A simple trick to confirm that your wextract.exe is Unsafe
Virus Developers choose some important system files as the weakest chain of the Windows 10 and pushes malicious invaders in them. Spreading them through e-mails or any other means, they make their intention pretty clear that they are up to stealing necessary information. In the process causing serious harm to the system too. As a result, we need to be extra careful once come across through wextract.exe. you never know, it is a simple Windows element or a Virus in disguise. To make sure, you need to follow through the below proceeding –
Open the Task Manager by Pressing Ctrl+shift+esc together.
When it comes on the screen, hit on More details.
Proceeding forward, In the Processes tab, move downwards and in the process, find wextract.exe in the list.
Once found, do a Right-click this and then choose Open file location.
If the file location shows C:\Windows\System32, you have nothing to be worried about. It is completely safe. Alternatively, the exe file you are getting in front of you is a covered virus and you need to put resolutions on immediate effect.
Fix wextract.exe in Windows 10
We have found few Workarounds to resolve this issue, let's proceed with the Stepwise instruction as stated below –
Perform a Full scan for Virus in the Computer
Windows 10 offers you the best Virus checking tool till now through Windows Security. A Full scan can resolve all the malware from PC so you can get rid of the wextract.exe in Windows 10 error. Follow through the below instructions –
Step-1: Do a click on the Cortana from the bottom left corner of the screen and type full scan in the box.
Step-2: When the result appears, hit Enter on your keyboard.
Step-3: Moving ahead to the app, choose the Scan options from the right pane.
Step-4: On the following window, select the radio button of Full scan and select Scan now option to begin the scanning process.
Upon finishing of the scan, you will be notified about the result. You can resolve the threats following the instructions appear on the screen.
Install All Available Windows Updates
Click Windows icon from the taskbar followed by selecting on the Gear cog inside of it.
Once the Settings app appears, move across the surface and do a click on Update & Security tile.
After being forwarded to the more Settings, select Windows Update from the left pane and shift to alongside Right.
If nothing appears in this page, click on Check for updates.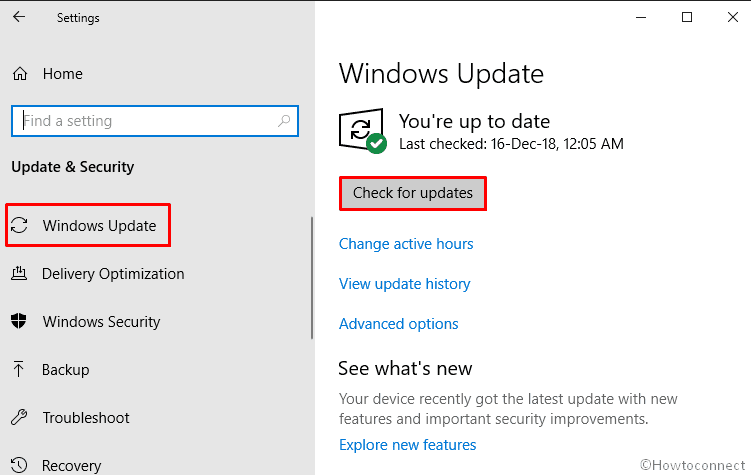 Follow the Onscreen instruction to install the latest Updates. When you are done, Reboot your PC and check if wextract.exe in Windows 10 no longer occurs.
Perform System File Checker Utility in Command Prompt
Since the issue evolves due to corruption in the system file and components of the Operating System, it is legit to execute a System file check and resolve the issue if found. To do so-
Make a click on the Cortana Search and type Cmd.exe in the Search box.
After Command Prompt being visible, hit a right click on it and select Run as Administrator.
Once UAC prompts for permission, select Yes to continue.
On the Elevated Command Prompt Window, type sfc /scannow  and hit Enter key.
File checking will start eventually and Utility will also resolve any issue if shown with the execution.
Clean the Temporary files and Junks from Disc
Open the Elevated Command Prompt as Admin.
On the Black window, type cleanmgr at the base of blinking cursor followed by hitting Enter key.
A popup will show up asking your permission to select the Disk. Choose the Disk Drive (e.g. C:)
Disk cleanup will be started with calculating the total occupied space you can retrieve.
Once the Checking is done, Disk Cleanup dialog will be visible on screen with checkboxes. Select the temporary files you need to clean and choose Ok button. Pay attention to uncheck Downloads since some important may exist in this folder before clicking "OK".
With execution to this process, the system will eradicate all the Junk and Temporary files and you can have a fresh system to start with the flawless operating system.
Uninstall the CD W2K + SP3 Program for Operating System Reinstallation Associated with Wextract.exe and Reinstall it again
Often corrupted or damaged CD W2K + SP3 program causes wextract.exe in Windows 10. Therefore, you need to reinstall it to fix the associated issue.
Hold the Windows Key from the keyboard and press the I to Open Settings app.
Move ahead to Apps and perform a click on it.
Once opened, select Apps & Features from the left and shift to adjacent right side.
Reach out to the CD W2K + SP3 Program and do a click on it to expand downward.
Choose Uninstall option and follow the further instruction shown on screen to complete the full process.
Download the file from Microsoft Website again and Install it accordingly.
Fixing of the Registry Entries Relating to Operating System Reinstallation CD W2K + SP3
In most cases, wextract.exe and some other EXE system errors occur due to wrongly inserted Windows registry entries. Sometimes, too many programs share the similar wextract.exe in Windows 10. Unfortunately, after any of these programs are uninstalled, they leave the invalid entries in the system. To make a little easier, once the file path is changed, previous locations will not be erased from the Windows Registry. Once the Operating find out the traces if such paths, his error comes in.
Therefore, repairing the Registry Entries Relating to Operating System Reinstallation CD W2K + SP3 can be the most effective solution to resolve the error the process is as follows –
We strictly forbid you to perform the following workaround unless you have proficiency over Registry entries.
Press Windows+R keys to invoke Run dialog on the screen.
In the search field, type Regedit.exe and press Enter button.
When the UAC Prompts for permission, Select Yes button to proceed forward.
In the Next page of Registry Editor, reach out to wextract.exe-related key (eg. Operating System Reinstallation CD W2K + SP3) that you opt to save a backup.
Hit the File menu and select Export.
Moving ahead, choose the folder you want to save the backup and give a suitable name.
Check the Selected branch from the Export Range.
Click on the Save button and finally save the file with an extension .reg.
Thus, you can save a backup of wextract.exe-related registry entry. Thereafter, you need to manually insert the entry in Registry editor.
Note – If you are not well familiar with the Registry entries, consult with skilled professionals for the next manual inserting. Thus, you can fix wextract.exe in Windows 10 easily.
That's all!!!
Repair any Windows problems such as Blue/Black Screen, DLL, Exe, application, Regisrty error and quickly recover system from issues using
Reimage
.