Method of Online Payment of Electricity bill saves your precious time. In earlier days, you had to stand in long queue at billing counter of Electricity Board for depositing electricity bill. But the inclusion of modern technology has changed older scenario. Today there is no need to run at Electricity Board Office for getting monthly consumed electricity bill then after paying dues as well. In an earlier article, I have discussed the method of 'Online Payment of Electricity Bill in Uttar Pradesh' and the particular article will guide you to know the method of 'Online Payment of Electricity Bill in Chandigarh.
Log on to Chandigarh Administration websites. To access Chandigarh Administration Websites Click Here
After then click on Pay Electricity/ Water Bills/Property tax, under How do I? tab.
On the next page of Sampark, click on Login or Sign up (new user).
Give details of your information such as username, password, Mobile number address and click on Register.
This act will enable you to view many more options as Pay Your Bill, Check Electricity / Water Payment, Traffic challan Payment etc
Click on to Pay Your Bill.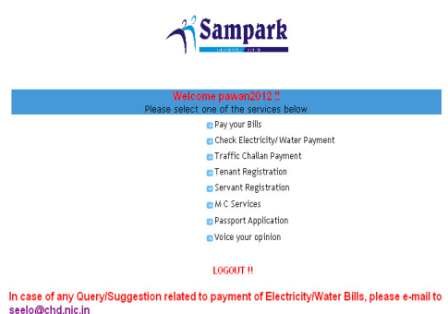 Now enter Consumer Account Number and choose an option of Debit Card / Credit Card.
Note: – Consumer having Debit or Credit Card of Axis Bank may have only authority to make Online Electricity Payment in Chandigarh. Axis Bank Net banking called 'IConnect' is also supportive to make online electricity bill payment in Chandigarh.
If you have query related to electricity bill payment in Chandigarh you can contact to email id seelo@chd.nic.in