Microsoft owned Windows 8 full version will be presented to everyone soon. With Windows 8 preview or RTM edition, users have faced a lot of challenges in operating it. So Microsoft press has published many windows 8 tips related books and guides.
Now Microsoft has released one of the most excellent book named Windows 8 Step by Step that contains full coverage about Windows 8. The writer of this valuable book is Ciprian Adrian Rusen and Joli Ballew.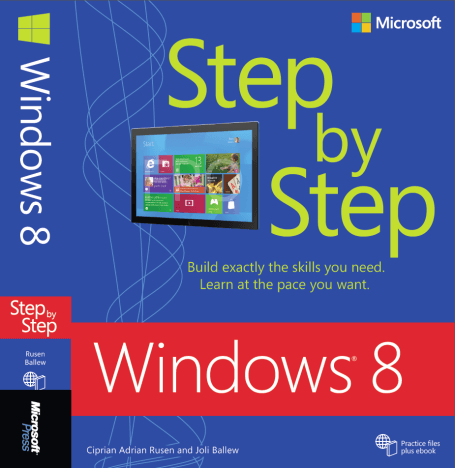 Evaluation of Windows 8 Step by Step book –
Windows 8 Step by Step book assists you in knowing fresh Windows 8 behavior. In this book, you can find many tricks of windows 8. The book comprises how to customize your Windows with helpful apps, control images in different styles, videos & songs, manage and store of files and folders in the cloud storage services and enhance protection of windows 8 system.
This book has been designed for those Windows 8 users, who want to upgrade their previous windows operating system into Windows 8. Every subject and detail concerned to windows 8 has been written comprehensively.
From the first chapter, It provides knowledge about process of Windows 8 installation step by step. Easy English language has been used in this book by writer to understand topics easily. It has about 780 pages and added subsequent topics which are as details –
Latest window 8 Start screenoverview

Newly windows 8 interface Search methods and its unique characteristics
How to access Windows 8 apps and Windows 8 Store?
How to sync your files and settings from sky drive services?
Tips about Microsoft Family Safety tools to protect your system from children activities
Tips of more protected Windows 8
Windows 8 networking tips to make sharing of files, folders and devices
General Windows 8 troubleshoot and its solutions.
In Windows 8 Step by Step book every chapter brings additional superior topics with helpful information. First chapter of this book Introducing Windows 8 gives details like
How to configure Windows 8 settings?
How to access and customize the Start Screen, Live Tiles of Windows 8?
How to work with the traditional Desktop in windows 8?
How to access default Windows 8 apps from start screen?
How to use PC Setting and Control Panel of Windows 8?
The book finishes with 20 handy tips and tricks that try to get better Windows 8 experience. This book price has been determined $29.99 for the print version and $23.99 for the eBook edition.
Purchase link of Windows 8 Step by Step book