Windows 10 offers to Reset Date and Time Formats easily. When you install an OS you find the default setups for everything. But after continuous changing and tweaking, this might not be your desirable one.
In this case, you ever need to across a situation through reset date and time formats on Windows 10. This Setting restores the default configuration for the parameters. Moreover, you can do the same thing for Number, Currency, and Date from this setting window from the same location.
Reset Date and Time Formats on Windows 10
The following easy steps will help you even if you have no clue about the default settings of Date and Time Formats: –
Step-1: Click on the left of the Start button, type Control panel, and press Enter.
Step-2: Select Region on Contro Panel.
Step 3 After that click on the button Additional settings… on the Region wizard.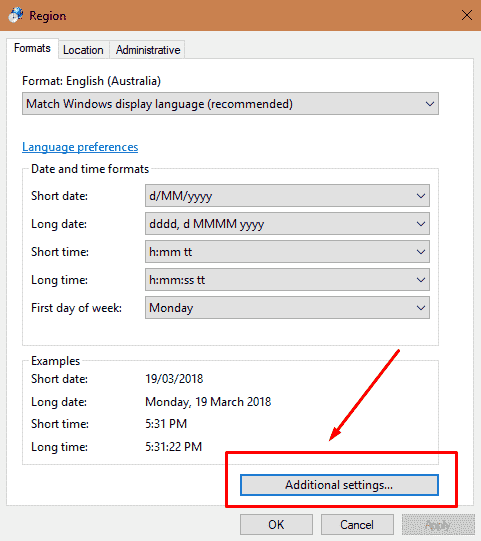 Step-4: On the Customize format window, select Time tab, go to the lower part and press the Reset button.
Step-5: In the same way, switch to Date tab and select Reset.
Step-5 After tapping on Reset in the above step there will be a Change Regional Options confirmation pop up asking to Remove all customizations for the current format?
Step-2: Select Yes
It will effectively restore your system default settings for both the time and date.
If you follow these steps exactly as shown, the system default settings for time and date will be restored just with few clicks of the mouse. After you reset, the following format will be available –
| | |
| --- | --- |
| Time | Format |
| Short time | h:mm tt |
| Long time | h:mm:ss tt |
| AM symbol | AM |
| PM symbol | PM |
What the figures indicate –
h hour minute
"s second (just long time)"
tt AM or PM
h/H
12/24 hour
"hh, mm, ss" exhibit leading zero
"h, m, s-" do not show leading zero.