We are aware of Product Key of Windows version in a better mode. A Product Key is a combination of letters and alphabetical numbers that is used to authenticate in a genuine method. It gives license agreement to work operating system. Windows system works nicely using the genuine product key otherwise, we are considered as the victim of pirate version use.
If windows 8 users have purchased pre-installed windows 8 laptop or desktop, they find a yellow sticker on the back side of the system. On this sticker, product key of Windows 8 is written. This key is also found on recovery CD or DVD of New Windows Laptop or Desktop.
Sometimes, the windows 8 key might be lost. It is possible when the yellow sticker is lost and the recovery disc sticker is damaged anyhow.  At this time, the big challenge for windows users is how hr will re-install windows OS with a genuine product key. But, for solving this problem, tips are being presented to retrieve the genuine product key.
First Tips
Microsoft recommends that users can e-mail or call the system manufacturer or Microsoft support team.
Second Step
If pre-installed windows 8 is running yet, then a better option is to run the utility tool named Magic Jelly Bean KeyFinder. It has the capacity to recover the current product key on hand simply along with Microsoft office products.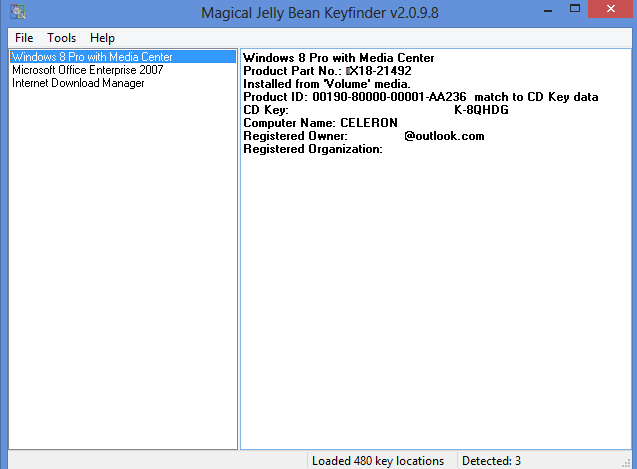 Download MagicJelly Bean Kind Finder