Microsoft has rolled out Cumulative update KB4467691 for Windows 10 1607 Build 14393.2608. The patch includes some important fixes and improvements such as protection against Speculative Store Bypass (CVE-2018-3639) and security updates.
You will get the cumulative update alternatively you can download KB4467691 and install from Microsoft update catalog website. The patch has one known issue in Windows Server 2019 and 1809 LTSC KMS (Key Management Service) (CSVLK) host keys.
kb4467691 –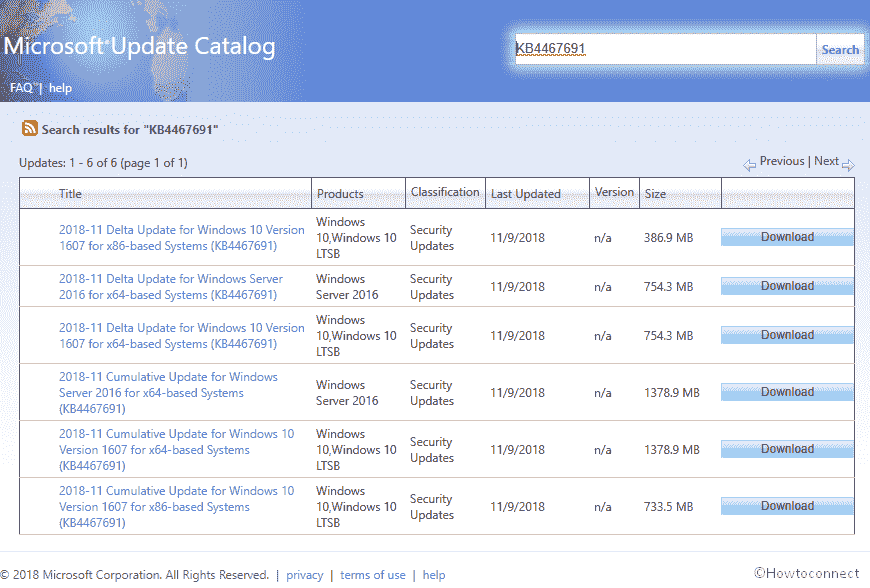 KB4467691 for Windows 10 1607 Build 14393.2608 Changes and improvements
The computers with AMD processor now gets the protection against Speculative Store Bypass (CVE-2018-3639). It is an additional degree of speculative execution side-channel vulnerability. However, these shields are not active by default. So, for the Windows client (IT pro) and Windows server guidance, you should follow the same directions of previous updates. Those instructions enable mitigation for CVE-2018-3639 (Speculative Store Bypass). Moreover, the mitigations released for CVE-2017-5715 (Spectre Variant 2) and CVE-2017-5754 (Meltdown) can also be used.
KB4467691 involves Security updates for 'Windows App Platform and Frameworks', Internet Explorer (IE), Edge web browser, and Windows Scripting. Furthermore the same is also applicable to Windows Wireless Networking, Windows Graphics, Windows Kernel, and Windows Server.
However, if the earlier updates are present on your PC, only the latest fixes available in the package of KB4467691 will get downloaded and installed on your computer.
KB4467691 Known Issues
The different issues of this update and what Microsoft is doing to resolve them are –
Symptom 1 – After you install KB4467691 and the client activation of Windows Server 2019, furthermore 1809 LTSC Key Management Service (CSVLK) host keys, may not work as per the expectations.
Workaround: Microsoft has already started to find a solution and an update will be available in the coming release.
Symptom 2: After the installation of KB4467691, the promotions of Windows Server 2016 which make non-root domains does not pass in forests where optional features such as Active Directory recycle are enable. The error you get on your PC's screen is as "The replication operation encountered a database error".
Workaround – You can use the servers handling Windows Server 2012 R2 or the earlier ones to promote the primary first domain controller in the non-root domain. This is done until a new resolution exists. Soon, Microsoft will resolve this issue and provide you with an update.
Symptom 3 – After installing either the Preview of Quality Rollup in August or 11/09/2018 .NET Framework patch, the SqlConnection instantiation sometimes shows an exception.
Workaround: Similar to other symptoms, Microsoft will resolve this also and send an update in the next release.
How to download KB4467691 for Windows 10 1607 Build 14393.2608 and install
Before installation of the newest Latest Cumulative Update KB4467691, Microsoft strictly advises you to install the latest SSU for your OS. SSU enhance the trustworthiness of the update procedure to alleviate possible issues while applying Microsoft security fixes and installing the Latest Cumulative Update (LCU).
If Windows Update is running, the latest SSU (KB4465659) is automatically offered. For getting the independent package for the newest SSU, you can consider the Microsoft's Update Catalog.
Installing KB4467691 Update
You will receive the cumulative update automatically from the Windows Update section. If you want to download KB4467691 as MSU File visit Microsoft Update Catalog.