Microsoft released a cumulative update KB4480962 for all versions of Windows 10. After the patchday rollout, multiple users have been getting Hotspot Authentication Issue.  However, they don't mention anything more about this in the release note. This also includes security updates for different Microsoft products as usual.
You will receive the update automatically moreover you are able to download KB4480962 from Microsoft update catalog website as Stand-alone. The patch also has some more unknown issues.
KB4480962 –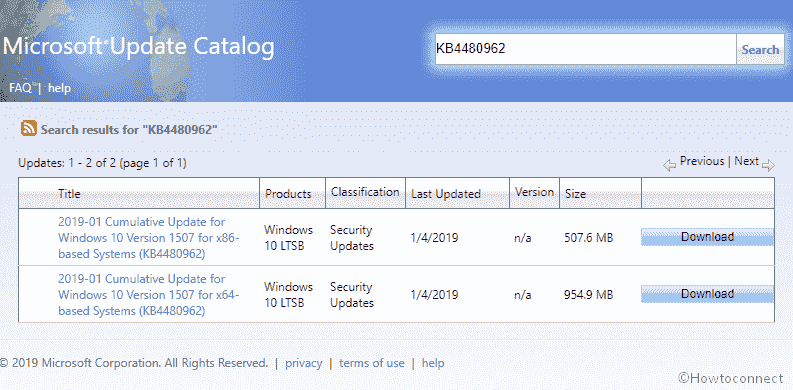 KB4480962 For Windows 10 All Versions details
Release note provides the statement – "Microsoft has released an update directly to the Windows Update client to improve reliability. Any device running Windows 10 configured to receive updates automatically from Windows Update, including Enterprise and Pro editions, will be offered the latest Windows 10 feature update based on device compatibility and Windows Update for Business deferral policy. This doesn't apply to long-term servicing editions."
The update note illustrates the Hotspot Authentication Issue in the known issue section –
Symptom
Workaround
After receiving this update, third-party apps may encounter trouble authenticating hotspots.
Microsoft is trying to resolve the issue and possibly push a solution in early February.
Applications using Microsoft Jet database with the Microsoft Access 97 file format may be unsuccessful to open if the database has column names greater than 32 characters. The database will fail to launch with the error message – Unrecognized Database Format.
Follow each of the options –

Option-1: Modify the database to make sure that all column names are equal to or less than 32 characters.

Option-2: Change the database to the .accdb file format. To use this, you must alter the Connection string after conversion.

The easiest way to change is to use Microsoft Access 2010 or earlier.

1. Go with Microsoft Access to open a database that has an older file format.

2. Once You are asked while converting, click Yes and store the database with the .accdb extension.

Option-3: Convert the database to another .mdb file format. This doesn't have a requirement for changing to the Connection string.

1. Go with Microsoft Access to launch a database that has an older file format.

2. When you get a confirmation click Yes and save the database with the .accdb file extension.

3. Open the .accdb.

4. From the File menu, select Save as and choose  Access 2002-2003 Database.

Microsoft is trying hard to explore a resolution and estimates a solution will be available early February.
How to Download KB4480962 and install
As we mentioned earlier you will get the update automatically but you must ensure that the Windows update is not disabled or paused. In case, you don't have received until now then go to Windows Settings => Update & Security => Windows update and click on Check for updates.
If you want to download KB4480962 as MSU file then navigate to Microsoft update catalog.
Source Release note.