April Patch Tuesday is here and Microsoft just rolled out the cumulative update KB4493474 for Windows 10 version 1703. With this patch, the Operating System build will fly to 15063.1747. The cumulative update, as in general, does not bring in any new features or additions for Windows. It basically enhances the overall functioning and security of the system
A quick note for users of 1703 is that all editions except Education and Enterprise edition have met the end of service. To continue receiving the updates, you must upgrade to the latest version as soon as possible. Read on to know further about the update, its known issues and ways to get the update.
KB4493474 –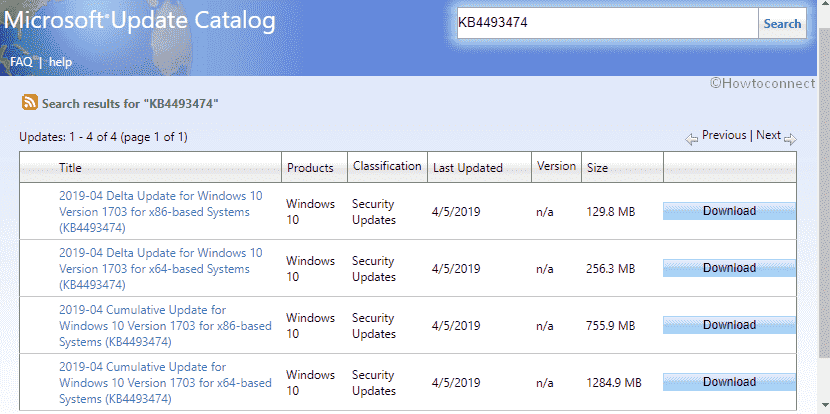 KB4493474 Windows 10 1703 15063.1747 Patch Tuesday update Details
This cumulative update for version 1703 addresses the following issues –
The problem preventing response of applications that use MSXML6 to. This used to happen in cases where, during node operation, an exception was thrown.
An issue which leads to a non-responsive Group Policy editor while users edited a GPO having a GPP for Internet settings of Internet Explorer 10.
A problem confronted whenever a user attempts and enable per font EUDC (end-user-defined characters). This issue caused the system to stop working and the appearance of a plain blue screen at startup.
Follow – Windows 10 Cumulative Updates List
KB4493474 Known issues
This cumulative update has just one known issue –
Post installation of KB4493474, there can be some issues with Custom URI Schemes for Application Protocol handlers. It may be unable to initiate the corresponding application for trusted sites on Internet Explorer and local intranet.
Microsoft is currently working on finding a permanent solution for this issue. Thankfully for us, the developer has shared some temporary workarounds that you can try out if you are facing this issue.
Workaround 1
Right-click on the URL link and prefer to choose 'open link in new tab' or 'open link in new Windows'.
Workaround 2
Enable Protected Mode in Internet Explorer for local intranet and trusted sites.
Step-1: Select Tools. Then, click on Internet Options => Security.
Step-2: Go with Local Intranet under Select a zone to view or change security settings. Then simply choose Enable Protected Mode.
Step-3: The next step is to select Trusted sites and then, Enable Protected Mode.
Step-4: Finally, click on OK.
Once you make these changes, make sure you restart the browser to apply.
How to get this cumulative update
You can get the update's package from Microsoft update catalog site or can simply let the system download KB4493474 automatically.
Tips from Microsoft to note while getting cumulative updates –
Users should get the SSU before they download and install this patch. This is crucial for a smooth installation and functioning of the cumulative updates.
If you didn't automatically receive the update, do it manually navigate to Settings => Update & Security => Windows update and click on Check for updates.
Still any issues, download KB4493474 from Microsoft update catalog site in MSU File format as Standalone package.