KB4512494 is a new cumulative update unwind for Windows 10 on August 16, 2019. This patch arrives for version 1709 as quality improvement in order to take the Operating System to Build 16299.1365. The issues on which the Microsoft mainly highlights is music, TV shows, movies and more. Along with these improvements, they also deal with the Error code STATUS_BAD_IMPERSONATION_LEVEL (0xC00000A5).
In this patch, the company introduces a known issue which will get resolved in the upcoming update. You are able to grab KB4512494 as an MSI file format from the Microsoft update catalog site. To check out all the patches of the entire version then click on this link Windows 10 Cumulative Updates List.
KB4512494 –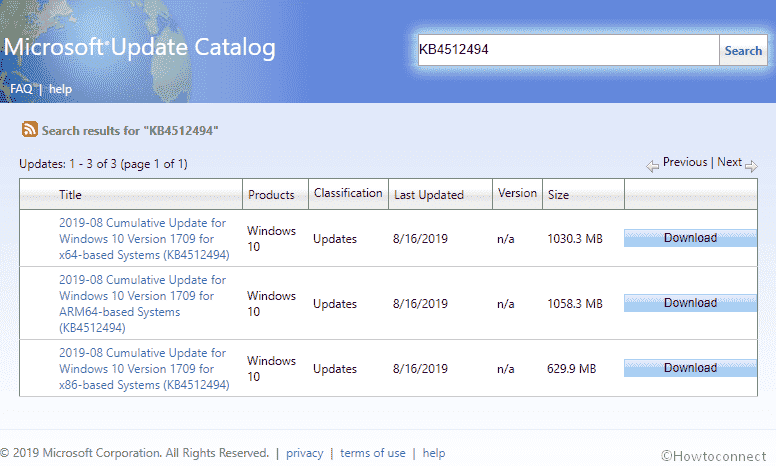 KB4512494 Windows 10 1709 Changelog
This patch having Build 16299.1365 is actually a bug fixing update carries no new feature to the OS. It includes a quality improvement which is as follows –
Microsoft technicians work on an issue with downloading digital rights management (DRM) files from certain websites using Microsoft Edge and Internet Explorer.
Build 16299.1365 focuses on the default keyboard. This is done for the English (Cyprus) (en-CY) locale was not installed accurately.
Addresses an issue that hinders an App-V application from opening and displays a network failure error. This issue befalls under certain circumstances, such as when a system's battery is low or there is an unexpected power failure.
With KB4512494, the Tech giant works on a rare issue that causes Windows Defender Advanced Threat Protection (ATP) to temporarily hamper other processes from accessing files.
Windows 10 team focuses on an issue that prevents a user from deleting a network in some specific scenarios.
Microsoft specialist works on an issue that may hinder devices from starting when they startup. This issue predominantly occurs using the Preboot Execution Environment images from Windows Deployment Services. The error is –  "Status: 0xc0000001, Info: A required device isn't connected or can't be accessed."
They work on another an issue that may cause the following to stop responding –

Applications that were made using Visual Basic 6 (VB6).
Macros that use Visual Basic for Applications (VBA).
Scripts or apps that use Visual Basic Scripting Edition (VBScript).
Besides this changelog, you may also receive an "Invalid procedure call" error.
Known issues
Symptom
Workaround
When you do rename or similar various operations on files or folders on a Cluster Shared Volume, there's the higher to get unsuccessful. You may confront the error message – STATUS_BAD_IMPERSONATION_LEVEL bug check value -(0xC00000A5). The problem arises when you execute the operation on a Cluster Shared Volume owner node from a process that does not have administrative authority.

Do one of the following –

Use administrator privilege perform.
Perform the operation from a node that doesn't hold CSV ownership.

Microsoft is also working to fix this bug and will offer an update in a future release.
How to Get KB4512494 Windows 10 1709 16299.1365
Before moving towards KB4512494, ensure to install the latest SSU. By doing so, it will mitigate the potential problems and will, therefore, enhance the performance of the update procedure.
You can easily get KB4512494 for your Windows 10 device through the Settings app.
Step-1: First of all, press Win+I to invoke Windows Settings.
Step-2: Click Update & security icon.
Step-3: Do a click on Check for updates button on the right pane of the subsequent page.
Additionally, you can also download the MSI format of the patch through Microsoft Update Catalog.
That's all!!!
Source – Release Note