As per the question of privacy, Windows 11 or 10 does not earn a good reputation. It's not known how long will Microsoft take to come up with a precise solution but there is already a way available and it is known as O&O ShutUp10.
You are able to Make Windows 11 or 10 Respect your Privacy Using O&O ShutUp10. With this utility, you get complete control over all the functions and settings. You can decide their working and also restrict your data moving out of your computer. O&O ShutUp10 has quite a simple single page interface and it helps in deactivating the unwanted utilities of Windows 11 or 10 easily.
Make Windows 11 or 10 Respect your Privacy Using O&O ShutUp10
How does it feel when someone doesn't respect your privacy? Yes, it doesn't feel good. Everyone has their own life, why should someone be allowed to peep? It is the same thing with Windows 11 or 10, people want their privacy to be respected.
When it comes to the pricing of this software, it is completely free. It doesn't even require installation – you can run it directly and instantly on your system. The biggest benefit of this software is that it does not download and install any unnecessary or unwanted apps with it. Nowadays, a common phenomenon is that some additional software programs unknowingly enter your computer but this is not the case with O&O ShutUp10.
When you get the complete control over the functioning of your Operating System, it's you who decide how Windows 11 or 10 should deal with your privacy. You get the power to deactivate all the unwanted activities. However, if you feel that a particular function is wrongly deactivated, you can reactivate it again. This software is available in different languages such as English, French, Russian, German, and Italian.
Major Features of O&O ShutUp10
O&O ShutUp10 is quite a useful software. Its interesting feature is that it adapts to your security settings, controls the location services and Windows Updates. Moreover, it protects the privacy of the user and restricts the movement of the user's data as well as diagnostics.
Download and Use O&O ShutUp10 in Windows 11 or 10
Step-1: Launch any web browser and visit this page. Here, click the Download button.
Step-2: Once the download gets over, double-click its executable file OOSU10.exe.
Step-3: This will immediately open O&O ShutUp10's main interface on the PC screen. You can see the recommended settings grouped by categories. Go through them carefully and decide the settings accordingly.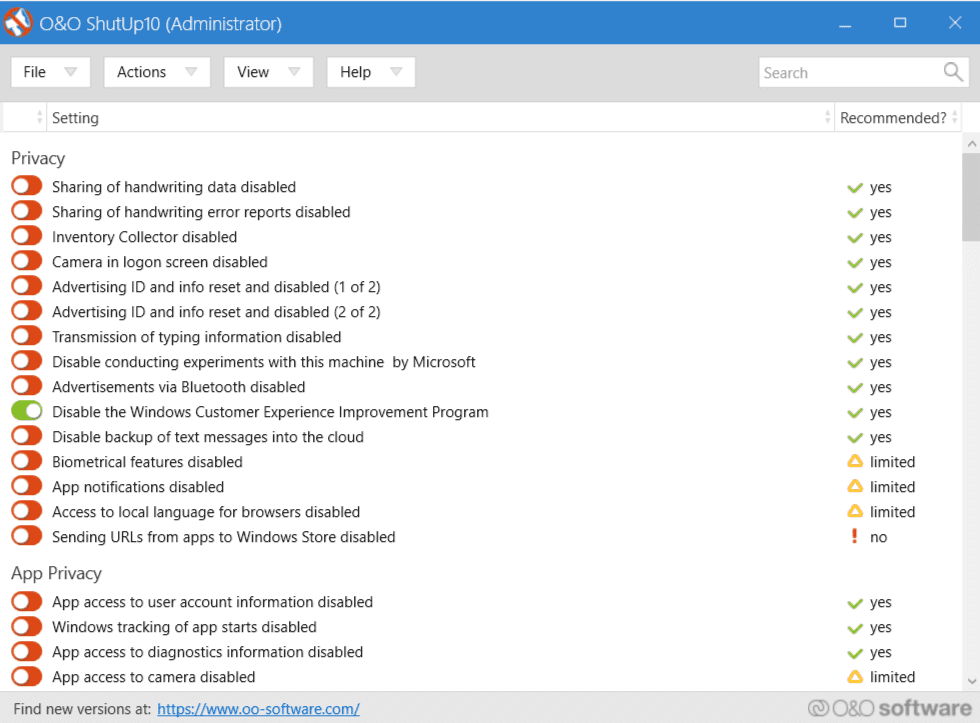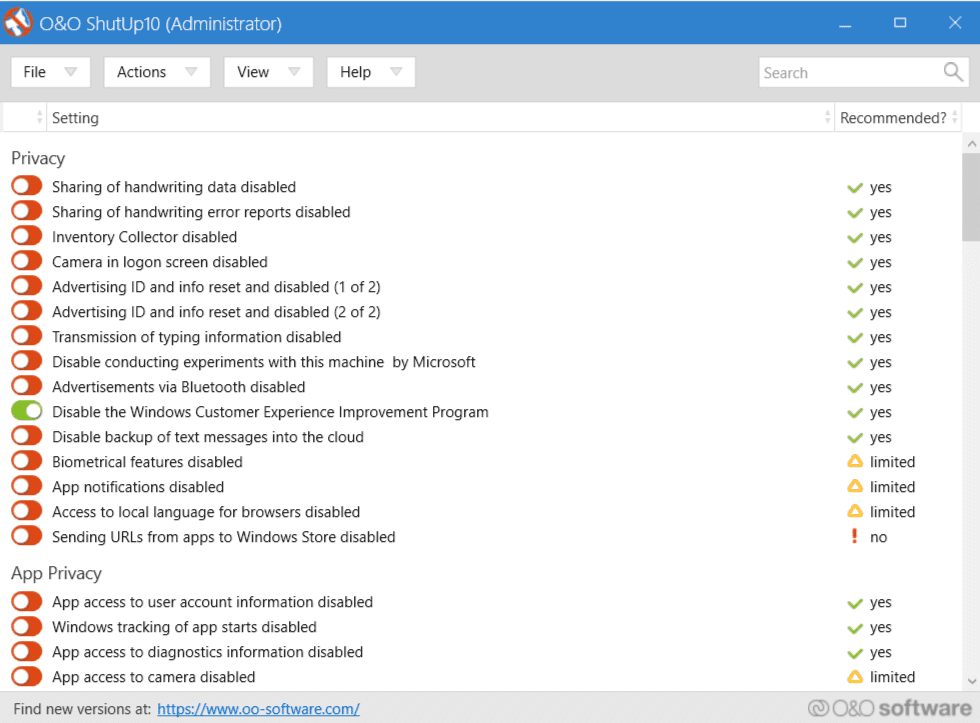 Step-4: To further modify the privacy settings, click the Action drop-down on the toolbar.
Step-5: Click Yes on the confirmation dialog. All the options on ShutUp10 are very much self-explanatory.
Why Windows 11 or 10 Transfers the Data from Your PC Without Your Concern?
Today, the focus of every technological advancement is on easing the life of its users. The same is the approach of Microsoft and the latest developments in Windows 11 or 10 justify it. In order to ease the everyday experience of its users, Windows 10 rarely allows them to read and confirm the security-related notices. From the perspective of Microsoft, this is quite a simplified approach but many users don't want that their data should move out of their computer without their concern.
How Windows 11 or 10 Uses Your Collected Data?
Microsoft uses most of the data collected from your computer for easing your life. For example, you need to reach a cinema hall by picking your loved one in the way. For that, you require leaving your home earlier and taking a different route.
In order to make all this easier for you, Microsoft requires access to your personal details such as your email (for the confirmation of movie tickets), calendar entries, your current location. And they also need to access your internet to provide you with the latest traffic updates. However, the intention of Microsoft is never wrong but some people still don't want to share their personal information.
Further Insights Related to the Usage of Data
There are some services which take note of your Keyboard entries, distribute your WLAN access data amongst your contacts on Facebook, and sometimes connects your PC to some public – potentially harmful – network. And all this happens without your permission. There is always a huge security risk with the current arrangement of data sharing.
It's time when you yourself have to decide what is good and what is bad for you. Do you want to risk your privacy or do something for its protection? The best way is to go for O&O ShutUp10 and make Windows 11 or 10 respect your privacy.