Printer problems are very embarrassing and nuisance. A Printer is usually practicing instrument in offices, Shops, etc and plays a vital role to perform important work of printing papers. Problems in printing require fixing swiftly. So in this master guide, we are presenting consolidated solutions to fix Printer Problems in Windows 10, 8, 8.1 at a single platform. Printers often produce 3 types of problems – making noise but not printing papers, not reacting at all, and seldom, continuously printing even after making a lot of efforts to stop it. We are describing the symptoms and solutions one by one. If your Printer connected to Windows 8 and 8.1 PC are producing any problem, have a look at.
Recommended: How to find wifi Password in Windows 8 Step by Step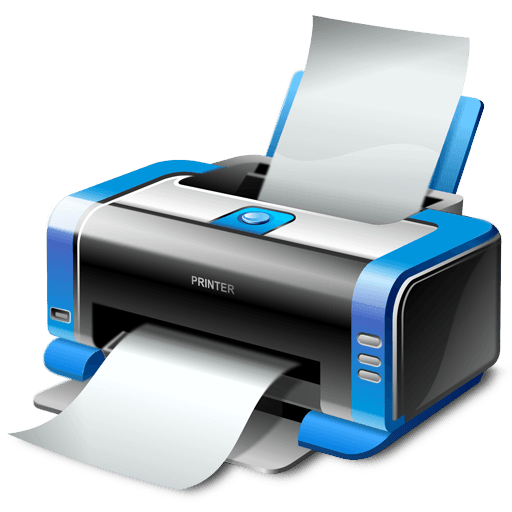 How to fix Printer Problems in Windows 10, 8, 8.1
1. Printer makes noise but doesn't Print
1. When you press the Print button and start printing your Printer receives the request make some noise, emits blinking light but send the unprinted document in the tray.
The problem indicates that your Printer is getting an order from computer i.e Connection between Computer and printer is ok and Ethernet, USB Cord are working properly.
This Error indicates either of these problems:
a. Out of paper, Shortage of ink, Cartridge is useless.
b. Hardware related issue,
c. Driver problem,
d. Incorrect printer settings
Solutions:
1. Make sure that the printer is On and the warning light is not On. The Warning light is On means problems regarding with out of paper, shortage of ink, etc. A User should remove these problems. After then warning light will turn off and you can print without any problem.
2. Check and solve all hardware issues like Paper jam, Cartridge empty, Cartridge not fitted properly and Out of Paper. These are the most founded error in Printer. So, fix these.
2. Printer Does Not React
When you press the Print button nothing happens to the printer means printer does not get your print request.
This Error indicates these problems:
a. Printer power failure,
b. Connectivity problem between Computer and Printer,
C Wrong printer settings.
Solutions
3. To fix Printer Problems in Windows 10, 8, 8.1, Check whether your printer is properly connected through cables. Unplug it from both ends and try to reconnect it properly, if you find any problem in cable, change it.
If you have connected your printer to the network then match printer's Name or IP address and ensure that you are requesting to the right printer.
4. Check that you have installed a compatible driver for your printer in your system.
Sometimes due to system settings changes like system restore, reset, file modification, etc printers driver may be corrupted. So, uninstall and reinstall printer's driver in your system properly.
5. To fix Printer Problems in Windows 10, 8, 8.1 Check that your printer status is currently Online. Sometimes users change printer settings to Offline state and forget to change. printer status always be online when you want to print.
6. Remove all pending print requests from your computer, sometimes old jobs stuck in queue on your computer and it does not allow new requests to perform their task.
These are the steps to remove the old print request from your computer.
Open Control Panel.
Go to Devices and Printers settings.
Double click on your connected printer.
A list will open where you can see pending requests.
Right click on that list and remove the pending requests.
After following these above steps all the usual and mostly found problems will be fixed. If something is still harassing you then try this method which will definitely fix your all errors.
Troubleshooting Printer on your PC
7. Troubleshooting can also solve errors related to printer.
Below are the methods to use it.
Press Win+W.
Type Troubleshooting in the charm search.
Open Troubleshooting from the found results.
Select Use a printer setting from Hardware and Sound section.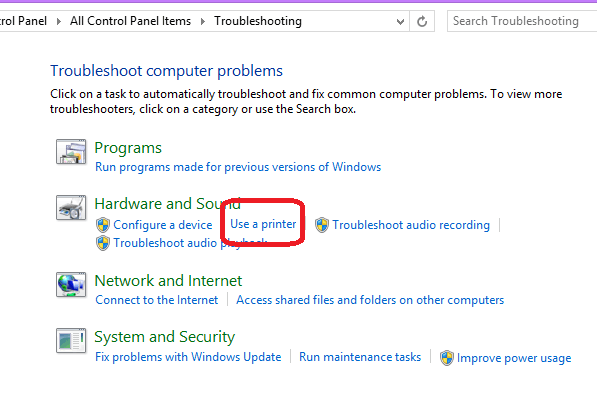 Now click on Next, It will run Troubleshooting and related problems were fixed automatically.
Wait for a few minutes, it will perform its task automatically. Now restart your computer. Check all the instructions and give a task to your Printer to print, it will produce a positive result and you will find a print result coming out of your printer.
One More Issue
3. Printer Queue: Printer continuously Prints Papers and does not Stop
Yes, your printer may treat like this. When you click the print button your printer starts printing, but it does not stop and there is no end for printing papers. Your inks and papers are going to hell and you are looking helplessly and puzzled. This problem is called the Printer Queue and you could solve it by persuading the tips below:
a. Open Control Panel.
b. Click on Devices and Printers in All Control Panel items.
c. This will launch a page where you need to right-click on Microsoft XPS Document Writer. 
d. Select See what's printing.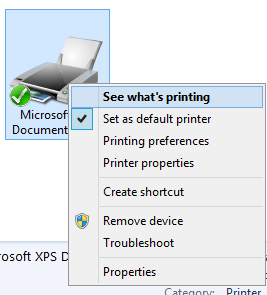 e. This will display a list of documents involved in the printing process and are in the queue.
f. Press File option and choose Cancel All Documents.
All is done and printing Queue has come to an end.
Hope that the above tips to fix Printer Problems in Windows 10, 8, 8.1 will help you. We will be happy to help you. Write any other problem related to it in below comment box.