Unbantu Touch is flagship and gesture-supported mobile OS for Nexus tablet. Now Ubuntu Touch Developer Preview has been rolled out for the three Google Nexus tablets e.g Nexus 4, Nexus 7, Nexus 10. Keep in mind that the development of Ubuntu Touch is under construction yet. Therefore, developer preview version can't support several features and apps.
Following Nexus tablets are supported by Ubuntu Touch developer preview
1] Nexus 4  – mako model
1] Nexus 7  – grouper model
2] Nexus 10  – manta model
3] Galaxy Nexus I 9250 –  maguro model
 How to Install Ubuntu Touch Developer Preview on Nexus 10, 7, 4 Tablet
Before starting the process of installation Unbantu Touch Developer Preview on any Google Nexus tablets, these devices should be rooted or unlocked.
Turn on USB debugging mode.
Installing Ubuntu Touch OS will delete all data from your Nexus tablet, so confirm that you have done the process of data backup smoothly.
You will require a Linux based computer with the purpose to install Ubuntu Touch Developer Preview on any Nexus tablet.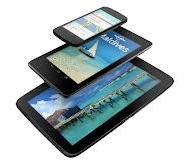 Steps to install instructions
Step – 1
At first, download setup of touch developer preview tools namely PPA on your Linux installed computer.
Download PPA link
Step-2
Run the following commands using Terminal.
sudo add-apt-repository ppa:phablet-team/tools
sudo apt-get update
sudo apt-get install phablet-tools android-tools-adb android-tools-fastboot
Step-3
Power off your Nexus tablet and boot into bootloader mode.  To do so, power on the device by pressing these three buttons (Power button + volume up + volume down) at once.
Step-4
Now connect USB cable to Nexus tablet and your computer during bootloader mode.
Step-5
Next, type following commands while USB connection is made effectively.
Phablet-flash –b
Step-6
Now a full bootstrap process will be started which will delete all the data on your Nexus device.
As a result, after 10-15 minutes, the installation process will be finished. And Nexus tablet will boot with the newest Ubuntu Touch developer preview screen.
You may take help for How to Install Ubuntu Touch Developer Preview on Google Nexus 4, 7 and 10.